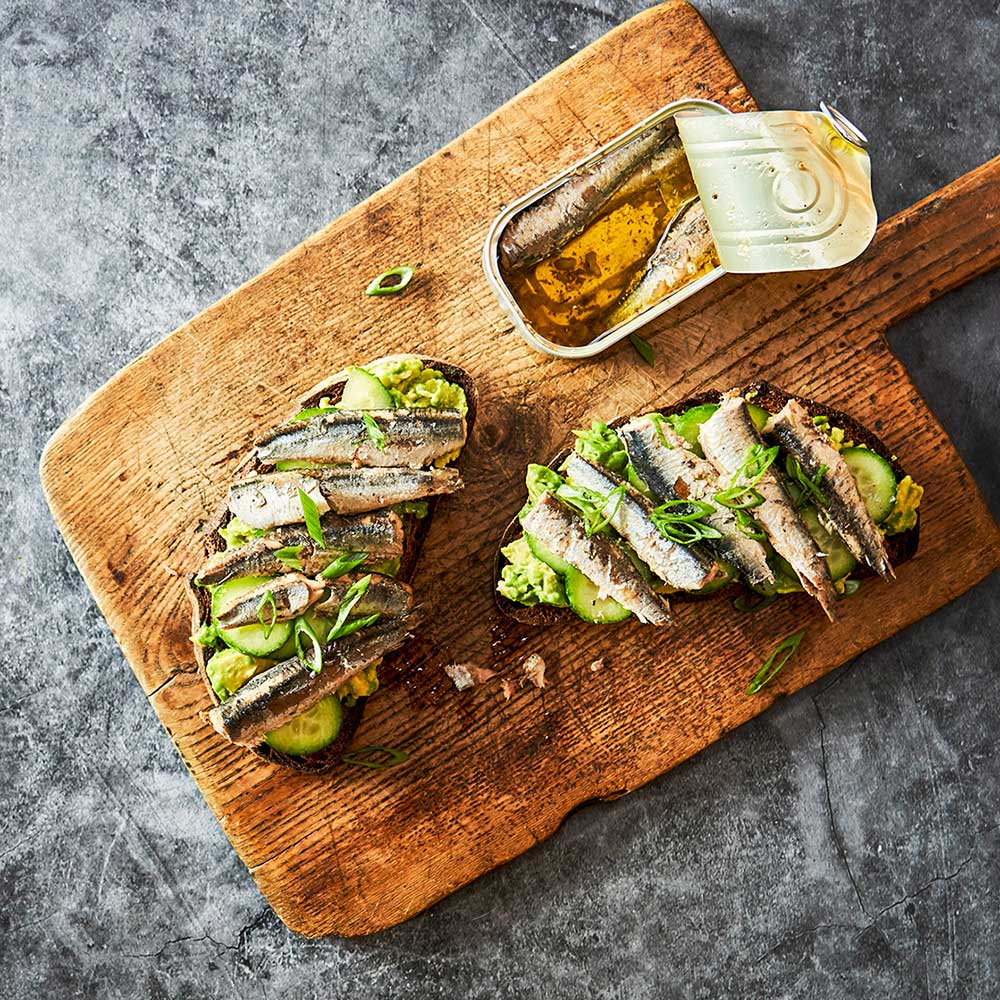 All Seafood
Shopping for Seafood
Whether you're ordering seafood online and having it shipped, or buying in person at a brick-and-mortar store, finding responsible choices can be confusing. Especially if you care about ocean health. Many purveyors can't tell you exactly where their seafood comes from or how it was sourced. At Patagonia Provisions, we definitely can. That's because we build the supply chains ourselves, starting with choosing fisheries with the guidance of rigorous organizations like Wild Fish Conservancy. Then we build supply chains, from packers to distributors, and closely monitor each one.
We believe in sharing our sourcing practices to help you make choices you feel good about. We also hope our practices can be a model for others to follow, and invite conversations that could further improve what we do. To learn more about how we source our seafood, check out our pages on wild sockeye salmon, wild pink salmon, Atlantic mackerel, anchovies and mussels.
Types of Patagonia Provisions Seafood
All of our seafoods are fully cooked and shelf stable, making them ideal for stocking your pantry and tossing into a pack for the trail. And, of course, we've made it easy to order all of this seafood online.
Wild Sockeye Salmon: Harvested from responsibly managed fisheries in the icy North Pacific, our smoked wild sockeye is lightly brined and hot-smoked to highlight its fine flavor and deep red color. Try our simple Original Smoked Wild Sockeye if you're a purist, or choose Lemon Pepper Wild Sockeye for a burst of tangy citrus and cracked black pepper.
Wild Pink Salmon: Our pink salmon comes from wild, self-sustaining runs off Lummi Island, Washington. To minimize bycatch and reduce carbon footprint, the wild pinks are caught using reef nets, an ancient, close-to-shore, selective-harvest technique. Careful handling preserves the delicate flavor and fine, flaky texture of our Wild Pink Salmon, which we lightly smoke and season with black pepper.
If you want to try all three, go for our Wild Salmon Variety 6-pack.
Atlantic Mackerel: A small fish with the mild taste and meaty texture of a big fish, Atlantic mackerel is an excellent source of protein and vitamin B-12. Ours come from a well-managed fishery in northern Spain, harvested using hook and line, with little to no bycatch. We offer canned Atlantic Mackerel seasoned four different ways: Roasted Garlic, Lemon Caper, Spanish Paprika and Smoked—and our Mackerel Variety Pack bundles the first three for a tasty introduction to this excellent fish.
Spanish White Anchovies: Unlike the salty, fishy anchovy filets of pizza fame, our canned Spanish White Anchovies are prized for their mild flavor and delicate texture. We source our anchovies from thriving, well-managed populations in the Bay of Biscay, off northern Spain. A small, schooling fish, anchovies are low on the ocean food chain, so don't have the high levels of toxins often found in longer-lived, large fish. Yet they're an excellent source of protein, calcium, iron and vitamin B-12. If you've never tasted a white anchovy—basically one that's canned fresh, rather than heavily salted until it turns dark brown—you'll be surprised by the mellowness of our two types: Roasted Garlic or Lemon Caper. Or try both in our sampler.
Mussels: Our plump EU Organic mussels, harvested in northern Spain, are powerfully nutritious and tasty. They also benefit the entire marine ecosystem that surrounds them, providing habitat for other ocean creatures and cleaning the waters around them as they feed. Try bright, tangy Lemon Herb, mellow Savory Sofrito or aromatic Smoked mussels, or serve them up all at once with our Mussels Variety Pack.
If you'd like to try all of our seafoods at once, go for our Responsible Seafood Sampler. This hefty assortment makes an excellent, thoughtful gift, too.
Ways to Eat our Seafood
All of our seafood can be eaten straight from the pack with some bread or crackers for a pretty much instant meal. If you have a bit more time,visit our seafood recipe page for more ideas.
Wild Salmon: Both our sockeye and pink salmon fillets are cold-smoked and then steamed in the pack, making them firm yet moist, with all their nutritious, flavorful oils intact. That means they're incredibly versatile, good added to pasta, grains, salads and omelets. They make killer tacos, too.
Atlantic Mackerel: Because it's so mild and meaty, canned Atlantic mackerel makes a great substitute for tuna. Use it in our Mackerel Melt or our fresh, colorful, tasty Mackerel Niçoise Salad.
Spanish White Anchovies: Although much less aggressive than salty "pizza" anchovies, our Spanish White Anchovies still have a lot of character. They shine in our White Anchovy Linguini and tossed into a broccoli, spinach + almond salad.
Mussels: Load 'em up on a Mussels Po'boy!
Why Buy Seafood from Patagonia Provisions
We build our seafood supply chains from scratch, choosing healthy, abundant fisheries with the help of prominent conservation groups, and we use responsible harvesting practices that leave plenty of fish for the future. In the case of mussels, we're actually improving marine habitat and water quality. The happy result of our careful work is delicious, nutritious seafood you can feel good about on every level.