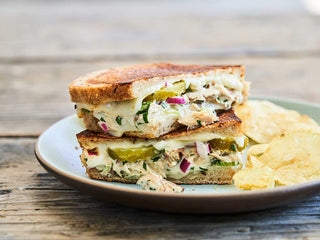 A take on the classic tuna salad and melted-cheese sandwich, this mackerel salad sandwich recipe uses fish that's responsibly sourced and equally delicious. A mild, surprisingly meaty little fish, our tinned wild Atlantic mackerel is an excellent source of protein and vitamin D, and has over 500 mg of omega-3s per serving—all without the accumulated toxins associated with large predator fish like tuna and swordfish.
For the Mackerel Salad
2 tins Patagonia Provisions Roasted Garlic Mackerel fillets, drained and separated into fat flakes
1 celery stalk, diced small
1 small shallot or 1/4 red onion, diced small
About ⅓ cup roughly chopped flat-leaf parsley leaves
1 tbsp. mayonnaise
1 tbsp. lemon juice plus 1 tsp. lemon zest
1 tsp. dijon mustard
Salt and pepper
For the Sandwiches
4 slices muenster cheese (3-4 oz.)
6-8 dill pickle chips, drained and patted dry (optional)
4 slices rye bread
3-4 tbsp. salted butter, softened
Putting It All Together
In a medium bowl, gently mix mackerel salad ingredients together.
Heat a nonstick pan over medium heat.
Assemble sandwiches: Lay a cheese slice on a slice of bread. Add 3-4 pickle chips, half of mackerel salad, and another cheese slice; top with bread. Repeat for second sandwich.
Smear tops of sandwiches with half the softened butter. Place sandwiches in pan, buttered side down, then butter the top sides. Cook until golden brown and cheese is melted, about 5 minutes per side.
Love our Roasted Garlic Mackerel? Shop all of our Mackerel Products to discover delicious flavors such as Lemon Caper and Spanish Paprika, or find your favorite with our Patagonia Provisions Mackerel Variety Pack.
Mackerel Salad Variations (adapted from The Kitchn)
Wanting to take a different approach than the traditional mackerel and mayonnaise combo? Try these recipe swaps for a fresh take on our Mackerel Sandwich Melt recipe!
Use yogurt instead of mayo for a lighter salad.
Replace the mayonnaise with the olive oil from the tin for a looser salad.
Add diced apples, raisins, or dried fruit to the basic recipe.
Add diced fennel, shredded cabbage, diced cucumbers, or any other crunchy vegetable.
Add a dash of curry powder, dukkah, harissa, or any other savory spice mix in your cupboard.
Stir in chopped fresh herbs.