Smoked Mussel Po' Boy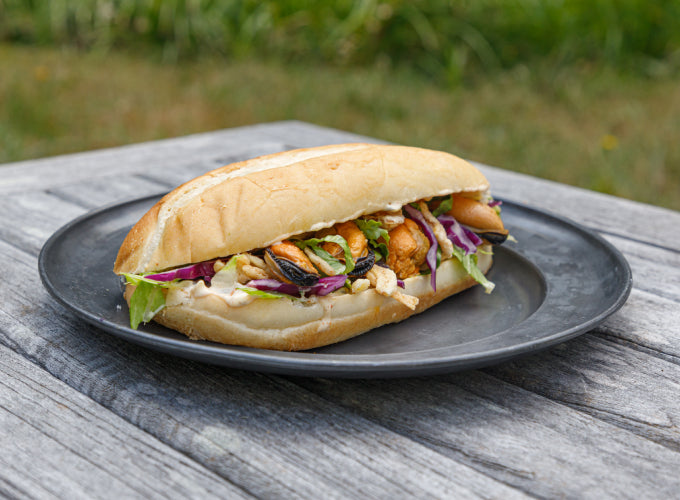 Our take on the New Orleans oyster po'boy uses tender smoked mussels and crispy fried storebought onions to stand in for the crunch of the traditional fried oysters. With no need to fry, you can make this sandwich anywhere—including in camp. Make the remoulade ahead of time at home and your camp po'boy will be ready in minutes.
Ingredients
2 hoagie rolls (about 5 in. long) or sections of soft baguette
1 romaine leaf
1 red cabbage leaf
1 cup remoulade (see recipe below)
½ cup crispy fried storebought onions or crinkle-cut potato chips
For Remoulade
¼ cup mayonnaise
2 tbsp. dill pickle relish, drained
Couple dashes of Worcestershire sauce
¼ tsp. cayenne
1 tbsp. Dijon mustard
½ lemon, juiced (1 tbsp.)
Mix up all ingredients in a small bowl.
Putting It All Together
Drain Smoked Mussels and set aside.
Split rolls in half lengthwise. If you're making these at home, toast 'em if you like.
Stack romaine and cabbage leaves and slice thinly crosswise.
Slather remoulade generously on both sides of toasted rolls and fill 'em with romaine, cabbage, fried onions and Smoked Mussels.