Wild Salmon Street Tacos with Pickled Radishes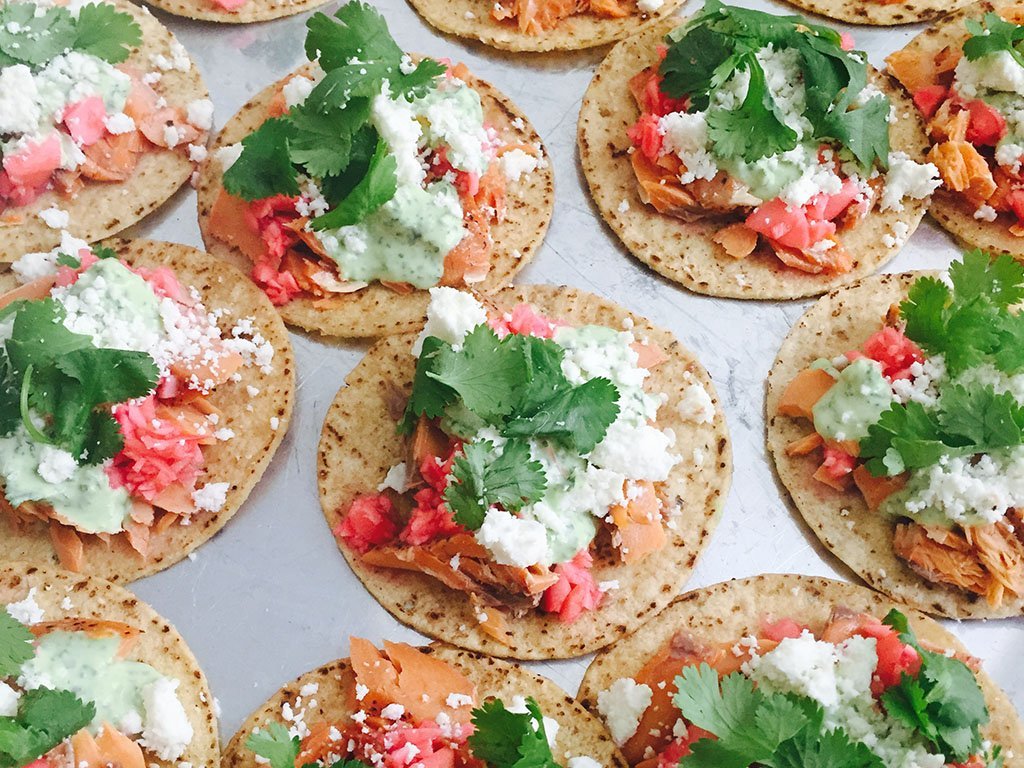 These flavorful street-style tacos, ideal for snacking, were created by our friend Beau Caillouette, founder of Hook Fish Co. They're great for parties because you can fix the components ahead of time and assemble the tacos at the last minute.
Ingredients
1 (6 oz.) pack Patagonia Provisions Lightly Smoked Wild Sockeye Salmon, drained
9 to 10 corn mini tortillas or tostadas (about 4 in.)
Pickled Radishes (see recipe below)
Cilantro Sauce (see recipe below)
4 oz. queso fresco or mild fresh goat cheese, crumbled
Cilantro leaves for garnish
For Pickled Radishes
½ bunch radishes
Apple cider vinegar

Thinly slice radishes and place in a small jar. Add enough apple cider vinegar to come up halfway, then top with water to cover and stir to mix. Let marinate at least half an hour (if longer, put in fridge). Keeps up to 1 week.
For Cilantro Sauce
¼ cup sour cream
1 cup cilantro leaves and tender stems
1 tbsp. fresh lime juice
Big pinch salt and a couple grinds of pepper

Blend ingredients in a blender until smooth.
Putting It All Together
Remove skin from salmon and gently push it apart into fat flakes.
Wrap tortillas in a damp kitchen towel and microwave 1 minute to heat them. Lay them out on a platter or cutting board. (If you're using tostadas, no need to warm them up first.)
Set a few salmon flakes on half of each tortilla (or over whole surface of tostada). Add 4 or 5 slices pickled radishes, a dollop of cilantro sauce, some queso fresco, and a few cilantro leaves.