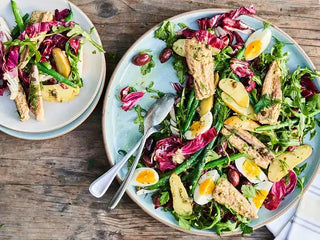 A variation on the classic southern French salad, this version uses wild Atlantic mackerel instead of tuna. This mild, surprisingly meaty little fish is an excellent source of protein and vitamin D, and has over 500 mg of Omega-3s per serving—all without the accumulated toxins associated with large predator fish like tuna and swordfish.
This salad is special enough to make for friends but easy enough to have on a weeknight, too. Or, if you want to take it for an office lunch, wait till you're ready to eat before dressing the salad and adding the mackerel.
For the Salad
6 oz. fingerling or baby potatoes, scrubbed
4 oz. green beans, trimmed
2 large hard-boiled eggs, quartered
1 small head radicchio (about 10 oz.), thinly sliced
2 lightly packed cups arugula
½ to ¾ cup black olives (niçoise or kalamata)
2 tins Patagonia Provisions Lemon Caper Mackerel (save oil, lemon, and capers for the dressing)
For the Dressing
1 large shallot, minced
2 tbsp. minced rinsed preserved lemon or 1½ tbsp. lemon zest
1 handful of fresh herbs (flat-leaf parsley, dill, or tarragon), minced
2 tbsp. dijon mustard
⅓ cup extra-virgin olive oil, plus oil from 1 mackerel tin
Salt and freshly cracked black pepper to taste
Putting It All Together
Cut fingerling potatoes in half lengthwise (you can keep the baby potatoes whole). Put in a small pot, add just enough water to cover, and add enough salt so it tastes like the ocean. Bring to a boil over high heat and boil 2 minutes. Add green beans to potatoes and cook until both are tender-crisp, 3-4 minutes more. Drain in a colander and let cool slightly, then turn into a bowl.
Meanwhile, in a large bowl, whisk dressing ingredients together. Adjust seasonings to taste.
Gently toss potatoes and green beans with one-third of the dressing.
Add radicchio and arugula to bowl of remaining dressing and toss. Arrange on a platter or in a salad bowl. Top with dressed green beans and potatoes, hard-boiled eggs, olives and Lemon Caper Mackerel fillets.