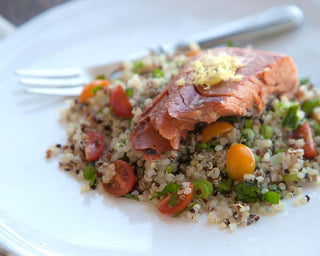 Rainbow Quinoa + Salmon Salad
Mediterranean flavors blend beautifully with the subtle smokiness of our wild sockeye salmon, creating a tasty and nutritious main-course salad. It also happens to be gluten-free. Don't expect any leftovers! 
Ingredients
1 (6 oz.) pack Patagonia Provisions Wild Sockeye Salmon (reserve oil from pack)
1 cup rainbow quinoa, dry (uncooked)
¼ cup Italian parsley, chopped
¼ cup green onions, sliced fine
¼ cup fresh mint leaves, chopped
2 tbsp. cilantro leaves, chopped
6-8 cherry tomatoes, halved
Lemon Dressing (see recipe below)
Lemon Dressing
Reserved salmon oil from pack
1 lemon, juiced
¼ cup extra virgin olive oil
1 tbsp. tamari or gluten-free soy sauce
Lemon zest, to taste
Freshly ground pepper, to taste
In a small bowl, combine all ingredients and mix well.
Putting It All Together
Place quinoa in a fine-mesh strainer and rinse under cold water.
Combine quinoa with 2 cups water in saucepan. Bring to a boil, reduce to a simmer, cover and cook until liquid is absorbed (approx. 15-20 min).
Toss cooked quinoa with parsley, green onions, mint, cilantro and tomatoes.
Add dressing and continue tossing until evenly coated.
Top with salmon fillet.