White Anchovy Linguine with Toasted Breadcrumbs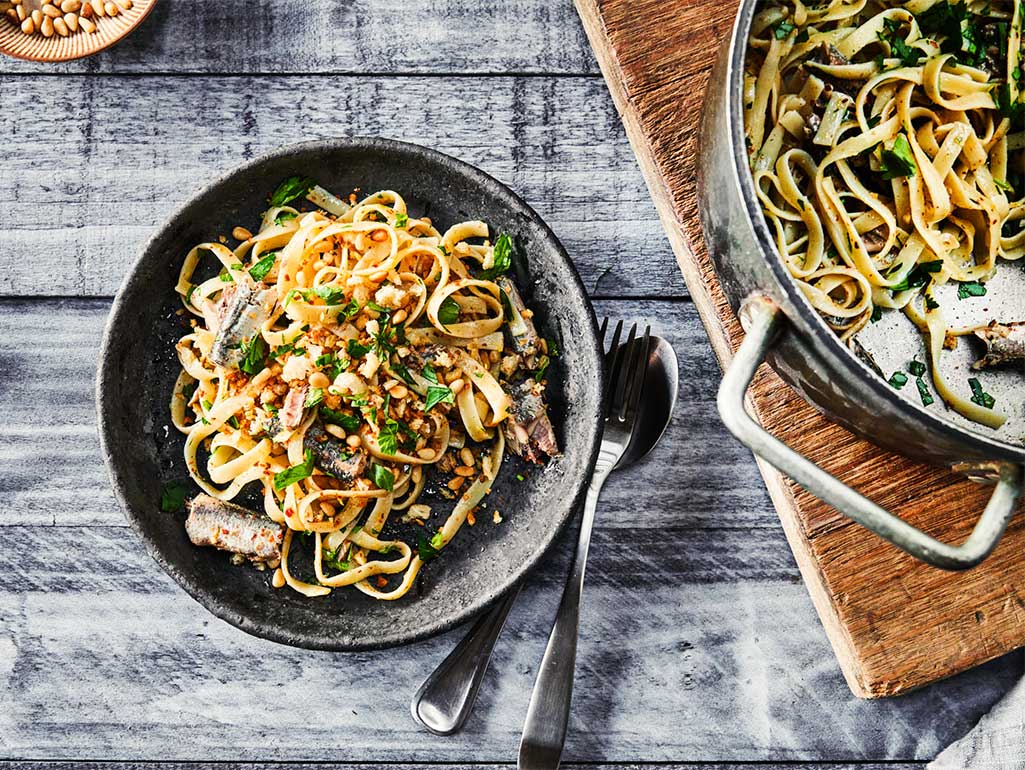 This simple pasta recipe, full of intense Mediterranean flavors, makes a great weeknight dinner but also works as a main course for a party. If you want to fancy it up, add 2 tsp. of saffron threads to the reserved pasta water before mixing it back into the linguine, and use 1 tbsp. chopped marinated Calabrian chiles instead of the chile flakes.
Ingredients
3/4 lb. linguine, spaghetti, or bucatini (any long pasta shape will work)
6 oz. sourdough bread or baguette
3 tbsp. extra-virgin olive oil, divided
2 tsp. minced garlic
1 tbsp. mild red chile flakes
Zest of 2 lemons (about 1 tbsp.)
1 tbsp. lemon juice, plus more to taste
Kosher salt to taste
½ large bunch flat-leaf parsley leaves, chopped
½ cup toasted pine nuts
Putting It All Together
Cook linguine in a large pot of well-salted boiling water.
While linguine boils, slice the crust off the bread and save for something else (the crust is harder to break up into breadcrumbs). Cube the bread and pulse it in a food processor until it turns into small, shaggy crumbs. Toast the crumbs in 1 1/2 tbsp. oil in a medium frying pan over medium heat, stirring constantly, until they're golden brown. Pile on a plate to crisp up and cool.
Crack open the cans of anchovies. Pour garlicky oil from both cans into pan, plus the rest of the olive oil. Add garlic and let sizzle for a second, followed by chile and lemon zest.
When linguine is done, scoop out ½ cup cooking water. Drain the pasta and put back in the pot over low heat.
Stir the seasoned oil and the anchovies into the pasta along with lemon juice, 2/3 of parsley and the pasta cooking water. Taste and add more lemon juice and salt if you like.
Plate pasta individually or in one big serving dish. Top with toasted breadcrumbs, pine nuts and the rest of the parsley.