Fried White Anchovy, Broccoli and Roasted Almond Salad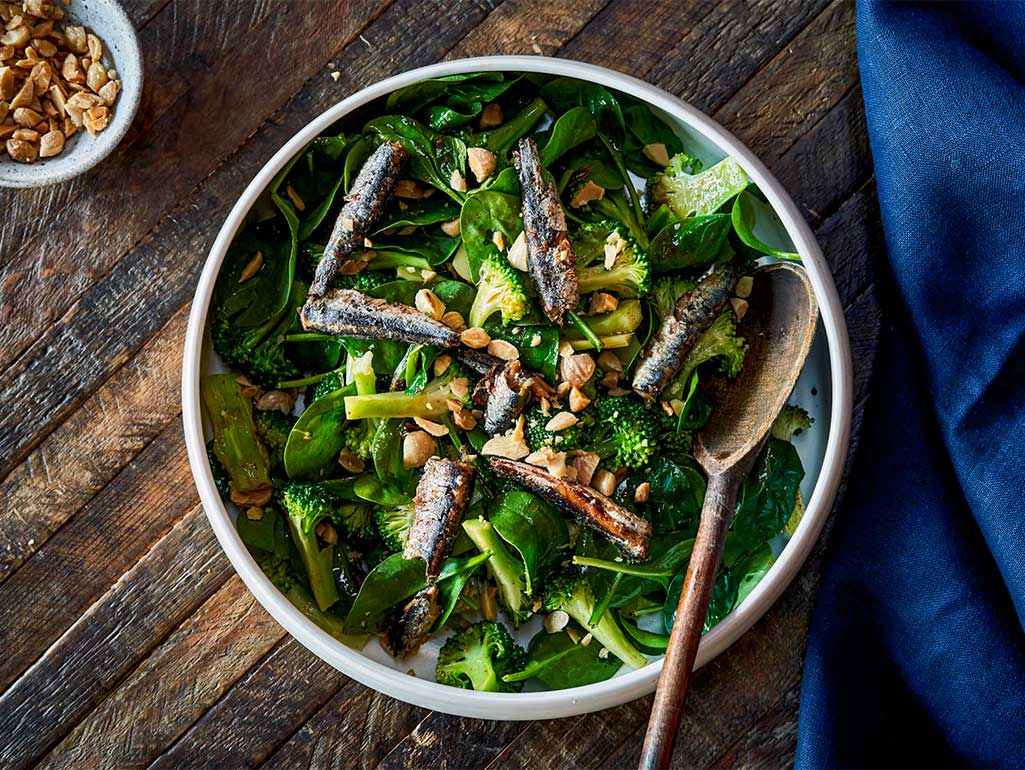 A simple salad dressing, using the roasted garlic oil from the anchovy can, brings tender broccoli and mild white anchovies together with baby spinach. We've fried the anchovies so they're crisp, like bacon, and added smoked Spanish paprika and almonds for even more flavor and crunch.
Ingredients
1 lb. broccoli
Several big handfuls baby spinach
1½ tbsp. extra-virgin olive oil, divided
2 tsp. lemon juice, plus more to taste
½ tsp. kosher salt
1 tsp. smoked Spanish paprika
⅓ cup Marcona, Guara or regular roasted almonds, coarsely chopped
Putting It All Together
Peel the tough outer skin off the broccoli stems, then cut the stems and florets lengthwise into planks. Steam the broccoli in a steamer basket set over boiling water, covered, just until tender and bright green, 3-5 minutes. Remove from heat.
Drizzle a little oil from can of anchovies into a large frying pan and heat over medium-high heat. Lift anchovies out of can into pan, leaving rest of oil and the garlic nuggets in the can (they'll spatter). Sizzle the anchovies until they're crisp and browned, turning once, 4-5 minutes. Remove from heat and let cool a few minutes to crisp up some more.
Put broccoli in a large salad bowl and add spinach. To oil and garlic in can, add olive oil, lemon juice, salt and paprika and whisk with a fork to blend. Drizzle over salad and toss well.
Add cooled anchovies and almonds to salad. Toss gently.