Smoked salmon may be best known as a bagel topping, but it deserves credit for all it can do beyond breakfast. The rich flavor and meaty texture of
 

Provisions smoked wild salmon

 

plays well with a wide variety of flavors and ingredients. These firm, flaky retort-packed fillets are similar to hot-smoked salmon. The fillets are delicious on their own, topped with fresh herbs or paired with creamy cheese; in a light grain salad or a seafood stew; or in tacos, pastas and scattered over pizzas. Of course, there's nothing wrong with eating it right out of the pouch with a slice of crusty bread, either.
Here are some of our favorite ideas and recipes for serving smoked salmon.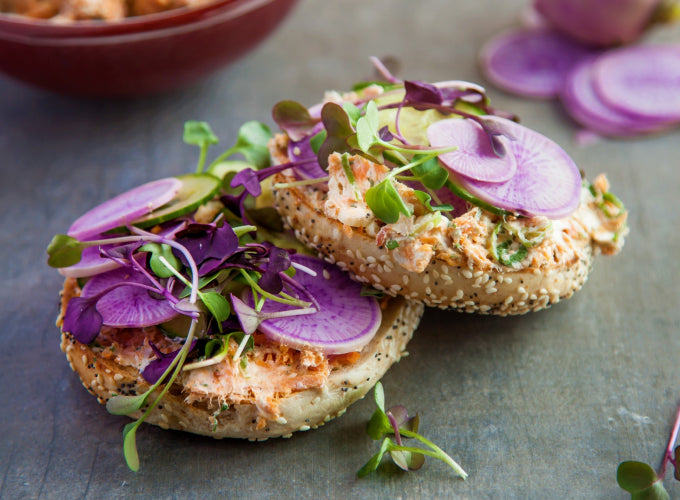 Provisions Wild Sockeye Salmon on an everything bagel, with purple winter radish and daikon sprouts for crunch and color. Photo by Amy Kumler
Breakfast
When you're trying to get out of a breakfast rut, smoked salmon is your ally. Toss it into your usual scrambled eggs and top with chives. Pile it on toast that you've spread with cream cheese, or, if you have a few extra minutes in your morning, try it with poached eggs and greens for a deluxe take on a bagel sandwich. Smoked salmon's plentiful protein—along with omega-3 fatty acids and vitamin D—will keep you satisfied till lunchtime or beyond.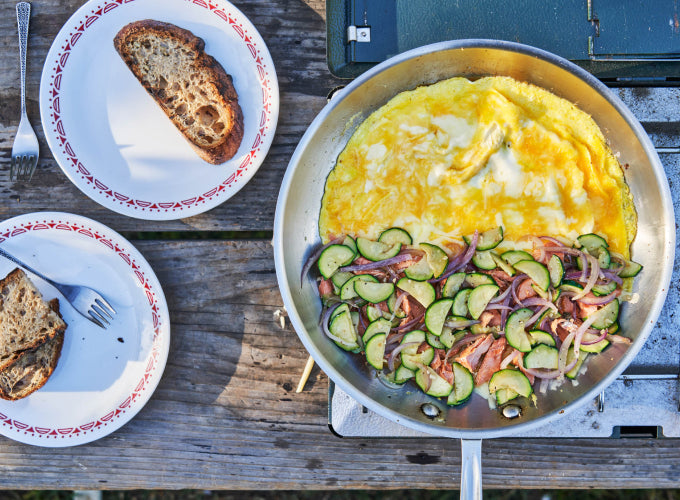 Kimi Werner's Wild Salmon Omelet. Photo by Thomas J. Story
Brunch
Smoked salmon is a brunch staple for a reason. It elevates everything it's served with, whether you add the fish to a big fat omelet or pan-sear it in salmon cakes to pair with a green salad. Or, for a smoked-salmon platter, lay out the fillets with other brunch fixings—like cucumbers, hard-cooked eggs, capers, tomatoes, red onions, dill, cream cheese, and bagels or toast—so people can help themselves.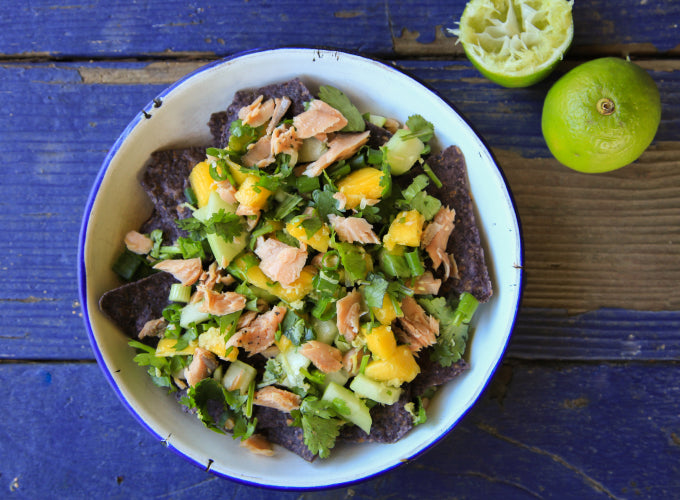 Smoked Salmon Ceviche. Photo by Amy Kumler
Lunch
That salad or veggie sandwich you make for lunch on autopilot every week can instantly become more appealing—and nutritious—with the addition of smoked salmon. For workday desk lunches or a weekend picnic, try adding salmon to a four bean salad, a cucumber, avocado and tomato salad or a tangle of soba noodles. If you're off for a hike, take two minutes and pack up this salmon wrap. In camp? Stir smoked salmon into hearty Tsampa Soup for a satisfying midday meal. Have a little more time? Put together a tangy, gingery take on ceviche, using smoked salmon instead of the usual raw fish.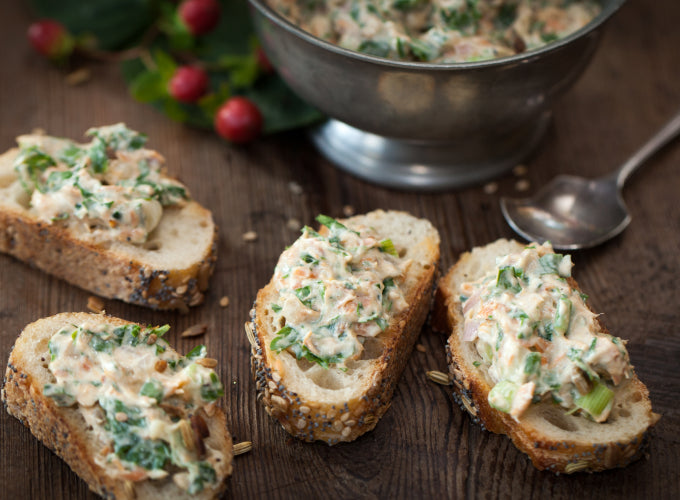 Wild Salmon Spread. Photo by Amy Kumler
Appetizers
Salmon with cream cheese on a cracker is the classic. There's nothing wrong with that, but sometimes it's fun to break out of the box and go for salmon spring rolls with lots of fresh herbs, or addictive, crunchy Salmon Hush Puppies with Chimichurri Tartar Sauce. For a twist on the smoked-salmon cracker, try this Wild Salmon Spread (one of Provisions' most popular recipes ever).
Spinach Walnut Pesto Fusilli with Salmon. Photo by Thomas J. Story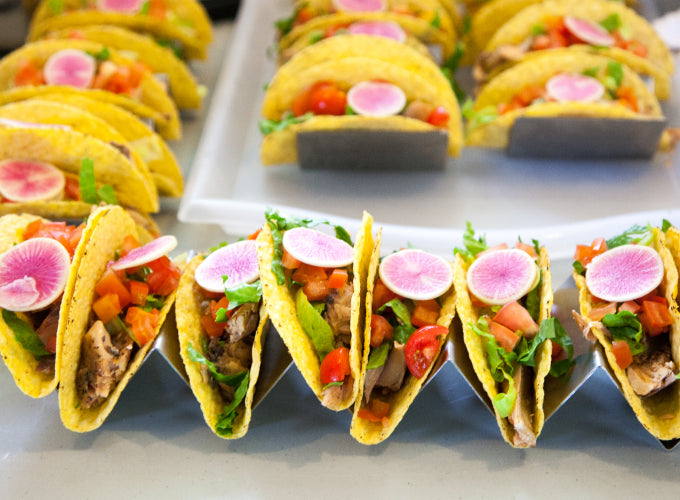 Seafood tacos for a crowd. Photo by Amy Kumler
Ways to Serve Smoked Salmon for a Party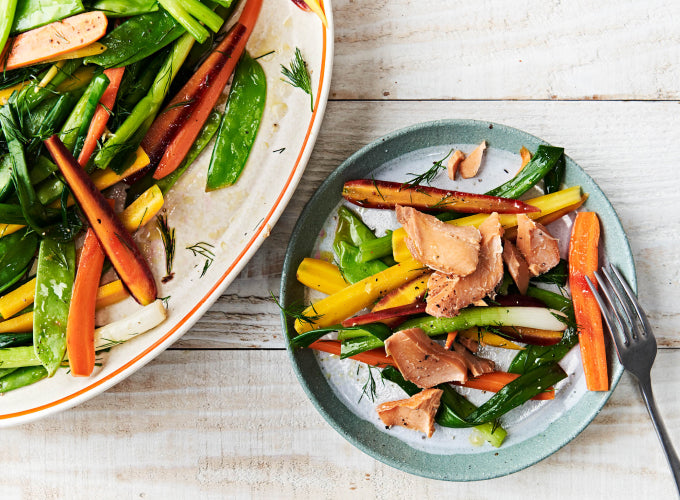 Blanched spring vegetables with Provisions Wild Sockeye. Photo by Thomas J. Story
Easy Pairings for Smoked Salmon
Of course, you don't need a recipe for enjoying smoked salmon—just a sense of what foods pair best with it. A few suggestions:
With crackers, softened cream cheese and capers
Tossed into a green salad with a lemony dressing
Stirred into hot pasta with a light tomato sauce, green onions, fresh parsley and extra-virgin olive oil
As deconstructed sushi: Eat it with steamed short-grain rice, avocado, cucumber, and seaweed strips for folding up the bites
On lightly steamed or blanched vegetables
Mixed into any grain-and-veggie bowl
In an egg salad (capers are great here)
On avocado toast
In a creamy risotto with dill and chives