Puff Pastry Salmon Turnover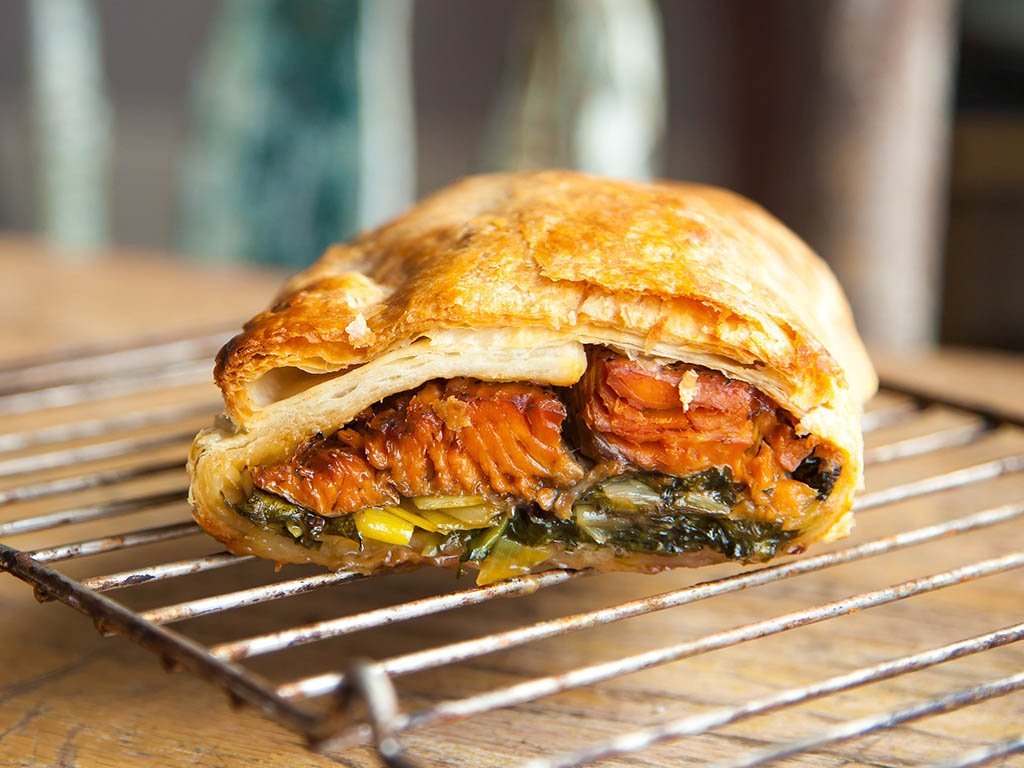 We pull out this decadent turnover recipe for all our special gatherings. Created by Tracy On, Chef and Cafe Manager at Patagonia Headquarters in Ventura.
Ingredients
1 (6 oz.) pack Patagonia Provisions Lemon Pepper Wild Sockeye Salmon, drained
2 leeks, green removed
2 tbsp. butter
Salt and pepper to taste
1 tsp. dried tarragon
¼ cup white wine
1 cup packed baby greens, such as spinach, kale or chard, cleaned and chopped
1 box (8.6 oz.) sheet puff pastry, defrosted as directed on package
1 egg, lightly beaten
Putting It All Together
Preheat oven to 400° F.
Quarter leeks lengthwise, wash thoroughly, and dice.
Over medium heat, melt butter in a large skillet. Add leeks, cover, and sweat until tender.
Season with salt, pepper and tarragon.
Add white wine and cook until liquid has evaporated.
Add greens and sauté until wilted. Remove from heat.
Unfold puff pastry onto a greased foil-lined baking sheet. Brush egg along the edges of the puff pastry.
Draw an imaginary line diagonally corner to corner across the puff pastry square. Spread the greens mixture in the triangle on one side of the imaginary line. Place Salmon fillet on top, rearranging or cutting if necessary to fit the triangle.
Fold the puff pastry diagonally over the filling, forming a large "turnover". Press the edges together lightly, and brush top of triangle with egg. Make one small vent hole in the top with a fork.
Bake for 30 minutes, or until golden brown.