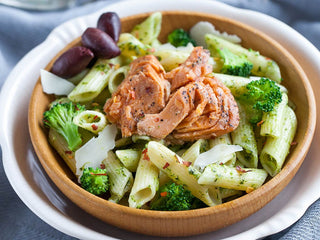 Wild Pink Salmon + Broccoli Penne Pasta
Recipe by Lynn Leishman
Ingredients
2 (4oz.) packs Patagonia Provisions Wild Pink Salmon, Black Pepper, drained and flaked
1 tbsp. salt
16 oz. penne pasta
1 large bunch broccoli (3 good-sized stems)
2 cups Parmesan cheese, grated fine
⅔ cup plus 3 tbsp. organic extra virgin olive oil, separated
Red pepper flakes, salt and freshly ground black pepper to taste
Shaved Parmesan and pitted Kalamata olives (or other black olives) for garnish
Putting It All Together
Wash broccoli and slice tough ends from broccoli stems. Cut off and separate broccoli florets and peel and chop stems.
Bring 6 quarts of water to a rapid boil; add salt and 3 tbsp. olive oil. Add pasta and broccoli and cook uncovered until pasta is "al dente"—approx. 9-12 minutes.
Drain pasta and broccoli and return to warm pan. Add Parmesan and remaining olive oil.
Stir in Salmon, red pepper flakes, salt and freshly ground black pepper to taste.
Garnish with shaved Parmesan and olives. Serve hot.