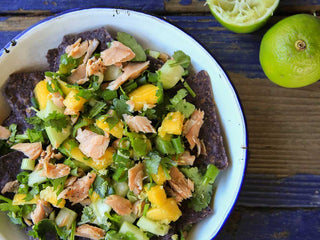 Patagonia's chef, Tracy On, created this take on ceviche with smoked Wild Pink Salmon instead of the typical raw fish. To balance the umami richness of the salmon, she added crunchy cucumber and some ripe mango, and brought it all together with lots of fresh lime juice and cilantro. Enjoy this gluten-free ceviche with tortilla chips as an appetizer, or pile on tostada shells for lunch or dinner.
Ingredients
1 (4 oz.) pack Black Pepper Wild Pink Salmon, drained and skin removed
1-in. piece of fresh ginger, peeled and grated
⅓ cup diced mango
1 green onion, sliced thin
3-in. piece of cucumber, peeled, seeded, and diced
⅓ cup chopped cilantro leaves and tender stems
¼ cup fresh lime juice (2-3 big limes)
2 tbsp. extra-virgin olive oil
½ to 1 serrano chile, sliced thin (seed first if you want it less hot)
Putting It All Together
In a medium bowl, combine all ingredients thoroughly while gently breaking up salmon. Serve immediately with tortilla chips, or pile onto a couple of tostada shells.