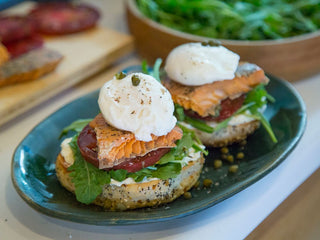 Salmon Bagel with Poached Egg
Fast food, made simply. This delicious six-minute recipe by Carla Malloy will make you rethink your breakfast routine.
Ingredients
1 (6oz.) pack Patagonia Provisions Wild Salmon (any flavor)
2 eggs
1 bagel (any flavor)
Cream cheese or creme fraiche
Arugula or microgreens
Caper berries (optional)
Salt and pepper to taste
Putting It All Together
Bring water to a simmer (not quite boiling) in a medium skillet. Carefully crack in eggs and poach for approx. 4 minutes over medium heat.
While eggs are poaching, slice and toast your favorite bagel. Spread each half with cream cheese or creme fraiche.
Top with Salmon. Gently slip a poached egg onto each bagel half and top with microgreens or arugula and caper berries, if desired. Season to taste with salt and pepper.