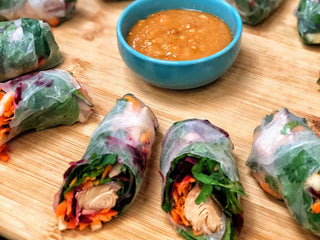 Kimi Werner's Spring Rolls
A favorite recipe of Patagonia Provisions ambassador, eco-activist and chef Kimi Werner. For these fresh spring rolls, Kimi likes to set out an array of ingredients and let family and friends create their own flavor and texture combinations.
Ingredients
2 (6 oz.) packs Wild Sockeye Salmon or 3 (4 oz.) packs Wild Pink Salmon 
12 rice paper wrappers
3 raw carrots, grated
3 raw beets, grated
Local greens (kale, lettuce, etc)
Cilantro or Thai basil, chopped
Fresh mint leaves
Avocado, sliced (optional)
Dipping Sauce (see recipe below)
Putting It All Together
Dip rice paper wrappers into hot water to soften. After two seconds, remove from water.
Get ready to roll: On a flat work surface, lay out rice wrapper.
Place desired ingredients horizontally in a line in the center of wrapper, leaving room on the edges for folding. Fold both sides in and roll using fingers to hold all ingredients together until sealed.
Experiment! Add rice noodles or a variety of different veggies and grains to personalize your spring rolls.
Dipping Sauce
3 tbsp. chunky peanut butter
3 tbsp. sweet Thai chili sauce
Soy sauce to taste
Rice wine vinegar (optional)
In a small bowl, mix peanut butter with Thai chili sauce, adding soy sauce and vinegar to taste. If desired, add water until sauce becomes ideal thickness.