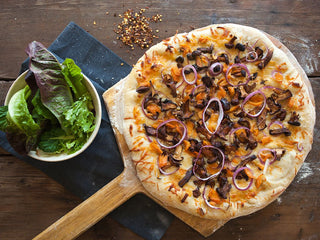 Wild Salmon Chanterelle Pizza
In this recipe from Closer to the Ground author Dylan Tomine, the mild ingredients bring out the subtle flavor of chanterelle mushrooms, and the smoked salmon provides savory highlights.
Ingredients
1 (6 oz.) pack Patagonia Provisions Wild Sockeye Salmon, drained and broken into small pieces
1 lb. pizza dough
Flour for rolling dough
1 ½ cups mozzarella cheese, grated
1 red onion, sliced very thin into rings
½ lb. chanterelles, sliced very thin lengthwise
3 tbsp. butter
½ tsp. garlic, minced
¼ cup Parmesan, grated
Putting It All Together
Preheat oven and a ceramic pizza stone to 500°F.
Roll, stretch and toss the dough into a thin, round shape, using plenty of flour to keep it from sticking.
Place the dough on a sheet of parchment paper on top of a large cutting board.
Melt butter in a medium frying pan. Add garlic, then add chanterelles and sauté over medium-high heat until mushrooms are almost cooked through.
Remove from heat.
Spread mozzarella, then chanterelles, then small pieces of Salmon, evenly on the dough. Top with a few thin rings of onion.
Sprinkle with Parmesan.
Place in oven on hot pizza stone and bake until golden brown and bubbling, approx. 12-15 minutes.