Polenta with Ricotta and Pesto Salmon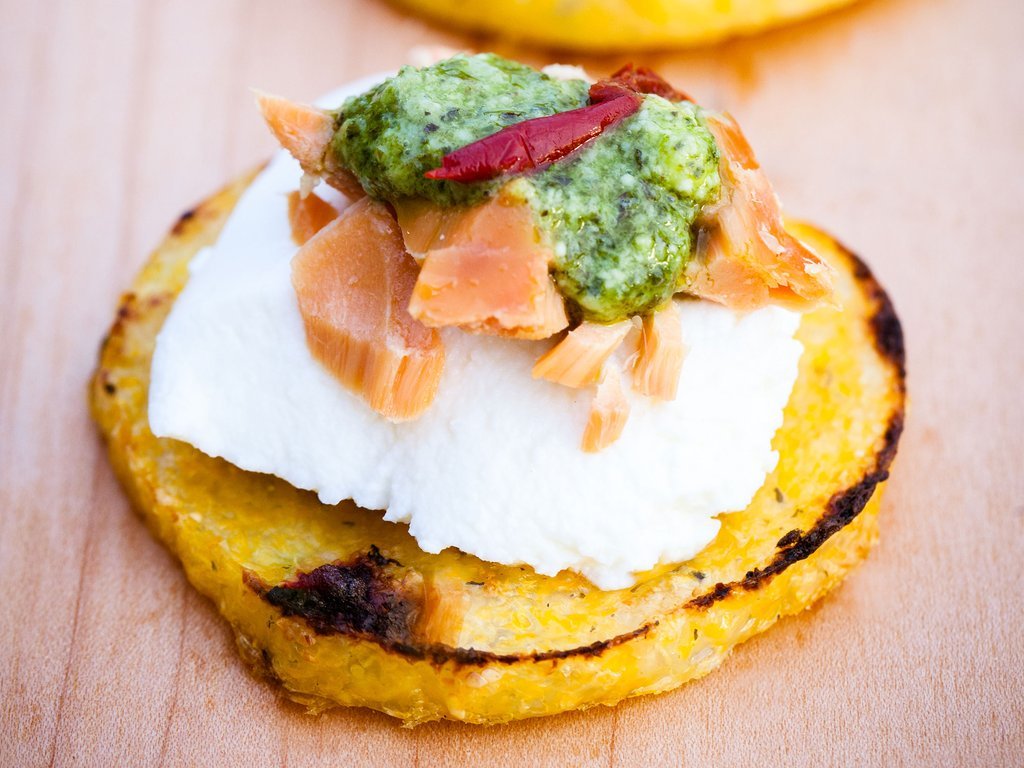 We tapped Christina Tobia of Tobia Bakes in Brooklyn to create a dish for our DamNation film event at Patagonia's Bowery store. And she delivered big, with this beautiful Italian-influenced polenta recipe.
Ingredients
1 (6 oz.) pack Patagonia Provisions Lemon Pepper Wild Sockeye Salmon, drained
½ cup Pesto (see recipe below), plus ¼ cup for serving
2 - 18 oz. tubes polenta, each tube sliced into 10 rounds
2 tbsp. olive oil
1 cup fresh ricotta cheese
2 Peppadew peppers, drained and sliced thin
For Pesto
2 cups packed fresh basil leaves
1 large garlic clove, minced
¼ cup Pecorino Romano cheese, grated
¼ cup almonds, toasted
½ cup olive oil
Salt and freshly ground black pepper

Grind almonds in a food processor. Add garlic and cheese and process until finely ground. Add basil and process, slowly drizzling in olive oil. If too thick, add water by the tablespoon and process until desired consistency. Season with salt and pepper to taste. (Extra pesto may be refrigerated in an airtight container for up to 5 days.)
Putting It All Together
In an airtight container, cover Salmon with pesto and let marinate in the refrigerator for 2 hours to overnight.
Bring marinated Salmon to room temperature (remove from refrigerator 1 hour prior to serving).
Preheat oven to 425°F.
Brush polenta rounds on both sides with olive oil. Transfer to a foil-lined baking sheet and bake until golden on the bottom and easily come off the pan, approx. 15-25 minutes. Then flip and bake until firm and crisp on both sides, approx. 5-10 minutes. Transfer to a plate and cool slightly.
Spread each polenta round with 1 tsp. of ricotta, then top with Salmon and a drizzle of pesto. Finish with a few slices of Peppadew peppers.