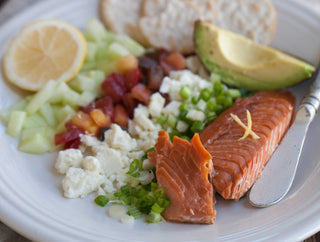 Cucumber, Avocado + Tomato Salad with Wild Salmon
A light, refreshing salad of fresh garden (or farmer's market) veggies and our savory, protein-packed Salmon. Perfect for an outdoor picnic lunch or healthy, low-carb dinner.
Ingredients
1 (6 oz.) pack Patagonia Provisions Wild Sockeye Salmon, drained and flaked
1 cucumber, seeded and diced
1 avocado, diced
1 medium-ripe tomato, diced
1 sweet onion, diced fine
2 tbsp. cilantro leaves, chopped
2 tbsp. green onion, sliced fine
½ cup feta cheese crumbles
Oregano-lime Dressing (see recipe below)
Oregano-Lime Dressing
¼ cup extra virgin olive oil
1½ tbsp. red wine vinegar
½ tsp. dried oregano
1 lime, juiced
In a small bowl, combine all ingredients and mix well. Season with salt and pepper to taste.
Putting It All Together
In a salad bowl or deep platter, toss cucumbers, avocado, tomato, onion and cilantro with half of dressing.
Top with Salmon.
Garnish with green onion, feta cheese and remaining dressing.