Easy, Healthy Holiday Recipe Ideas
Cooking good food and sharing it with those we love is an easy recipe for joy. Especially when we cut out the kitchen frenzy. In other words, we don't let the cooking harsh our mellow.
One key to keeping it calm is to include a few excellent prepared foods that don't compromise on flavor or shortchange our health or values. We like to use organic, responsibly sourced ingredients that make us proud to put dinner on the table.
Here's where Provisions come in handy. We've developed tasty, wholesome organic foods that get us to mealtime with our peace of mind intact. They're especially useful for fixing healthy holiday appetizers, easy holiday side dishes and feeding houseguests between feasts. Here are some of our favorites.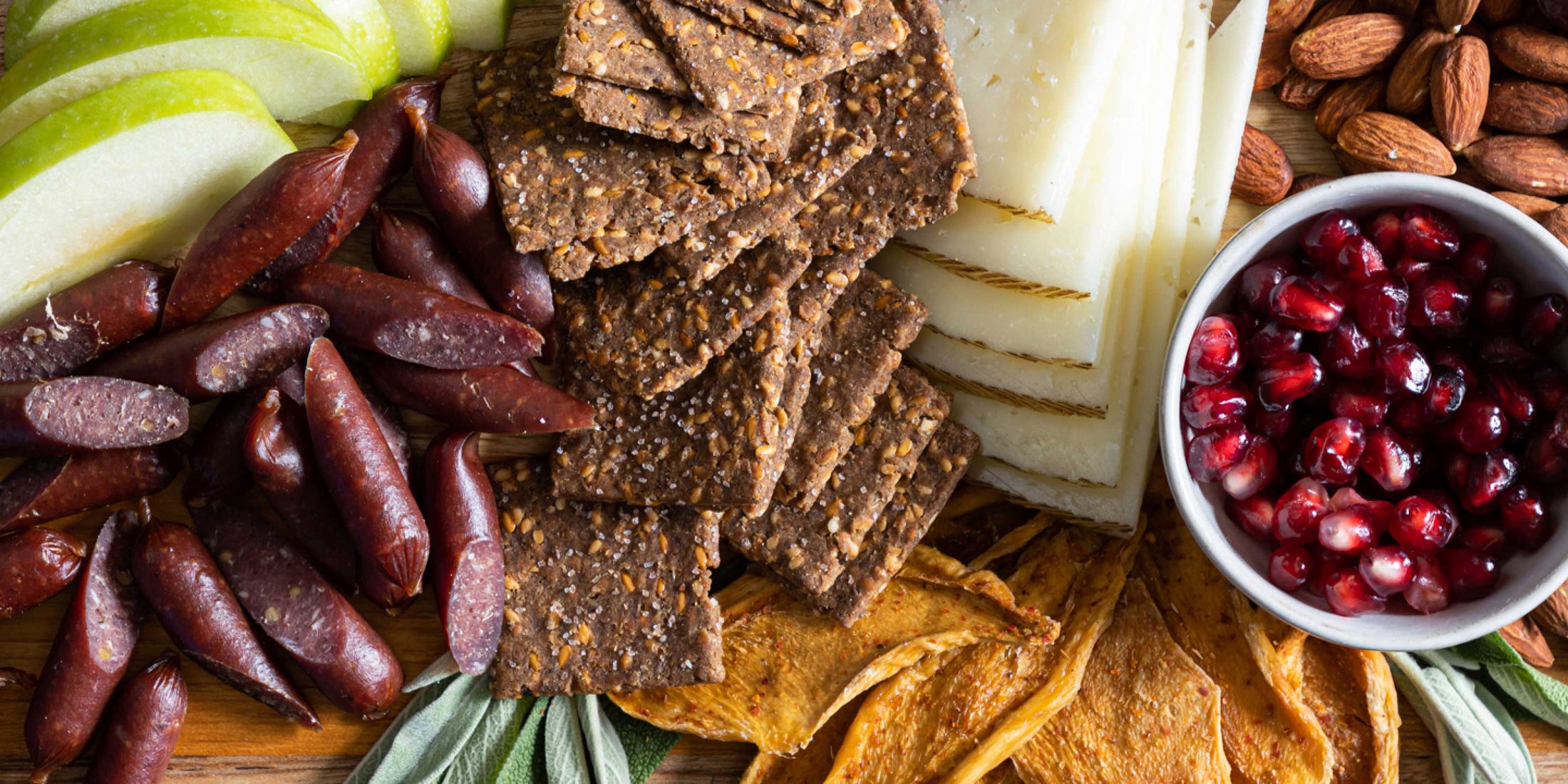 Healthy Holiday Party Appetizers
Hungry guests walking in the door right now? Open a pack of our Chile Mango and shake it out next to a chunk of cheese and some crackers or sliced baguette. If your people are especially ravenous, add a pack of our smoked wild salmon or tangy, smoky wild venison links.
If you have a little time to cook, though, check out these healthy ideas.
15 mins
8 servings
A Provisions staff and customer favorite for holidays like Christmas, this easy spread was created by an Alaskan fisherman. Make it with either our wild sockeye or our wild pink salmon, both packed with omega-3s and high in vitamin D.
See the Recipe
20 mins + 8 hours to pickle
9 servings
A burst of bright pink on the table, plus deliciously briny, smoky Nordic flavors— that's what you get here, for minimal effort.
See the Recipe
15 mins
8 servings
First we bake Saltines in butter, then we top them with mild, fresh-tasting Spanish White Anchovies, totally unlike salty "pizza" anchovies. We bet you'll open a second can.
See the Recipe
Your family probably has its fixed holiday main course – the turkey, the prime rib or the brisket. But there's wiggle room when it comes to the sides. Here are a few easy, crowd-pleasing ways to liven up the table.
30 mins
6-8 servings
Why is this such a great holiday salad? For one thing, it holds up well for hours. Also, it looks festive. But most important, it's totally delicious—a winter spin on Caesar salad that you'll want to make year-round.
See the Recipe
15 mins + 45 mins to roast
6 servings
We give up the mashed potatoes when the roasted ones are this good. Crisp and crackly-skinned, they're seasoned with rosemary, whole heads of roasted garlic and mild ground red chile.
See the Recipe
30 mins + 15 mins to bake
6 servings
A vegan take on the classic casserole that passes muster with meat eaters. The secrets? Rich cashew cream, plenty of fresh mushrooms and a crunchy topping of chile-dusted fried shallots.
See the Recipe
20 mins
8 servings
A showstopper side that combines crunchy fennel and radishes, creamy chickpeas and plump, meaty Provisions Smoked Mussels. A dill vinaigrette brings it all together.
See the Recipe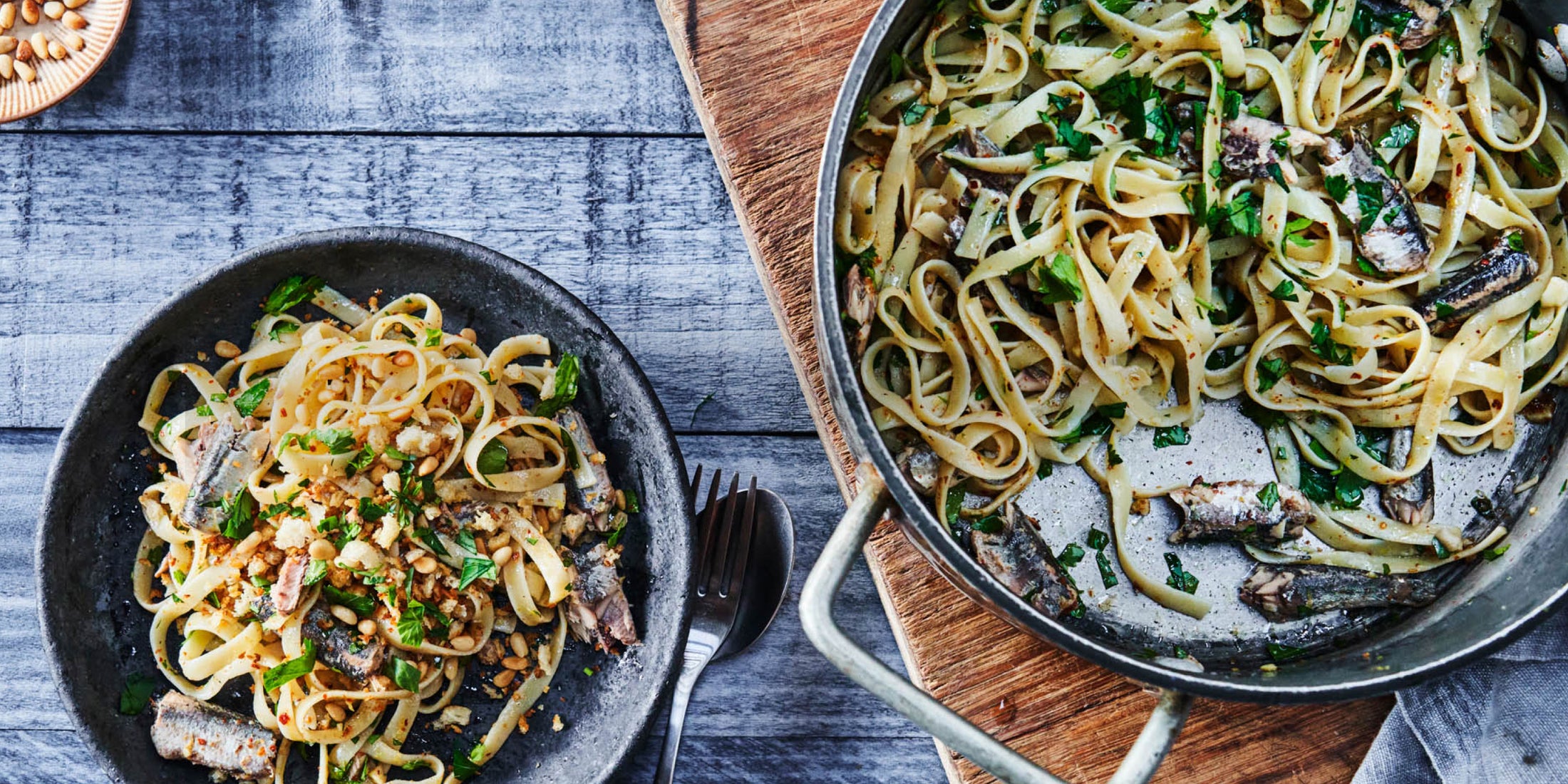 What to Feed Holiday Houseguests
Face it, the last thing you want to do after pulling together a holiday feast is…more cooking. We can help with easy-to-prepare breakfasts, lunches and dinners that won't suck you back into the kitchen for hours. Or persuade a guest to cook by promising them some Provisions to take home. Worth a try!
20 mins
4 servings
Good for breakfast, lunch or dinner, this deluxe omelet is jammed with seasonal vegetables and flakes of wild sockeye salmon, with melted cheese oozing out the sides. The recipe makes one giant omelet, so you can feed a few people at once. Get two pans going for a crowd.
See the Recipe
45 mins
8 servings
Short on time but craving the hearty flavors of the traditional Italian Christmas feast, we created this one-pot soup that combines 7 fishes—some fresh, some tinned—with aromatic fennel and white wine.
See the Recipe
25 mins
6 servings
Our mild, delicate Spanish White Anchovies shine in this pasta, full of lemony, garlicky flavor and topped with toasted pine nuts, breadcrumbs and parsley. It's simple to make but delivers big.
See the Recipe
More Holiday Cheer
We have more recipes waiting for you. All of them use our responsibly sourced Provisions to add flavor and nutrition, cut down on time and maintain your mellow.