Red Chile Roasted Potatoes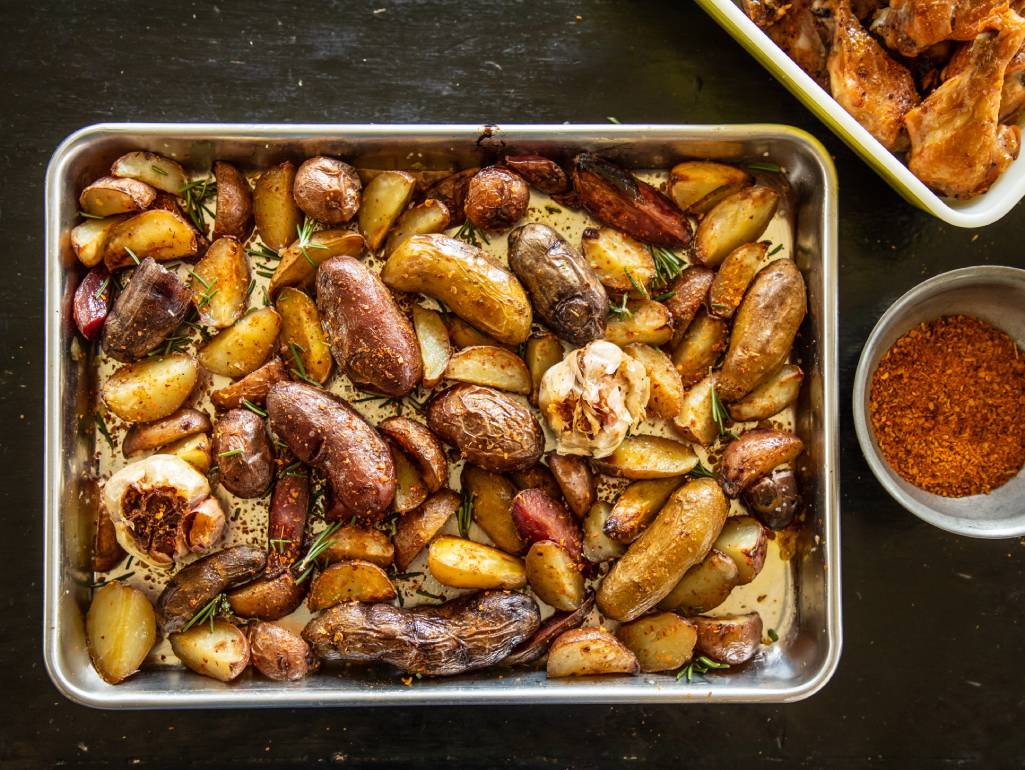 Argentine aji molido (ground red chile) has a rich, toasty, slightly smoky flavor without being too spicy and overwhelming the rosemary. It's great on crisp roasted potatoes. Throw a couple of heads of garlic in the pan to roast, too, for squeezing onto the potatoes or whatever else you're eating.
Ingredients
About 2 pounds fingerling potatoes (and/or round baby potatoes), cut in half lengthwise if thicker than 1 inch
2-3 sprigs of fresh rosemary
About 2 tablespoons extra-virgin olive oil
Sea salt to taste
Freshly ground black pepper to taste
About 2 teaspoons mild red ground chile to taste
2 whole heads garlic
Putting It All Together
Preheat oven to 375°. Rinse and dry the potatoes and rosemary (they'll roast better if dry). Finely chop enough rosemary to give you 1½ teaspoons.
Heap potatoes on a baking sheet. Sprinkle with olive oil, rosemary, salt, black pepper and aji molido. Toss and roll the potatoes around in the seasonings until they're well coated and spread them out in a single layer on the baking sheet.
Slice tops off garlic heads. Drizzle with olive oil and sprinkle with salt and pepper.
Roast the potatoes, stirring once halfway through, until nicely browned and crisp on the outside and tender when poked with a fork, 40-45 minutes.