Mussel Salad with Fennel, Chickpeas and Dill Vinaigrette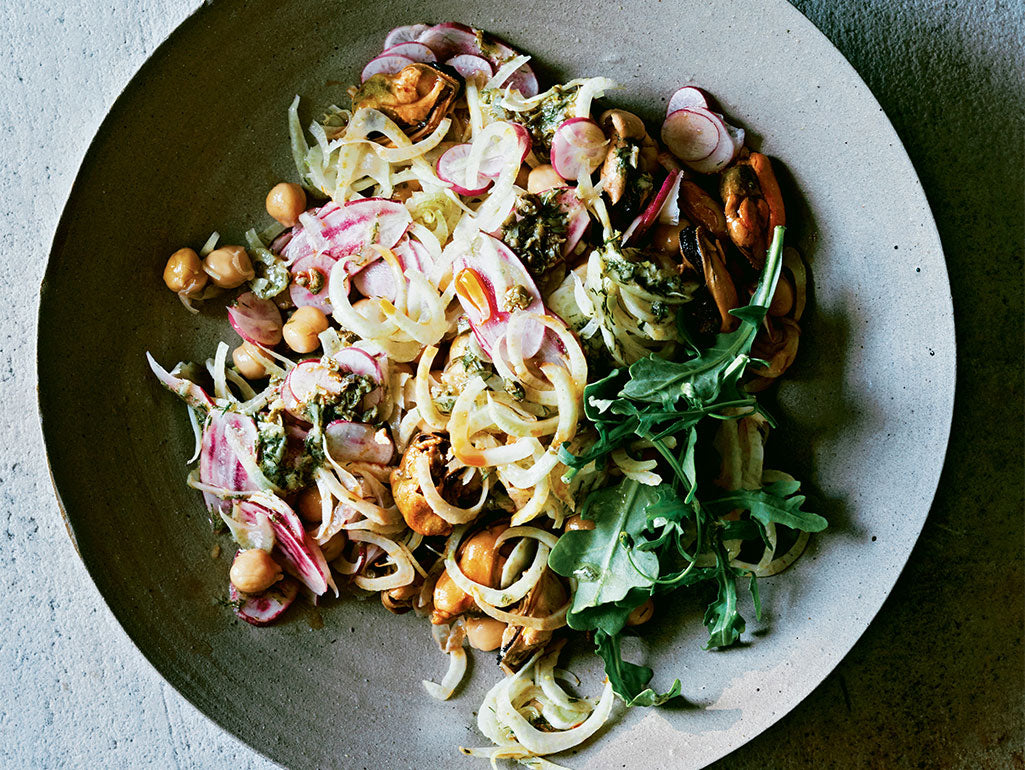 Adapted from The Magic of Tinned Fish by Chris McDade (Artisan Books). Copyright ©️ 2021. Photographs by Dana Gallagher.
Mussels cooked with chickpeas are a staple in kitchens across many countries. There is something magical about the contrast between the nutty, creamy chickpeas and the plump, briny mussels. This recipe builds on the tradition but incorporates the ingredients into a refreshing main-course salad brightened by a dill vinaigrette.
For Dill Vinaigrette:
½ tsp. Dijon mustard
2 tbsp. chopped fresh dill
3 tbsp. extra-virgin olive oil
Grated zest and juice of 1/2 lemon
1 clove garlic, peeled
Fish sauce
For Salad:
1 medium bulb fennel, halved through the root end
2 red radishes
1 (15 oz.) can chickpeas, drained and rinsed
1 tbsp. chopped capers
1 (4.2 oz.) tin Patagonia Provisions Smoked Mussels
Small handful of arugula
Putting It All Together
Make the vinaigrette: In a small bowl, stir together the mustard, dill, olive oil, lemon zest and lemon juice. This is a "broken" vinaigrette, so don't worry if it doesn't look emulsified. Add the garlic by grating it over the bowl with a Microplane. Season with fish sauce to taste and set aside. If you're not using this immediately, it will hold in an airtight container, refrigerated, for 3 days.
Prepare the mussel salad: Working over a large bowl and using a mandoline, thinly shave the fennel, starting at the bottom of the bulb and working your way toward the fronds. Repeat the process with the radishes.
Add the chickpeas to the bowl and toss to combine. Add the capers and stir to combine.
Taste the broth of the tinned mussels; if you think it's delicious, add it, along with the mussels, to the bowl. If not, drain the mussels before adding them to the bowl. Gently stir to combine, taking care to keep the mussels as intact as possible.
Add the dill vinaigrette to the mussel salad and gently stir, coating the chickpeas and vegetables.
Spoon the salad into serving bowls and garnish with a couple pieces of arugula.