Kale Caesar Salad with White Anchovies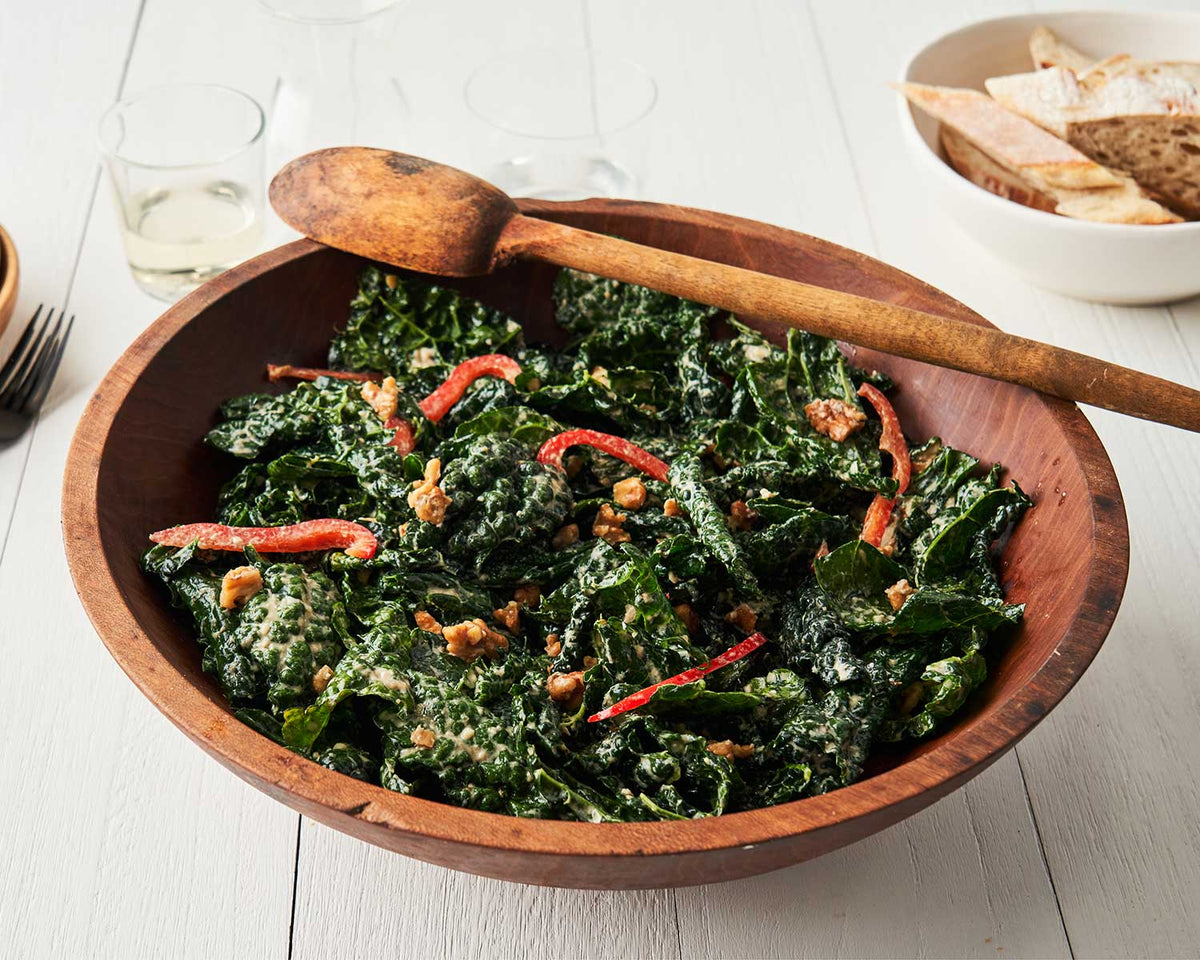 In this spin on the Caesar, mild white anchovies make the dressing thick, creamy, and especially delicious. Anchovies give us all the health and environmental benefits of eating lower on the food chain: omega-3 fatty acids, protein, vitamins and minerals, without the high levels of toxins often found in longer-lived, large predators like tuna and swordfish. Eating these small fish also eases pressure on overfished, larger fish.
The recipe comes from Exum Mountain Guide Zahan Billimoria and his wife, Kim, who started making their "Kale Salad with Endless Variations" more than 15 years ago, when a friend brought a kale salad to a potluck Thanksgiving.
"With so few ingredients, this is easy to whip up as a side salad—but often it IS the meal," says Kim. "We serve it Caesar-style, adding shaved parmesan, crusty bread and a protein. The basic salad will keep in the fridge for several days and the tart crunch is great in sandwiches or burritos."
More kale salad variations from Kim: "Summer evenings we often do a salad bar meal with various toppings such as nuts, cheese, olives and whatever fruit or vegetables looked best at the farm stand." Some favorites:
Berries or peaches with toasted nuts and blue cheese

Hard-boiled eggs and bacon

Mediterranean twist: olives, cucumbers, tomatoes, red onion, garbanzo beans and feta
Ingredients
2 bunches kale (Lacinato is best, or any variety picked when the leaves are young and tender)
Sea salt to taste
Extra-virgin olive oil
Juice of ½ lemon
⅓ large red bell pepper, thinly sliced
½ cup chopped toasted walnuts
For the Salad Dressing
Putting It All Together
Wash and dry kale and remove the stems. Tear or cut into smaller pieces and then sprinkle lightly with sea salt, olive oil and the lemon juice. Use your hands to rub or massage the dressing into the kale leaves. Give it a little time to marinate before serving—the lemon juice and salt help to break down the fibrous leaves so they're more digestible even though raw.
While the salad marinates, put all the salad dressing ingredients into a food processor and process until they're smooth and silky. Or you can mash them together with a fork for a rougher texture.
Toss the salad with the dressing until the leaves are well coated. Add the red bell pepper and toasted walnuts and toss again.