Smoked Mussel Chowder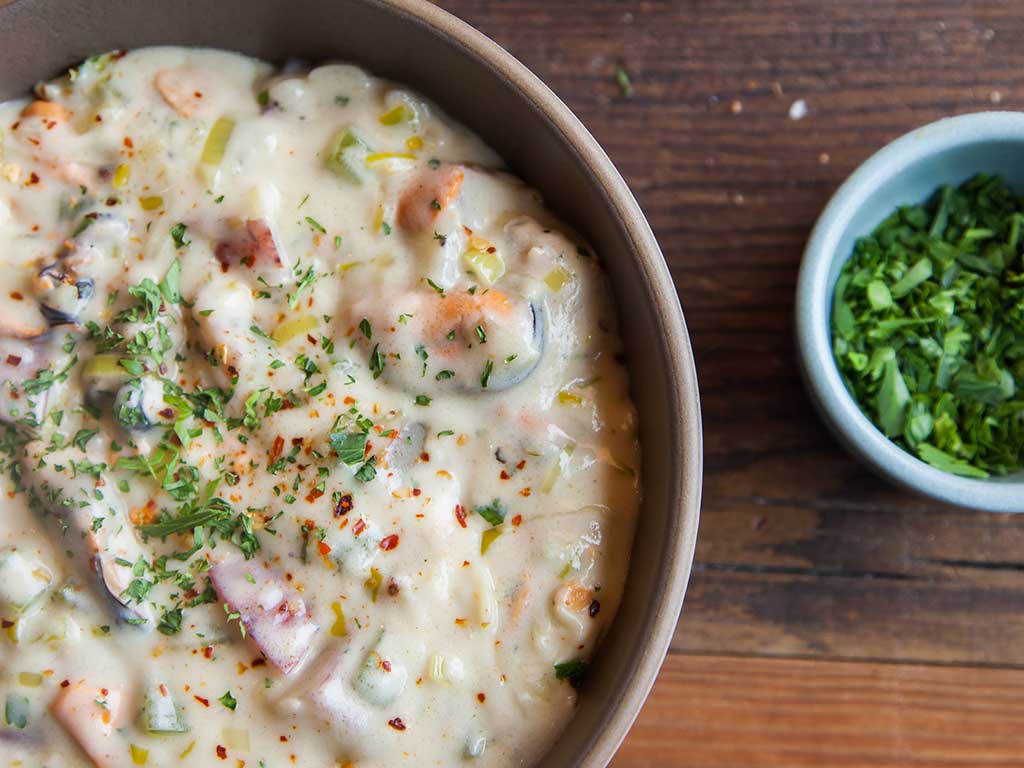 Served with a slice of crusty bread and a simple green salad, who can resist a nice hot bowl of smoked mussel chowder soup? If you're short on time for this recipe, you can also spruce up any store-bought chowder by adding a can of Provisions Smoked Mussels.
Ingredients
1 medium leek or 1 yellow onion
¼ cup butter
2 stalks celery, trimmed and diced
1 medium Red Bliss potato, diced
½ tsp. dried thyme
¼ cup all-purpose flour
Splash white wine, optional
1 cup half-and-half
1 cup broth (chicken or vegetable)
1 bay leaf
Salt and pepper to taste
½ lemon, juiced
Fresh parsley, chopped
Putting It All Together
If using an onion, dice. If using a leek, dice and wash before cooking: remove dark green top and split white end lengthwise in half. Leaving root intact, split each half lengthwise again to quarter. Dice quarters and discard root. Place diced leek in bowl of cold water and swish to wash thoroughly. Drain and pat dry.
In a small pot, melt butter. Add diced leek or onion, celery, potato and thyme. Sweat vegetables on medium-high heat until soft (but do not caramelize).
Add flour and whisk until combined. Add a splash of white wine if desired. Add half-and-half, broth or water, and bay leaf. Whisk periodically so flour does not stick to bottom of the pot. Bring to a simmer until thickened.
Add Smoked Mussels, including liquid from can.
Remove bay leaf. Season chowder soup with salt and pepper to taste. Finish with a squeeze of lemon and fresh parsley.
Discover More Smoked Mussels Recipes
Enjoyed this smoked mussels recipe? You may also want to try our Smoked Mussel Po'Boy or Savory Sofrito Mussel Empanadas.