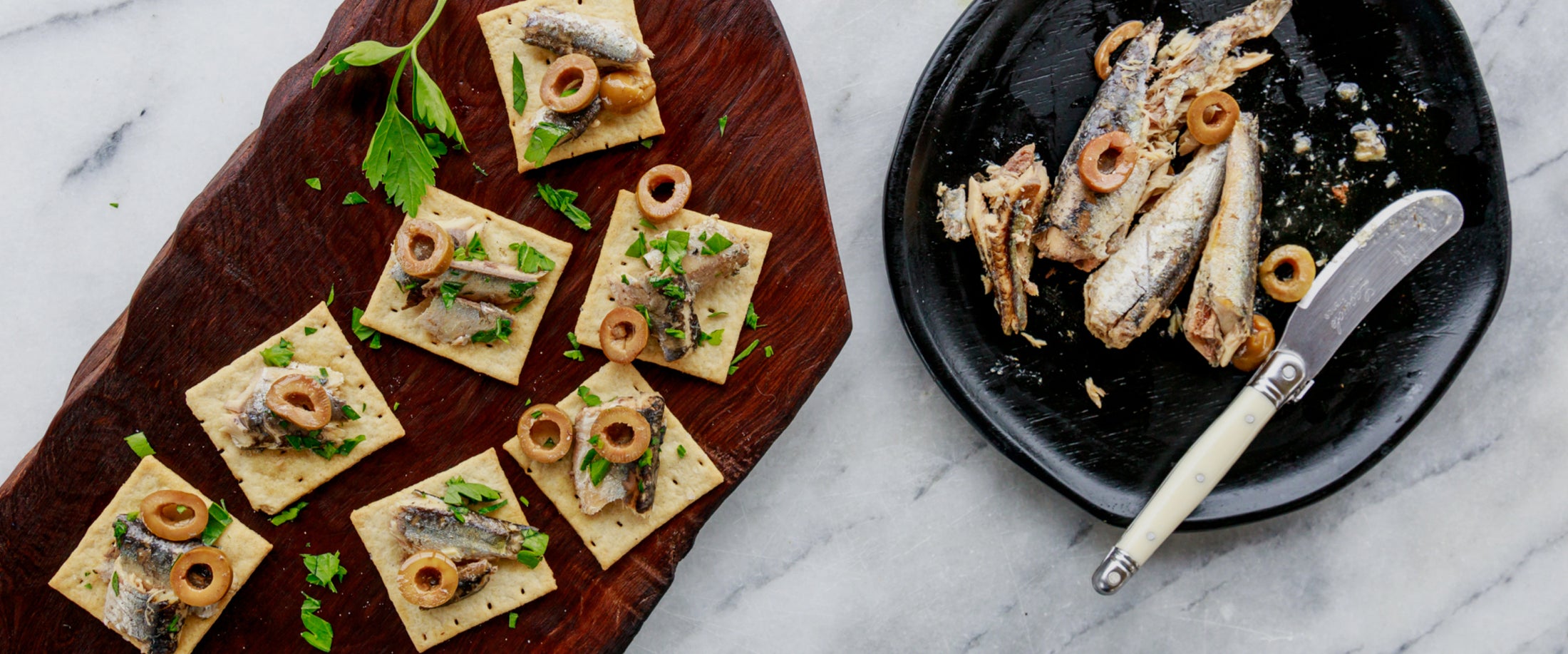 Easy, Tasty Toppings for Crackers
Before we get into toppings, can we just take a minute to salute the cracker? These handy little snacks keep for months, ready to slay your hunger or stand in for that bread you forgot to pick up at the store. They make great food for the trail, since they're small, light and long lasting. And with crackers on your shelf, you can always serve something tasty to friends who show up out of the blue.

Good organic cracker options make it easy to skip those highly processed industrial crackers—typically made with palm oil, high-fructose corn syrup and GMOs—and choose what's better for us and our environment.
So, What Can You Eat with Crackers?
Let's start with the cracker first. Is it a flavor bomb or kinda neutral? That'll help guide your topping choice. You don't want to be slapping a feisty blue cheese on a garlicky cracker, for instance, or you'll create a shouting match in your mouth.

A good rule of thumb: The milder the cracker, the more intense the topping can be. The reverse holds true, too: intensely flavored crackers are probably better off with mellow toppings.

We'll start with the No. 1 cracker pairing of all time and then chew through a few other classic combos, with some surprises along the way.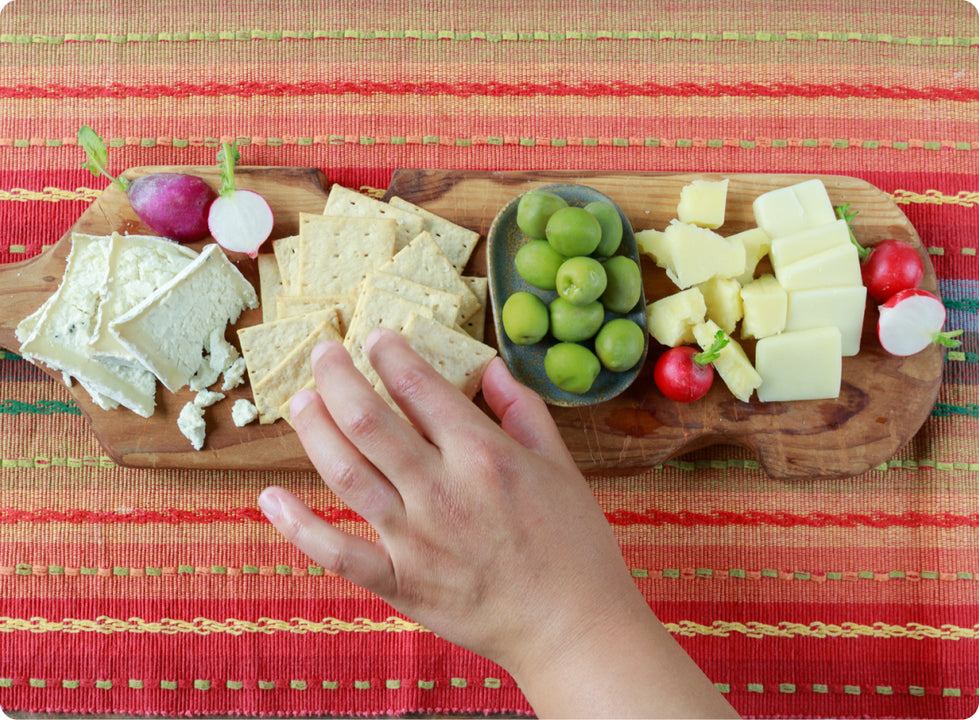 Patagonia Provisions Organic Sourdough Sea Salt crackers, anchoring your next cheese board.
Cheese + Crackers
No wonder this pairing ranks high—it's built a following for centuries. In the days before refrigeration, sailors and soldiers depended on cheese and crackers because they wouldn't spoil during weeks at sea or on the march. Their crackers were actually hardtack, a rock-hard flour-and-water ancestor of the cracker, but they did the job. Cheese and crackers fueled whaling ships, the Civil War and the Oregon Trail.
Ok, fast forward to your life right now, a life filled with choices. Here are a few ideas.
The slight tang of these crackers makes them wonderful with cheeses that have round, ripe flavors. Because the pairing is so simple, the better the cheese, the more satisfying your snack will be.
Dried fruit and nut crisps + sliced pear, blue cheese and honey
Flavors and textures mix in every bite, with salty blue cheese popping against sweet fruit and honey, and soft toppings meeting the crunch of the cracker.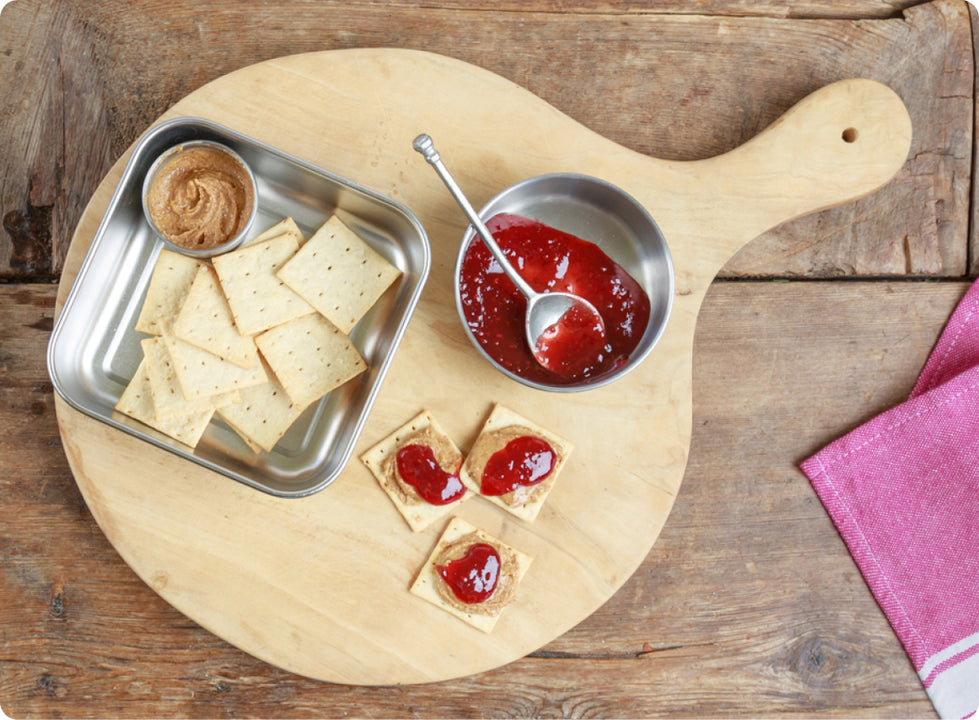 Patagonia Provisions Organic Sourdough Sea Salt crackers with roasted almond butter and raspberry jam.
Peanut Butter + Crackers
The childhood favorite holds strong. If peanut allergies aren't an issue, consider these combos, all good with mild wheat or rice crackers:
There's a reason Elvis loved the peanut butter banana bacon sandwich, allegedly invented by the Colorado Gold Mine Company restaurant in Denver. It's really good if you trade the bread for crackers, too.
Rice crackers or rice cakes + peanut butter, sambal, shredded chicken + cilantro
Swirl the peanut butter with sambal, a fiery Indonesian condiment, for a spicy Southeast Asian spin on peanut butter. Shredded roast chicken and cilantro—and maybe a squeeze of lime if you have it—make this a party-worthy topping. If you don't have sambal, chile crisp or Sriracha works too.

If peanut butter isn't your thing, try our current favorite nut butter and cracker pairing:
We love making a stack of crunchy little sandwiches and demolishing them with a cup of tea or coffee. Kids love them too.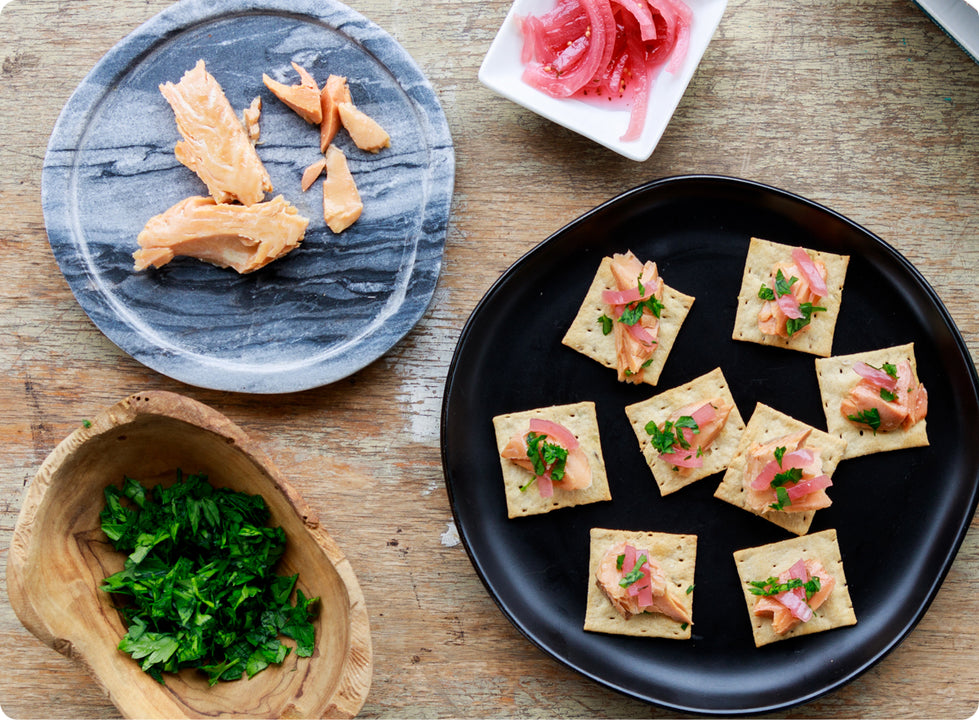 When you want to do it up a little: Patagonia Provisions Organic Rosemary Garlic Crackers with Lightly Smoked Wild Salmon, pickled red onions and parsley.
Smoked Salmon and Crackers
Whether it's chunky hot-smoked salmon or silky, thin-sliced lox, salmon tastes really, really good on crackers. The same holds true for tinned fish: mussels, mackerel, mild white anchovies, herring and sardines. Something about the sweet, earthy taste of wheat paired with the briny richness of fish just…works.

Tinned fish and crackers can keep a person happy for quite some time. But if you want to explore the taste landscape, try:
Pickled onions add zing to each rich bite. Here's a 5-minute recipe to pickle your own onions: Slice half an onion into thin rings and put in a jar with ½ cup boiling water. Stir in 3 tbsp. white vinegar, 1½ tsp. salt and 1½ tsp. sugar. Let sit at least 30 minutes, then chill; they'll keep a couple of weeks in the fridge.
Herb crackers + smoked salmon, cream cheese, fresh red onion and capers
We've built these to eat with scrambled eggs at brunch, and we've also had them in camp, putting out the components and letting people top their own crackers.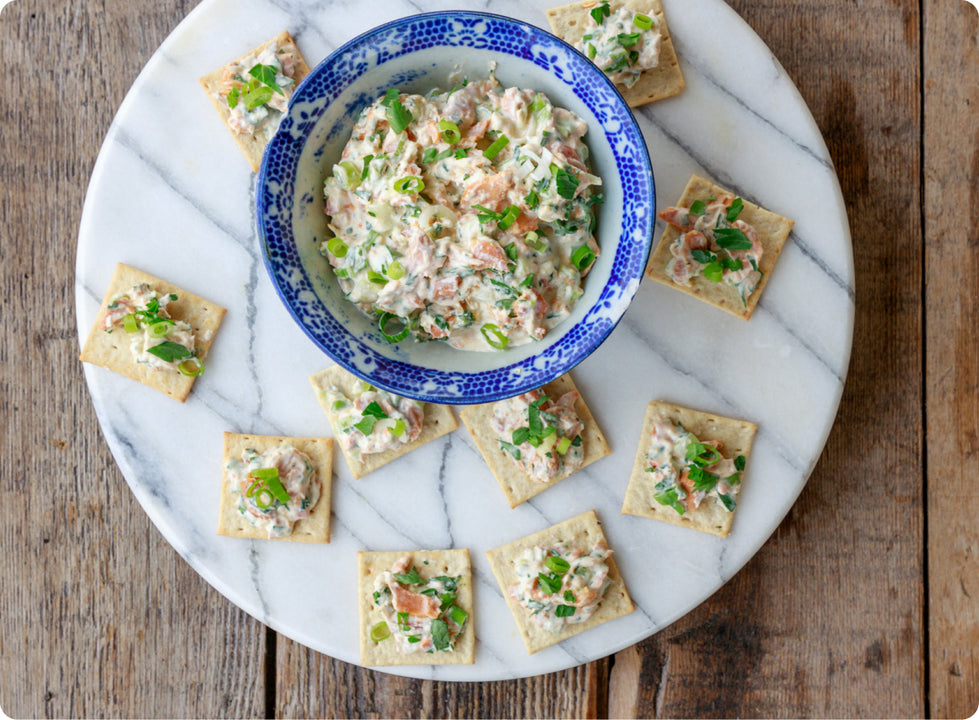 Patagonia Provisions Organic Sourdough Sea Salt crackers with Wild Salmon Dip.
Crackers with Dips
If you're in the mood for scooping rather than topping, try 
a few of these.
Herb crackers with chicken salad
Chile-spiked crackers with raita (Indian yogurt-cumin sauce)
Cheese crackers with caramelized onion dip
Everything crackers with red-pepper hummus
Sesame-seed crackers with babaganoush
Rosemary crackers with white-bean dip
Still Craving Crackers?
There's a multitude of cool stuff you can do with crackers besides top them. We break up crackers over salads, crumble them into soups and grind them to stand in for breadcrumbs in recipes—like these easy smoked salmon patties.
Shop Crackers
We produce organic crackers made with regeneratively grown wheat, in four different delicious flavors: Sourdough Sea Salt, Rosemary Garlic, Margherita Pizza and Vegan Cheddar Cheeze. All are good on their own or with toppings.