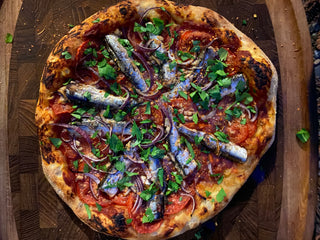 The fastest, easiest way to make this umami bomb of a pizza: Top any premade, tomato-sauced pizza—from the store or delivered—with tinned white anchovies.
If you want to make your own pizza, here's a quick method. You don't need a pizza stone or pizza peel; a couple of baking sheets will work fine. Add the anchovies to the pizza before baking, so their flavor has a chance to mingle with the sauce.
Ingredients
1 lb. store bought refrigerated pizza dough
All-purpose or semolina flour, for dusting
About ½ cup of your favorite pizza sauce
3 Roma tomatoes, thinly sliced
1 can Patagonia Provisions Garlic White Anchovies, inverted onto a plate and each anchovy sliced lengthwise
About ¼ cup thinly sliced red onion
Red chile flakes (optional)
Chopped parsley (optional)
Putting It All Together
Put an upside-down baking sheet on the bottom shelf of oven and preheat to 550° (or as high as oven will go), at least 25 minutes. Meanwhile, let the dough sit at room temperature (it'll be easier to stretch).
Dust a second upside-down baking sheet with flour or semolina. Put the dough on the peel and stretch into a 10- to 11-in. circle. (See tips below.)
 Spoon pizza sauce onto dough, leaving at least a 1/2-in. border. Shingle on tomato slices, then arrange the anchovy pieces, shiny side up, on pizza. Top with red onions.
Plant the tip of the pizza peel (or long edge of the baking sheet) on pizza stone (or preheated sheet) and yank it backwards, leaving the pizza on the stone.
Bake the pizza until the crust is puffy and browned, 15-20 minutes. Remove pizza from oven and sprinkle with chile and parsley if you like.
Some tips for stretching pizza dough
Let the dough come to cool room temperature.
Tap down the center of ball with your fingertips to gently deflate it. Next, push it outward from the center with your fingertips.
Pick up the dough circle and, holding it under the rim, turn it like a steering wheel, letting the gravity of the dough help it stretch.
Drape the wheel of dough over the backs of your hands and gently stretch outward, rotating periodically.
Lay the stretched dough onto the baking sheet.