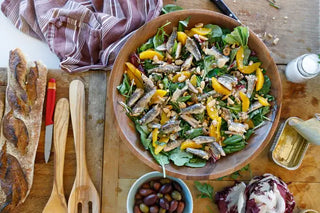 White Anchovy and Citrus Salad
Climber and cook Karen Shinto gave us this recipe for big, multilayered dinner salad built around mild tinned white anchovies. To balance the richness of the anchovies, Karen adds fresh oranges and tosses the salad with a lemony, mustardy vinaigrette, made with the oil from the tins. Chopped almonds give a toasty crunch.
Ingredients
8 cups loosely packed baby spinach
1 cup loosely packed arugula
2 cups mixed bitter greens like radicchio, frisee and escarole, torn into bite-size pieces
½ cup flat-leaf parsley leaves
1 bunch chives, cut into 1-in. pieces (about ¼ cup)
·2-3 navel oranges
Juice and zest of ½ lemon
1 tsp. Dijon mustard
Sea salt and freshly ground black pepper
¼ cup chopped Marcona almonds
Putting It All Together
Put all greens and herbs in a large serving bowl.
Slice peels off oranges. Working over the bowl, slice oranges between the membranes to release the segments (and juice) into the bowl. Or, cut oranges crosswise into thin, juicy disks and add them to the greens.
Finely chop the lemon slices from the anchovy tins and scatter over salad.