Romesco Mackerel Toast with Fried Capers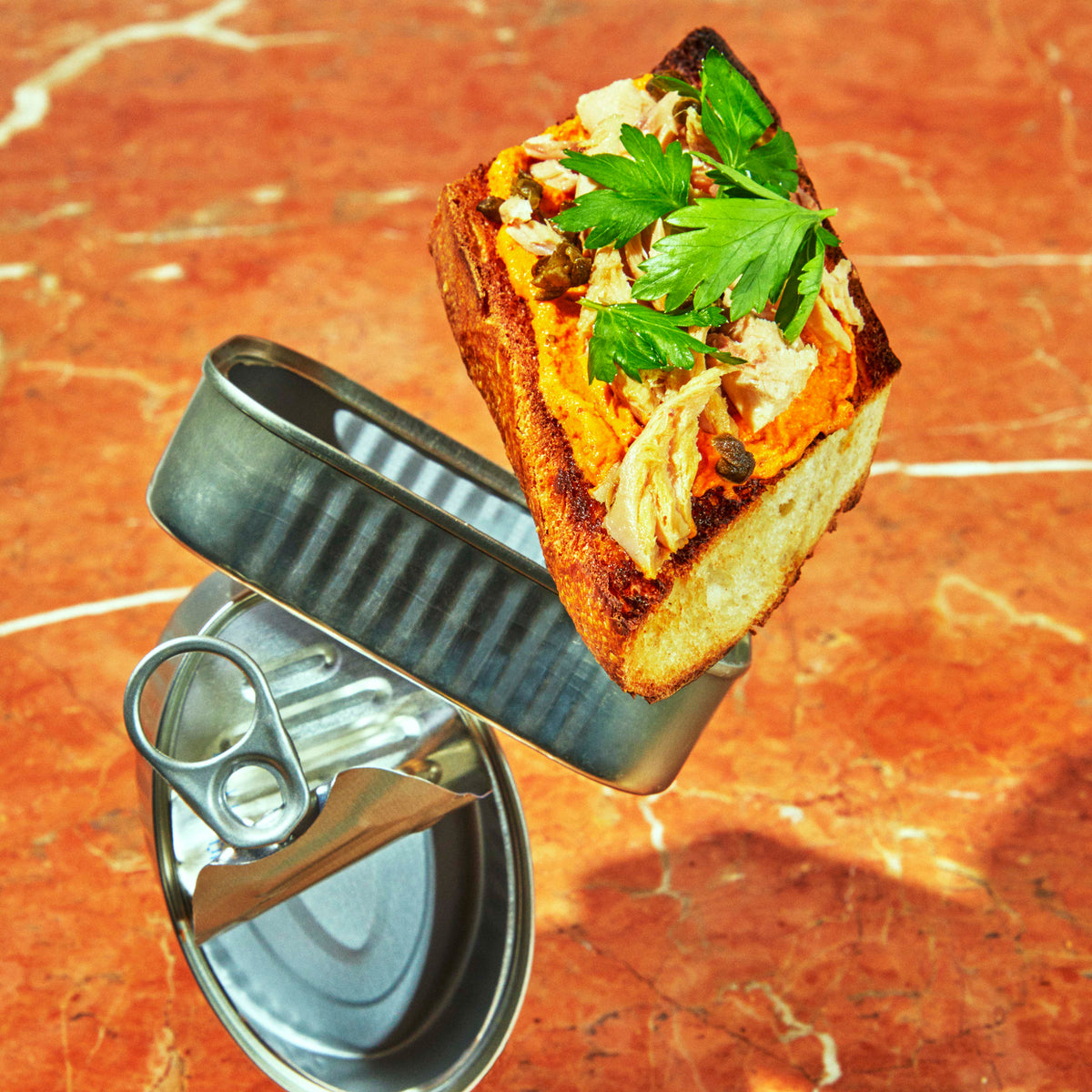 Mackerel has a wonderfully mild flavor, much like tuna, but the meat is more delicate. I love the way it tastes with a romesco sauce full of roasted almonds, roasted red peppers, and smoked paprika. This warm, smoky toast would make a happy addition to a pot of soup for a dinner party, or you could serve it alongside a salad and a charcuterie spread. Rubbing the warm bread with garlic gives it a little bite without distracting from the fruity, smoky romesco or the tender flakes of fish.
Ingredients
1/2 baguette (about 8oz
1 TBSP olive oil
1 garlic clove
1 recipe romesco sauce (see below)
one 3 to 4oz tin mackerel fillets in olive oi Patagonia Provisions drained
1 recipe crispy fried capers (see below)
1/2 cup [5 G] fresh flat-leaf parsley leave
Putting It All Together
Preheat the broiler. Cut the baguette in half lengthwise, and then cut each half into three slices. Arrange the slices on a baking sheet and brush the cut surface of the bread with the olive oil. Broil for about 2 minutes, or until parts of the bread are just beginning to toast and char slightly.
Rub the garlic clove across the surface of each slice. Divide the romesco sauce among the toasts, spreading it lightly. Flake apart the mackerel fillets into bite-size pieces, and sprinkle across the surface of each toast. Sprinkle the toasts with the capers and parsley leaves. Eat immediately.
Romesco Sauce Ingredients
1/2 cup packed roasted red peppers from a jar
1/4 cup roasted salt almonds
1 garlic clove 1/4 cup [60 ML] olive oil, plus 1 TBSP if needed
2 TBSP sherry vinegar)
one 1 IN long heal of a baguette
pinch of kosher salt
pinch of freshly ground pepper
pinch of smoky paprika
Put It All Togethers

Combine all the ingredients in a blender or food processor, and blend for about 1 minute, until smooth and creamy. If the consistency is pasty, add 1 more tablespoon of olive oil. Serve immediately, or store in a tightly covered container in the refrigerator for up to 3 days.
Crispy Fried Capers Ingredients
2 TBSP capers packed in brine
3 TBSP olive oil
Put It All Togethers

Spread out the capers on a paper towel to absorb any moisture.
In a small skillet, heat the olive oil over medium heat for about 2 minutes. The oil is hot enough when a caper added to the skillet bubbles and sizzles. Add the capers and give them a quick stir to distribute. The pan will sputter, so stand back. Fry the capers for 3 minutes, or until the bubbling has died down and the capers are golden brown, stirring a couple times while they cook.
With a slotted spoon, remove the capers and drain on a paper towel. Save the cooking oil for salad dressing or for cooking your next frittata.
Reprinted from Tin to Table by Anna Hezel, with permission by Chronicle Books, 2023. Photographs © Chelsie Craig. Illustrations © Alex Citrin.