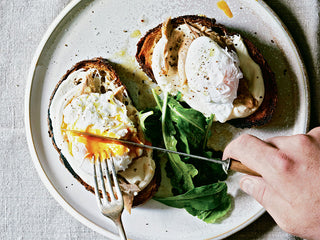 Mackerel and Poached Egg on Toast
Adapted from The Magic of Tinned Fish by Chris McDade (Artisan Books). Copyright ©️ 2021. Photographs by Dana Gallagher.
For a new way to enjoy poached eggs, try them over toast with mackerel fillets. Learning to poach eggs will serve you for many years to come. It may take you a time or two to get the poaching right (see technique below), but before long, you'll master the firm whites and runny yolks that are the hallmarks of the perfectly poached eggs coveted by most brunch aficionados.
Ingredients
2 tbsp. distilled white vinegar
4 thick slices sourdough bread, about 1 in. thick
¼ cup extra-virgin olive oil
1 tbsp. Dijon mustard
½ cup sour cream
Kosher salt and freshly ground black pepper
4 large eggs, the fresher the better
2 (4.2 oz.) tins Patagonia Provisions Roasted Garlic Mackerel or 2 (4.2 oz.) tins mackerel in whole-grain mustard
Small handful of arugula or watercress
Lemon, for squeezing
Putting It All Together
Fill a small pot three-quarters of the way with water. Add the vinegar and bring to a boil. The vinegar will help the egg whites hold their shape.
While waiting for the water to come to a boil, drizzle both sides of the 4 slices of bread evenly with the olive oil. Toast the bread under your broiler or on a griddle. You want some color but still want the bread to be soft in the middle. In a small bowl, mix together the mustard and sour cream. Season with salt and pepper.
Turn the water down to a gentle simmer. One at a time, crack an egg into a small bowl and carefully slide the egg into the water. Gently give the water a stir two or three times. This helps the eggs to cook evenly. Allow the eggs to simmer for 3 minutes for runny yolks or 5 minutes if you prefer them a bit firmer.
Evenly spread the mustard mixture on the toasted bread. Top each piece of toast with a half tin of mackerel. Using a slotted spoon, remove the eggs one at a time, and set spoon on a folded paper towel to drain for a second or two. Place each egg on a piece of toast and season with salt and pepper. Top each toast with a few leaves of arugula or cress, squeeze on a little lemon juice and serve.