At Pérez Lafuente, mussels run in the family.
 From the early days of Provisions, we knew we wanted to get mussels onto our "menu" of product offerings. They're low on the food chain, high in nutrition, and they actually improve the quality of the waters that surround them. Not to mention that they're delicious: Many of us at Patagonia can easily put away a can of mussels in one sitting—with or without crackers. But when you're committed to responsibly sourced seafood, and there's no USDA criteria for organic mussels on the horizon, where do you go? Well, we looked across the pond.
Mussels have been cultivated in the Galicia region of northwestern Spain for centuries. The expansive coastline features five protected bays that have just the right water temperature and balanced nutrients needed for mussels to thrive. Mediterranean mussels, the variety we use, are native to the region and are coveted for their size, quick maturation and briny flavor.
Generations of Galicians have enjoyed these plentiful mollusks as part of their birthright, scraping them off the rocks along the shoreline, preparing them with whatever spices and vegetables on hand, and passing them around the family table.
Pérez Lafuente, our mussel producer, is one of these families. They've been fishing and harvesting mussels in the Galician town of Villanova de Arousa since the 1880s. In fact, Pérez Lafuente's founding fathers built some of the first bateas—wooden rafts with hanging ropes—for mussels to grow on until harvest time. The mussels eat passing plankton, so there's no need for feed, chemicals, or other human intervention. The bonus is this filtering action keeps the waters around them clean: A single mussel can filter upwards of 15 gallons of water per day.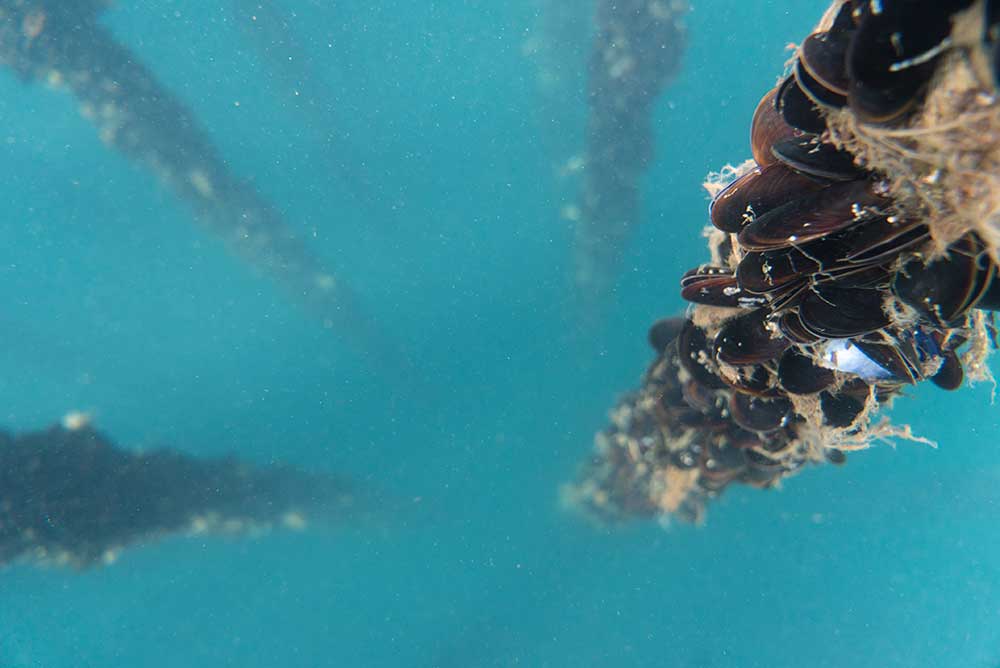 Darcy Turenne
 Fourth-generation owner Juan Pérez Lafuente shifted the company toward sustainable practices starting in the early 2000s, seeing a need to respond to overfishing and the dire condition of our oceans. When EU Organic standards for aquaculture were established a decade ago, Lafuente jumped on board, using the standards to regulate every aspect of mussel cultivation—from rope materials to water quality and seed sourcing. They produced some of the first organic mussels in Europe. Now they have official B Corp status, and are currently working to be the first biodynamic-certified canned fish facility in the world. 
Deeply rooted in the Galician traditions of fishing and seamanship is a strong if-it-ain't-broke philosophy, which we share at Patagonia. We also share with Pérez Lafuente a sense of urgency and responsibility to fix the things that are broke. They've perfected their family's century-old traditions for a modern age, and do all they can to ensure that those traditions continue for generations to come.