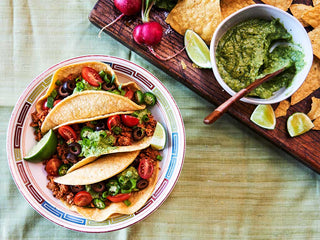 Vegan Walnut Chorizo Tacos
Skill Level: Easy
Makes: 8 tacos
This walnut "chorizo" is a huge hit at the Patagonia café in Ventura, where it's most often used in enchiladas and these tasty tacos. Besides being an excellent source of plant-based omega-3s, walnuts have a relatively low carbon footprint compared to other nuts (like almonds, for instance, which require a gallon of water per nut).
If you're short on time, buy bagged pre-chopped ("riced") cauliflower. For a low-carb taco, substitute the potato with 3 large cremini mushrooms, pulsed in a food processor.
Ingredients
1 cup walnuts
½ head cauliflower (about 10 oz. without leaves)
2 tbsp. extra-virgin olive oil
1 medium Yukon Gold potato (about 5 oz.), cut into 1/2 -in. pieces
½ yellow onion, finely diced
2 tbsp. taco seasoning spice blend (or a combo of cumin, garlic powder, onion powder, paprika, and dried oregano)
1 tsp. tamari or soy sauce
3 tbsp. tomato paste
¼ to ½ tsp. kosher salt
8 taco-size corn tortillas (5 to 6 in.) or 16 extra-thin tortillas
Toppings: sliced mild black olives, cherry tomatoes, green onions, serrano chiles and Avocado Cilantro Sauce (see below)
Putting It All Together
Preheat the oven to 300°. Toast the walnuts on a baking pan in the middle of the oven until they're light golden and smell good, 5 to 8 minutes.
Meanwhile, wrap your tortillas in foil. After the walnuts are out of the oven, put the tortilla pack right on the rack and let them warm up for 10-15 minutes. Wrap the pack in a damp towel and put it in a covered bowl to stay warm.
While the tortillas heat, cut the cauliflower florets and the stem into large pieces. Pulse the cauliflower in a food processor until it's the size of rice grains, then pour into a bowl.
Pulse the toasted walnuts in the food processor until they're broken up about the same size as the cauliflower, then add to the bowl of cauliflower.
Heat a frying pan over medium-high heat. When it shimmers, swirl in the oil and add potatoes. Cook the potatoes until they're browned, about 10 minutes.
Stir in onions and cook them until translucent, 3-4 minutes.
Add cauliflower, walnuts, and taco seasoning and stir to mix. Stir in tamari, tomato paste and ¼ cup water. Let everything cook until the liquid has evaporated and the filling is well browned. Stir in salt.
Fill tacos with 2-3 tbsp. walnut chorizo and add your choice of toppings. 
Avocado Cilantro Sauce
In a food processor, whirl 2 avocados with a couple of tablespoons of cashew yogurt and ½ cup cilantro leaves. Add lime juice and salt to taste, plus more yogurt or water for a thinner sauce. For a spicy sauce, throw in a chopped-up serrano chile.