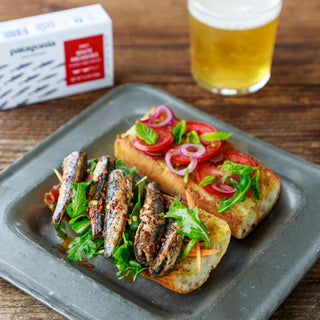 In Istanbul, at the mouth of the Bosporus Strait, boats tied to the quay sell a much-beloved sandwich called balik ekmek ("fish in bread"). Simple and delicious, the sandwich consists of grilled fresh fish—often mackerel—laid into half a loaf of bread with a mix of lettuce, tomato and onions and a punchy pomegranate-molasses sauce. Our version, using anchovies canned in a deliciously spicy, tangy brine, builds a sauce with that brine to make the sandwich even simpler.
Ingredients
1 small red onion, thinly sliced crosswise to yield about ¼ cup onion rings
1 tsp. lemon juice
Kosher salt and freshly ground black pepper
2 (6-in.) sections of wide baguette or 2 (6-in.) crusty rolls, split horizontally
About ¼ cup extra-virgin olive oil
1 large garlic clove, grated or minced
2 tsp. pomegranate molasses
¼ to ½ tsp. red chile flakes
1 medium tomato, thinly sliced
Handful of salad greens (arugula, watercress, anything you have around)
1/2 medium carrot, peeled and cut into matchsticks
Handful of fresh mint leaves
Putting It All Together
Preheat oven or toaster oven to 400°.
Put onion rings in a small bowl. Toss with lemon juice and a fat pinch of salt (this will soften the onion's bite).
Brush cut sides of bread with olive oil and toast them, cut sides up, in oven until golden, about 10 minutes.
Meanwhile, make sauce: Crack open anchovy can and carefully lift anchovies with a fork onto a plate. Pour juices into a bowl. Whisk in 2 tbsp. oil, garlic, chile flakes and pomegranate molasses, plus salt and pepper to taste.
Heat the remaining 1 tbsp. oil in a medium frying pan over medium-high. When the oil is shimmering, add anchovies. Cook anchovies, turning halfway through, until crisp and browned, 3-4 minutes total.
Drizzle bottom halves of toasted bread with some sauce. Top bread with onions, tomato slices and anchovies. Toss rest of sauce with arugula, carrots and mint, mound on top of anchovies and close up the sandwiches.