Honey, Lemon and Olive Oil Cake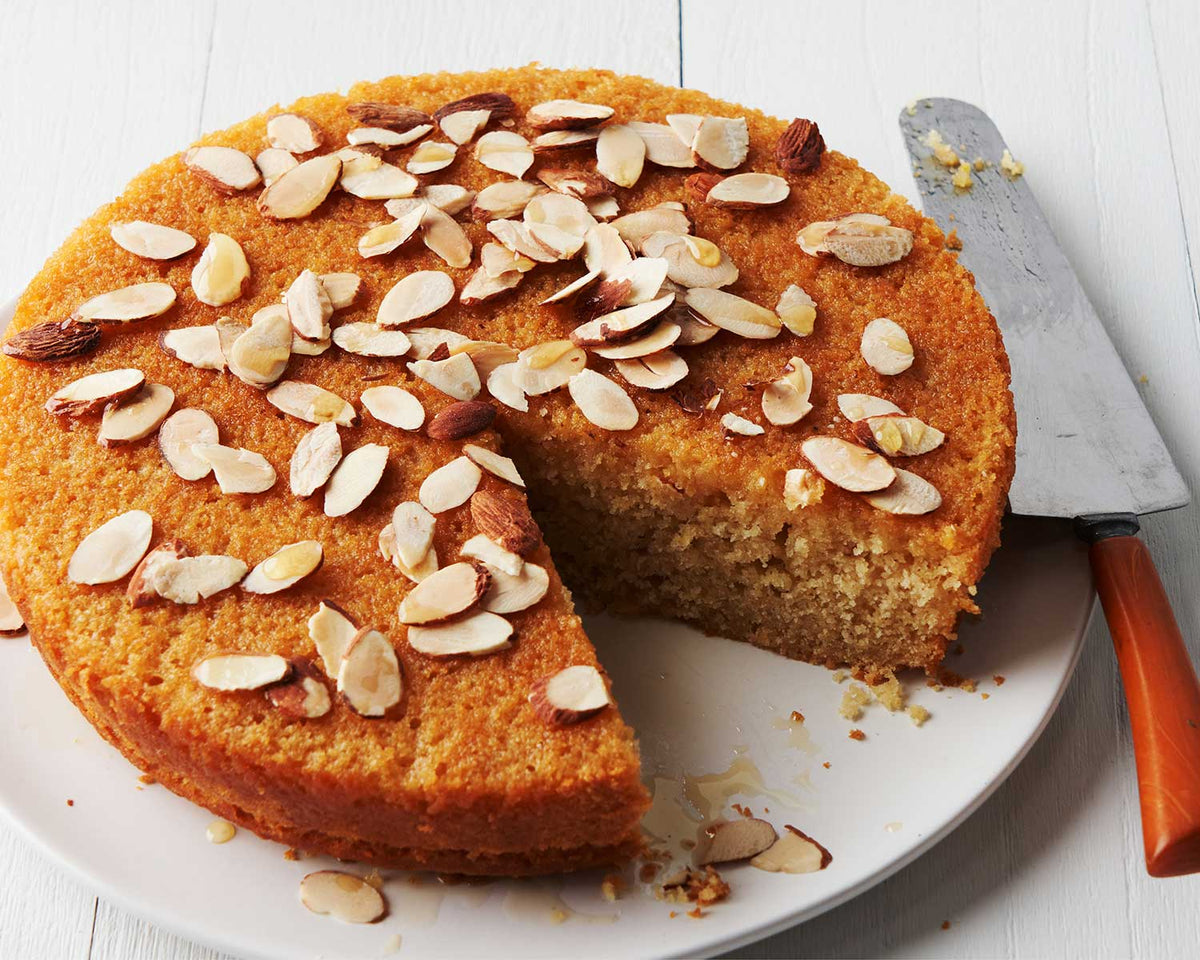 Most of the sweetness in this festive cake comes from honey. Any honey works, but we love our Moloka'i honey, produced on a Hawaiian biodynamic farm that sets a standard for honeybee protection. The cake's bright, citrusy flavor comes from whole lemons (peel and all), and the tender, moist crumb from olive oil. If you like a sweeter cake, drizzle it with the lemon honey syrup and set out the extra so people can add more to their individual slices.
For Cake
About 1 tsp. mild extra-virgin olive oil for rubbing pan, plus ¾ cup for cake
About 1 tbsp. unbleached all-purpose flour for pan, plus 2 ¼ cups for cake
½ cup organic cane sugar
¼ tsp. baking soda
½ tsp. fine salt
2 ½ tsp. baking powder
2 large lemons or 3 small (10 oz. total), ends sliced off, then cut into chunks and seeded
¼ cup sour cream or Greek yogurt
3 large eggs
¾ cup organic honey, such as Patagonia Provisions Organic Moloka'i Honey
⅓ cup toasted skin-on sliced almonds
For Lemon Honey Syrup (optional)
½ cup honey mixed with 2 tbsp. lemon juice and a pinch of kosher salt
Putting It All Together
Preheat oven to 325°. Rub about 1 tsp. oil all over insides of a 9-in. cake pan with sides at least 2 in. deep. Coat the pan with flour and knock out the excess. Line bottom with a parchment-paper circle cut to fit.
In a medium bowl, whisk 2 ¼ cups flour with sugar, baking soda, salt, and baking powder.
Put lemon chunks in a food processor and whirl until the pulp is almost but not quite puréed. Measure out 1 cup of it, pour into a large bowl, and whisk in ¾ cup oil, sour cream, eggs and honey. Gradually whisk dry ingredients into wet ingredients just until they're blended together. Pour batter into the pan.
Bake until the cake is deep golden brown, starts pulling away from the sides, and a toothpick stuck in a couple different places in the middle comes out dry with a few tiny crumbs, 50 to 60 minutes. It's okay if it's cracked on top, since you'll be inverting it. Cool cake in pan on a rack until completely cool.
Run a thin knife around inner edge of pan and invert cake onto a plate. Peel off parchment.
Spoon about ⅓ of the honey syrup over cake, if you're using it, and spread it across the top. Scatter almonds over top and add a few drops more syrup. Let sit for a few minutes before slicing to let the syrup soak in.
How to store:
Keep leftover cake for 3-4 days at room temperature in a lidded container. If you don't have a container that's big enough, store the cake under a large overturned bowl.