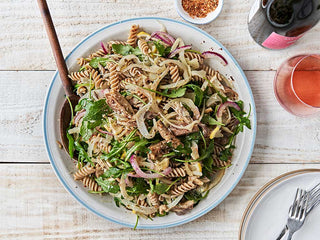 Fusilli Pasta with Lemon Caper Mackerel
This bright, springtime pasta incorporates a little trick that chefs use to make their pasta sauces restaurant-worthy: Add a little pasta-cooking water to the pan of sauce, mix in the drained pasta and let everything simmer together for a minute. The salty, starchy water helps season the sauce and gives it a creamy texture, and the pasta drinks in the sauce as it simmers.
Ingredients
1 lb. fusilli, such as Patagonia Provisions Organic Kernza® Fusilli
2 tbsp. extra-virgin olive oil
1 large fennel bulb, fronds and stalks removed, halved lengthwise and very thinly sliced (about 5 cups)
1 red onion, thinly sliced
Salt + pepper
2 (4.2-oz) tins Atlantic mackerel, such as Patagonia Provisions Lemon Caper Mackerel
1 lemon
7 loosely packed cups baby arugula
4 tbsp. grated young pecorino or manchego cheese
Red chile (coarsely ground or flakes)
Putting It All Together
Cook pasta in a large pot of well-salted boiling water, stirring occasionally, until just tender, 10- 12 minutes.
Meanwhile, heat olive oil in a large frying pan over medium heat. Add fennel and red onion, season with salt and pepper, and cook, stirring occasionally, until barely tender, 5-7 minutes. Transfer to a plate.
Set pan over medium heat and add the Lemon Caper Mackerel, along with its flavorful oil, and the capers. Use a spoon or spatula to break them into large pieces and create a chunky sauce.
Thinly slice the lemon, then stack the slices and cut into small wedges.
When the pasta is ready to drain, scoop out about ½ cup pasta cooking water and add to the sauce. Drain pasta and add to mackerel along with fennel, red onion and pasta water. Simmer, stirring and tossing, until the liquid has almost evaporated. Stir in arugula, pecorino, and chopped lemon.
Spoon into wide bowls and top with a little more pecorino and red chile, if you like.