Chorizo Baked Pasta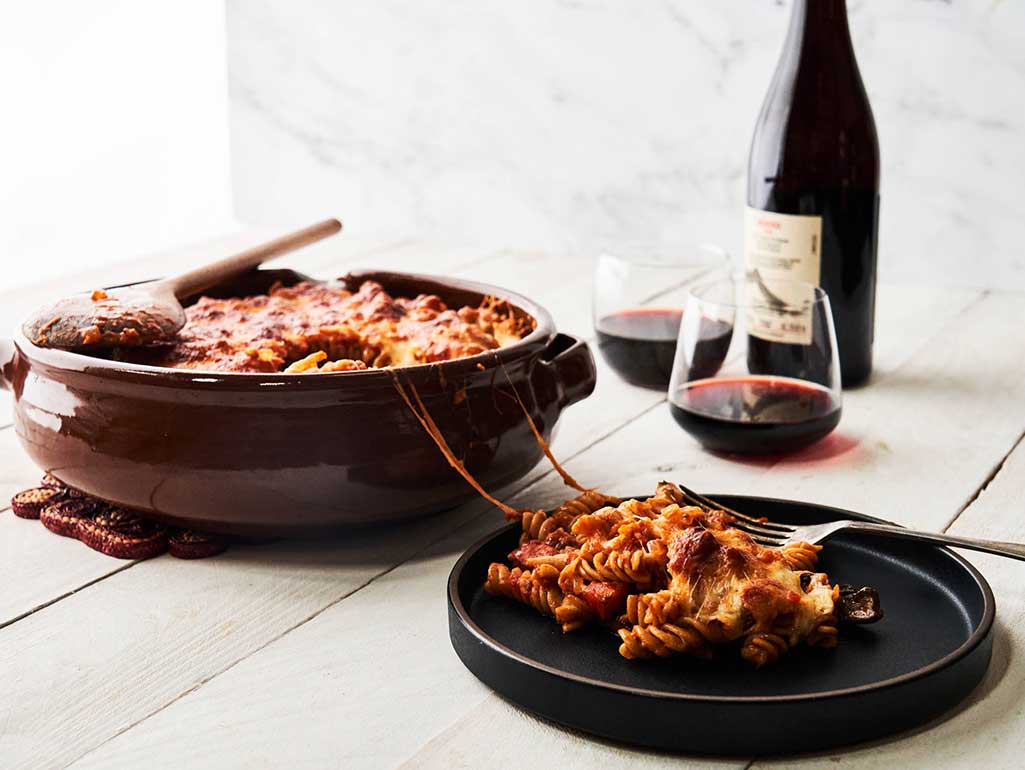 There's nothing like a golden-brown, cheesy, comforting pasta bake to brighten up a gloomy day or a dark mood. This one is unusually nutritious and flavorful, thanks to whole-wheat pasta made with Kernza®. A new, wheatlike perennial grain with hints of nutmeg and baking spices, Kernza has a massive root system that holds topsoil in place and draws down carbon. It's good for soil and climate, and it makes great pasta.
For a vegetarian version of this dish, omit the sausage and double the mushrooms.
Ingredients
1 lb. firm, Spanish-style chorizo (not soft, Mexican-style chorizo) or Portuguese linguiça
8 oz. portabella mushrooms
Extra-virgin olive oil
1 large onion, chopped fine
1 tsp. smoked paprika
2 large garlic cloves, minced
1 jar (24 oz) marinara sauce, such as Bona Furtuna
1 can (14.5 oz) diced tomatoes with sauce
12 oz. fusilli, such as Patagonia Provisions Organic Kernza® Fusilli, or rotini or penne
8 oz. part-skim mozzarella cheese, coarsely shredded
2 oz. aged manchego or pecorino cheese, finely shredded
Putting It All Together
Slice sausages lengthwise, then crosswise into half-moons. Cut mushrooms into pieces about the same size as the pasta. That way you'll get a taste of both in every bite.
Set a large frying pan over medium-high heat and add enough olive oil to coat the surface. Add sausage, mushrooms and onions and cook until onions are translucent, 10-12 minutes. Stir in paprika and garlic.
Stir in marinara and diced tomatoes with sauce. Bring to a boil, then reduce heat and simmer, partly covered, 15 minutes so all the flavors mingle.
While the sauce is simmering, heat oven to 375 F with a rack in the center position. Bring a large pot of well-salted water to boil. Add fusilli and cook until just tender, about 10 minutes.
Drain pasta and stir into the sausage mixture. Spoon into an ungreased 9×13-inch baking dish or other 3-quart baking dish (or divide among smaller ones so you can freeze a couple). Sprinkle with mozzarella, then manchego. Bake until browned and bubbling, about 35 minutes.