Aji Achiote Chicken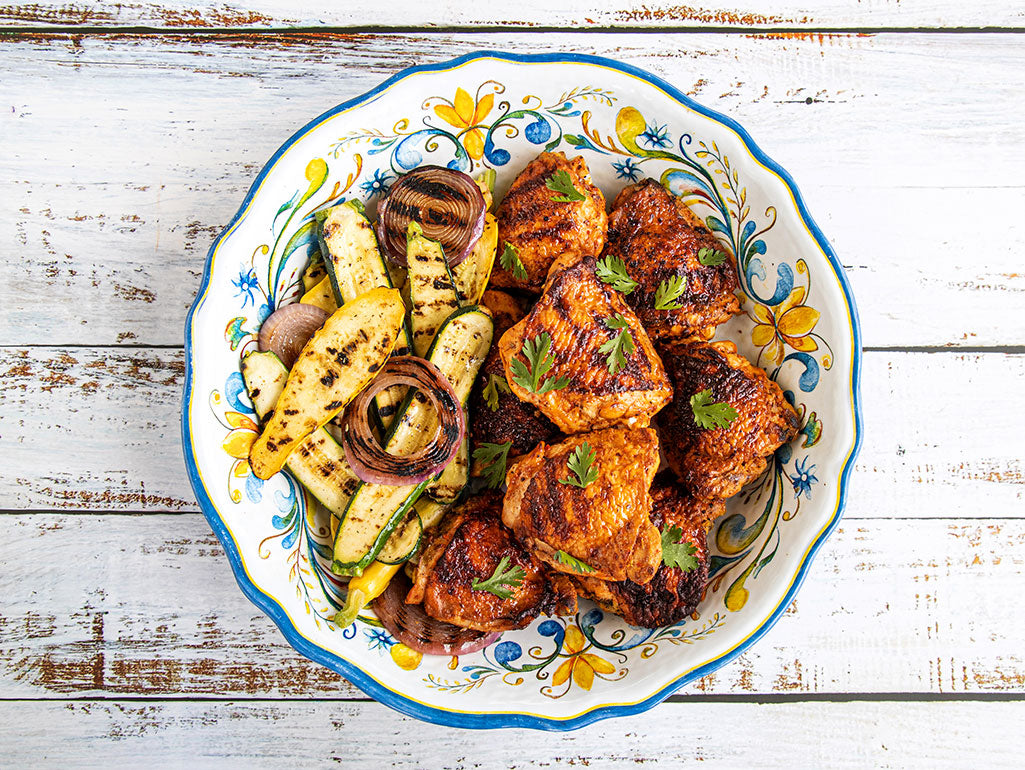 This Yucatan-inspired grilled chicken, seasoned with citrus and chile, gets its intense orange-red color from the seeds of the achiote tree, found in Central and South America and the Caribbean. Patagonia Café lead cook Laura Rowland developed the recipe, and it's a favorite of the Patagonia staff. We like it with grilled red onions and summer squash, plus warm tortillas for tearing the meat off the bone. 
Ingredients
About 2

t

bsp.

extra-virgin olive oil
½ white or yellow onion, sliced
3 garlic cloves, chopped
1

t

bsp.

dried oregano
1 tsp. ground allspice
1

t

bsp.

each ground black pepper and kosher salt
2

t

bsp.

annatto seeds, ground in a spice grinder
½ cup Aji Molido spice blend
1½ cups freshly squeezed orange juice (5-6 oranges)
1

t

bsp.

apple cider vinegar
⅓ cup freshly squeezed lemon juice (2-3 lemons)
8 organic chicken thighs (3 ½ to 4 pounds) or any other cut of chicken
Chopped cilantro (optional)
Putting It All Together
Heat 2

t

bsp.

oil in a medium frying pan over medium heat. Add onion, garlic, and oregano and cook, stirring occasionally, until onion is translucent, about 10 minutes. Cool and combine with remaining ingredients (except the chicken) in a blender. Blend into a smooth marinade.
Combine chicken and marinade in a container. Refrigerate 8 hours to overnight, turning once halfway through.
Heat a gas or charcoal grill to 400F with a burner turned off (or an area cleared of coals). Shake excess marinade off the chicken and oil the hot cooking grate with oiled paper towels.
Set chicken, skin side down, over the turned-off burner / cleared area and close lid. Cook 10 minutes, then turn and cook until the thickest part registers 160F on an instant-read thermometer, 10-15 minutes more. If it's not browned or crisp enough, move over direct heat and cook for a couple minutes, turning once.
Serve immediately, sprinkled with cilantro and a little more olive oil.