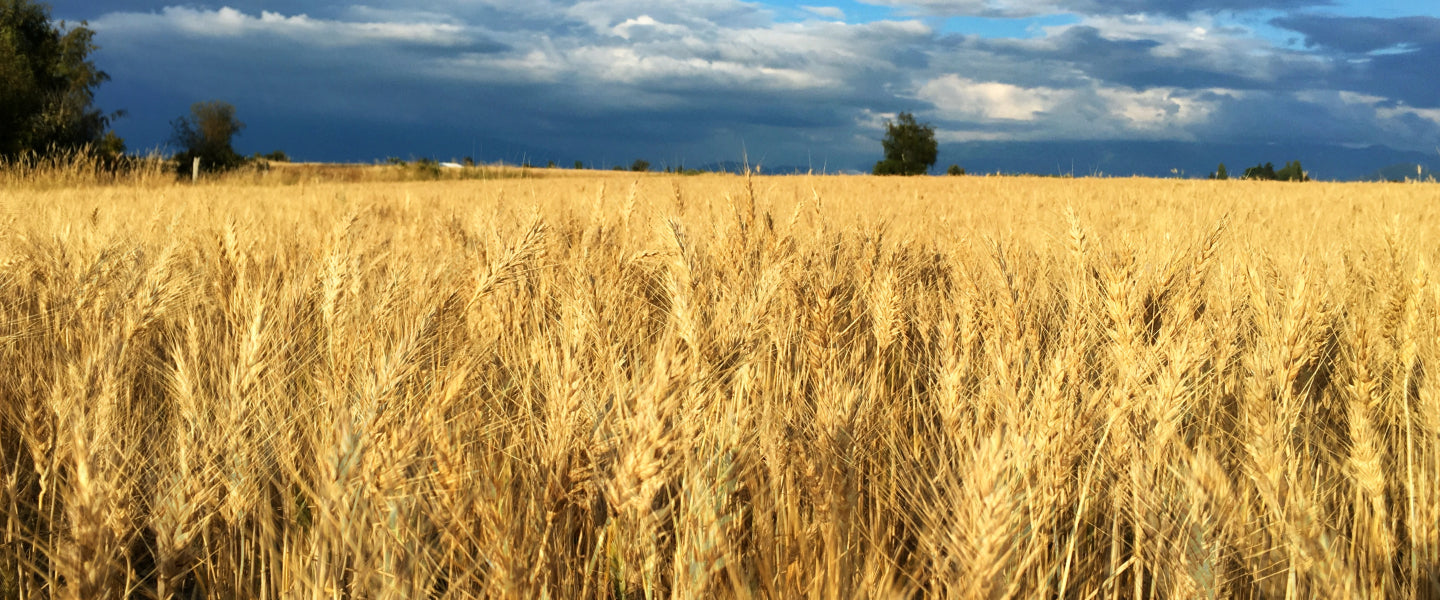 A field of organic, regeneratively grown wheat in Washington's Skagit Valley. Photo by Kevin Morse
Wheat feeds millions of people around the world every day. How we farm this single plant can have a significant impact on the Earth and the life it supports. That's why we're committed to using wheat grown with organic and regenerative practices that build topsoil and restore biodiversity. We also love the fresh taste of our regenerative wheat flour, which we use to make light, crunchy crackers.

We're supporting our wheat farmers as they transition to Regenerative Organic Certified™, the most rigorous standard for agriculture in the world.

Nutrition + Flavor: Naturally Good
Wheat berries. Ours are stone-ground whole, for flavor and nutrition. Photo by Kevin Morse
Our organic Edison wheat has a beautiful golden color and a buttery taste. To turn it into flour, our partners stone-mill the entire wheat berry for flavor and nutrition.
Most all-purpose flour comes from industrial roller mills that strip out the wheat's nutritious bran (the hard "shell" of the wheat berry, which is rich in fiber) and germ (the inner sprouting section, full of minerals, B vitamins, antioxidants, phytochemicals and flavor). Roller-milling extends the shelf life of AP flour but empties it of nutrients, so mills "enrich" the flour by adding vitamins and minerals. Some mills also add bleach to the flour, for whiteness; potassium bromate (linked to cancer and banned in several countries), for rise and elasticity; and vital wheat gluten, also for elasticity, making bread even less digestible for people with gluten issues.

Our partners at Cairnspring Mills, in Washington State, add nothing. They simply follow the ancient tradition of grinding wheat berries between two stones, retaining every part of the berry and its complex nutrients. To make our Edison flour, they carefully sift the grind to remove some but not all of the bran and germ. The result is a versatile, all-purpose flour that's remarkably flavorful, naturally nutritious, and refined enough to make our light, crisp crackers. It's no surprise to us that California's legendary Tartine Bakery buys most of its wheat from Cairnspring and calls it "the best flour we have ever used."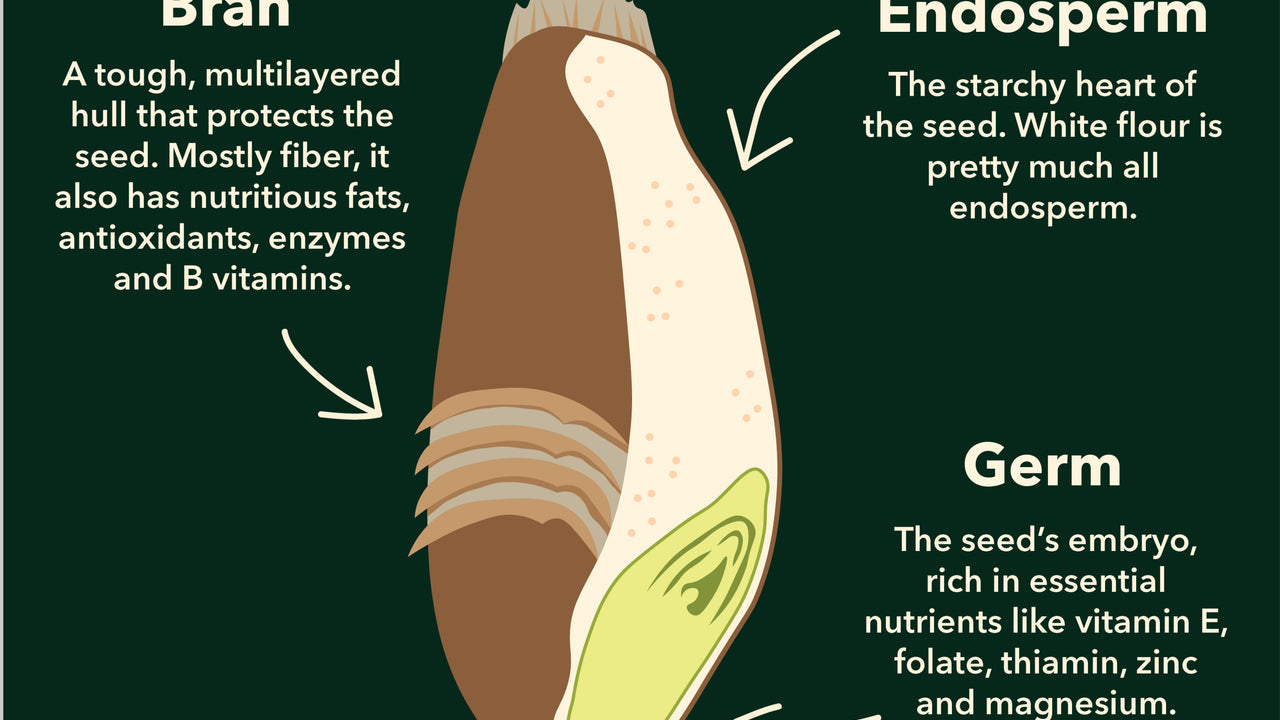 Illustration by Anna Baldwin

Sourcing: Washington
Grown + Milled
Harvest time in the Skagit Valley. Photo by Kevin Morse
Our wheat comes from two farms in Washington State, and we can trace it back to the field. It's milled in-state, too, creating a short supply chain that benefits farmers and the local community.
Hedlin Farms, near the Skagit Valley town of La Conner, was founded more than 100 years ago by Rasmus Koudal, a Danish immigrant. His great-grandson, Dave Hedlin, and Dave's wife, Serena Campbell, run the farm now, raising nearly 100 varieties of fruits and vegetables, plus wheat for us. Carbondale Farms spans 3,000 acres of the Walla Walla Valley, just above the Oregon border. The land was protected by an agricultural easement several years ago, preserving it as farmland forever. The move allows farm manager Kyle Snow to keep producing top-quality organic wheat as well as alfalfa seed and hay, black beans, soybeans, onions, and more.

Wheat from both farms goes to Cairnspring Mills for processing. The mill, 12 miles south of Hedlin Farms, does much more than buy and mill flour. Founder Kevin Morse, a former director at The Nature Conservancy and a big-picture guy, pays farmers a premium to grow specialty varieties that are disease-resistant, flavorful and great for baking. His goal: To help farms stay financially viable while championing flour as a local, fresh food. "Farmers have been in a race to the bottom with commodity markets," says Morse. "We're giving them an alternative so they can prosper outside of the industrial food system."

A thriving organic wheat crop. Skagit Valley, WA. Photo by Kevin Morse
Our farmers don't drench their crops with toxic synthetic fertilizers or pesticides. Instead, they use regenerative practices to build the fertility and health of their fields.
Our wheat farmers add nutrients back to the soil with cow manure from neighboring dairy farms, which stimulates microbial life underground. They keep tilling to a minimum, further protecting the microbiome of the soil, and plant cover crops between harvests, preventing erosion and building up precious topsoil.

Instead of using synthetic pesticides and fungicides, our farmers rotate their crops so insects and diseases can't become entrenched, and figure out specific ways to make pests feel unwelcome—for instance, altering the timing and depth of planting to avoid wireworms, which feed on young seedlings. All these practices help crops stay healthy, resilient, and even able to outpace weeds, a major issue that, on conventional farms, gets resolved with herbicides.

Both our farms are on the path to becoming Regenerative Organic Certified™, a stringent standard that assesses the entire farm system—not only soil health but also animal welfare and the well-being of farmworkers.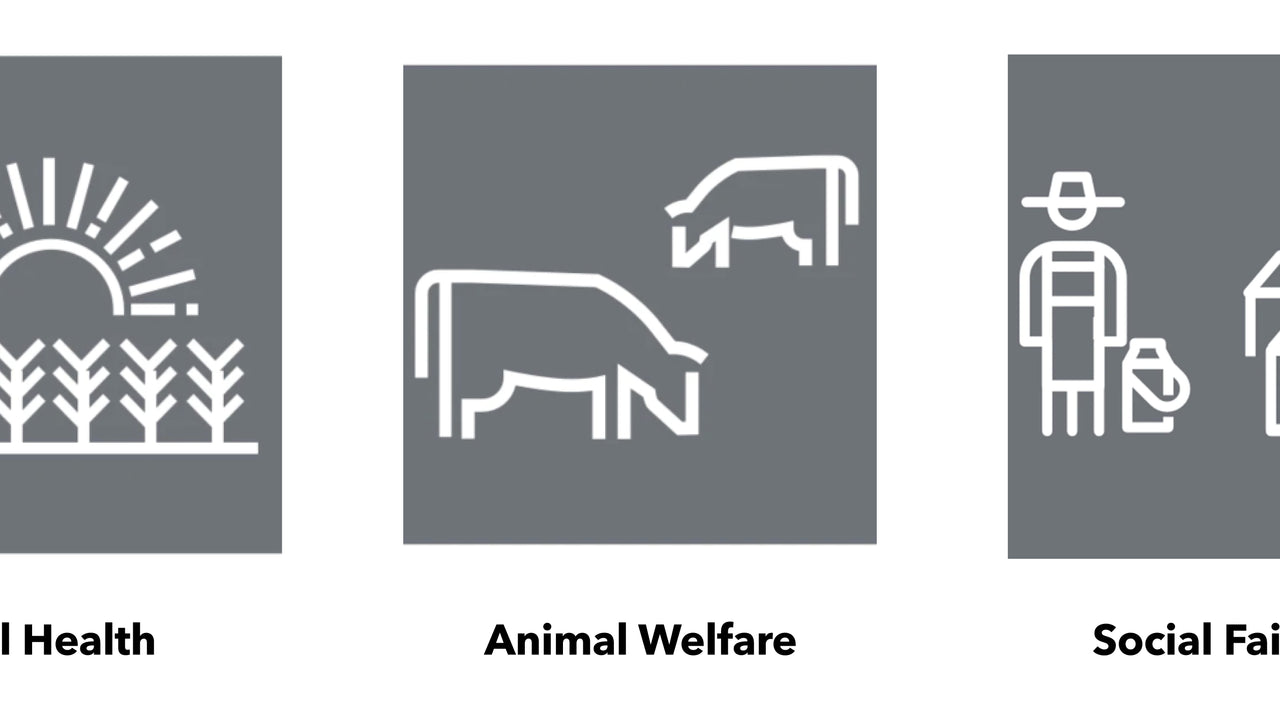 Culture: Reviving a Heritage
of Grain
A threshing crew in Washington state, 1903. At that time, wheat was a fresh crop, milled and sold locally. Photo: Ivy Close Images / Alamy
Wheat arrived in Washington State in the 1820s, when employees of the Hudson Bay Trading Company planted seeds at what is now Carbondale Farms, one of our wheat suppliers.
Wheat thrived in Washington, and by the early 1900s, roughly 160 local mills were grinding wheat from local farms. The transcontinental railroad and industrial agriculture changed that picture. Today, a few giant mills process most of the state's wheat and then export it, mainly to Asia and the Middle East. Across America, it's much the same story: Wheat, once a fresh crop with hundreds of local varieties, is now bred for sameness. Massive leaps in farm productivity, efficiency and yields do feed the world, but it comes at a cost.

Seeking the local flavors of the past, a determined group of farmers, millers, scientists and bakers are working to revive regional grain farming. At Washington State University's Bread Lab, wheat breeder Stephen Jones and his team develop wheats adapted to western Washington's cool, wet climate. Then they work with farmers, millers, bakers and distillers to integrate these new grains into the local food supply. Our mill, Cairnspring, got help from Breadlab as it was finding its footing. Now Cairnspring brings unique local wheats to market—like the delicious Edison variety we use for our crackers, bred by retired English professor Merrill Lewis and named for a town down the road from the mill.

Partners: Guided by Science
Photo by Hannah Nooney
We believe that regenerative organic agriculture is our best hope for a climate-resilient food supply. To prove its benefits, we're investing in rigorous soil testing at our wheat farms.
Soil scientist Deirdre Griffin LaHue, from Washington State University, gathered 30 baseline soil samples in 2021 from Hedlin Farms. Agronomist Stu Turner collected them from Carbondale Farms. Oregon State University did most of the testing, analyzing aspects of the soil like texture, total soil carbon and nitrogen, and aggregate stability (a key indicator of soil health.)

The results: Carbondale soils are doing well compared to soils in the region, with increases in soil organic matter and water holding capacity and lower nitrate concentrations and salinity. At Hedlin, some of the sites were healthy and others not, so there's room for improvement. Our plan is to sample every few years and share the data as each farm moves toward becoming Regenerative Organic Certified.