Sesame Cucumber Pasta Salad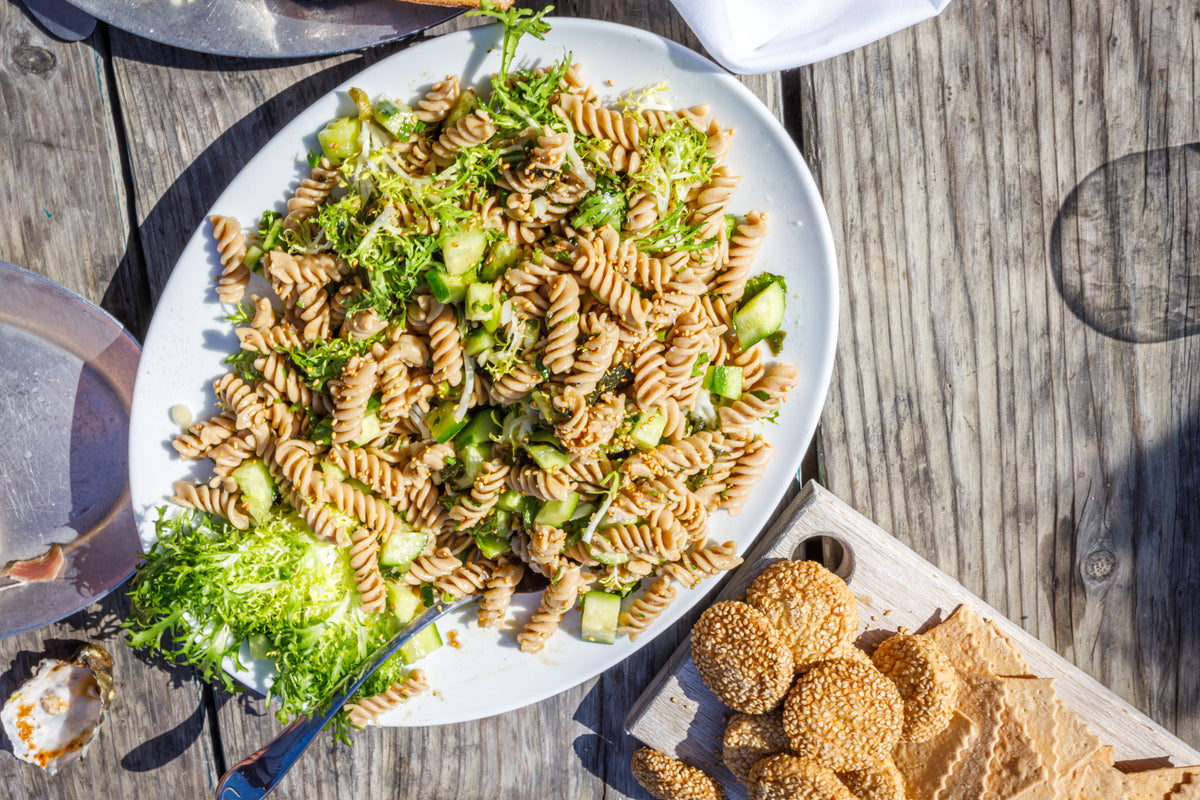 At a lunch at Hog Island Oyster Co., on Tomales Bay in northern California, the entire Provisions staff devoured this Japanese-inspired pasta salad (it tasted great with the oysters). Ecologist Gary Fleener, the science, sustainability and education expert at Hog Island, used Provisions Kernza fusilli to make the salad, mixing in crunchy thin-skinned cucumbers, dulse—a dried seaweed that tastes like bacon—and a bright, citrusy dressing. Gary also likes the dressing on oysters and thinly sliced raw fish (crudo).
Made with: 
Patagonia Provisions Organic Kernza® Fusilli
Ingredients
Salad:



4 oz. fusilli, such as Patagonia Provisions Organic Kernza® Fusilli
2-3 Persian or Japanese cucumbers, diced small (about 1 1/2 cups)
About 1 1/2 cups loosely packed frisée leaves (aka curly endive), chopped, plus more for the side of the plate if you like
3 tbsp. dulse flakes



Dressing (about ¾ cup):



1/3 cup ponzu sauce
¼ cup seasoned rice vinegar
1 tbsp. toasted sesame oil
1 ½ tbsp. Meyer lemon juice
1 tsp. Dijon mustard
1 tbsp. Meyer lemon zest
2 tbsp. toasted sesame seeds
Putting It All Together
Bring a medium pot of well-salted water to a boil. Add fusilli and cook until just tender, 10-12 minutes. Drain.
Meanwhile, make the dressing: Whisk dressing ingredients together, tasting as you go and adding a little more of any of them, until you have a balance that tastes great.
Put all salad ingredients in a bowl, drizzle with 3 to 4 tbsp. dressing, and toss well.