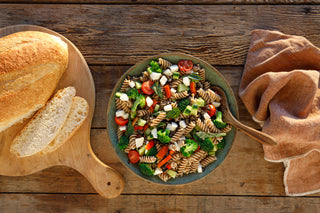 Kernza® Fusilli Pasta Salad
Kernza is a wheatlike perennial grain that builds topsoil, draws down carbon and helps prevent erosion. We blend it with semolina to make a nutty, buttery-tasting fusilli that's delicious in this kid-friendly pasta salad. The salad is also sturdy enough to last in a lunchbox at room temperature for a day.
Just about any vegetable will work here, so go ahead and customize the ingredients to suit your kids' tastes. Using at least three different vegetables, plus cheese, keeps it interesting.
Ingredients
1 ½ cups small broccoli florets (from about ½ lb. broccoli)
4 oz. Patagonia Provisions Kernza Fusilli
½ cup diced Persian or English cucumber
½ cup slivered red bell pepper
¼ cup large basil leaves, stacked, rolled and thinly sliced
¼ cup canned black olives, sliced
½ cup Sungold tomatoes, halved
3 oz. part-skim mozzarella, diced small
Fresh Lemon Vinaigrette (recipe follows)
Fresh Lemon Vinaigrette
In a small bowl or jar, combine 1½ tbsp. lemon juice, 1 tsp. lemon zest, ½ tsp. each kosher salt, Dijon mustard and honey, and a few grinds of black pepper. Let sit a few minutes to let the salt dissolve. Pour in ¼ cup extra-virgin olive oil and whisk or shake to blend. Taste by swishing a piece of cooked pasta through the vinaigrette, then adjust the seasonings if you like.
Putting It All Together
Bring a medium pot of well-salted water to a boil. Add broccoli florets and cook for about 2 minutes, just until barely tender (they'll keep cooking off the heat). With a strainer, scoop out the broccoli and add to a large bowl.
With the water boiling, add pasta and cook until very tender, 15-20 minutes. Drain into a colander and let cool a little. This pasta firms up as it cools.
Meanwhile, chop up the rest of the vegetables and the cheese; add them to the broccoli. Make the vinaigrette.
Pour the pasta into the vegetables. Whisk the dressing again and pour over the pasta. Gently but thoroughly, mix everything together.