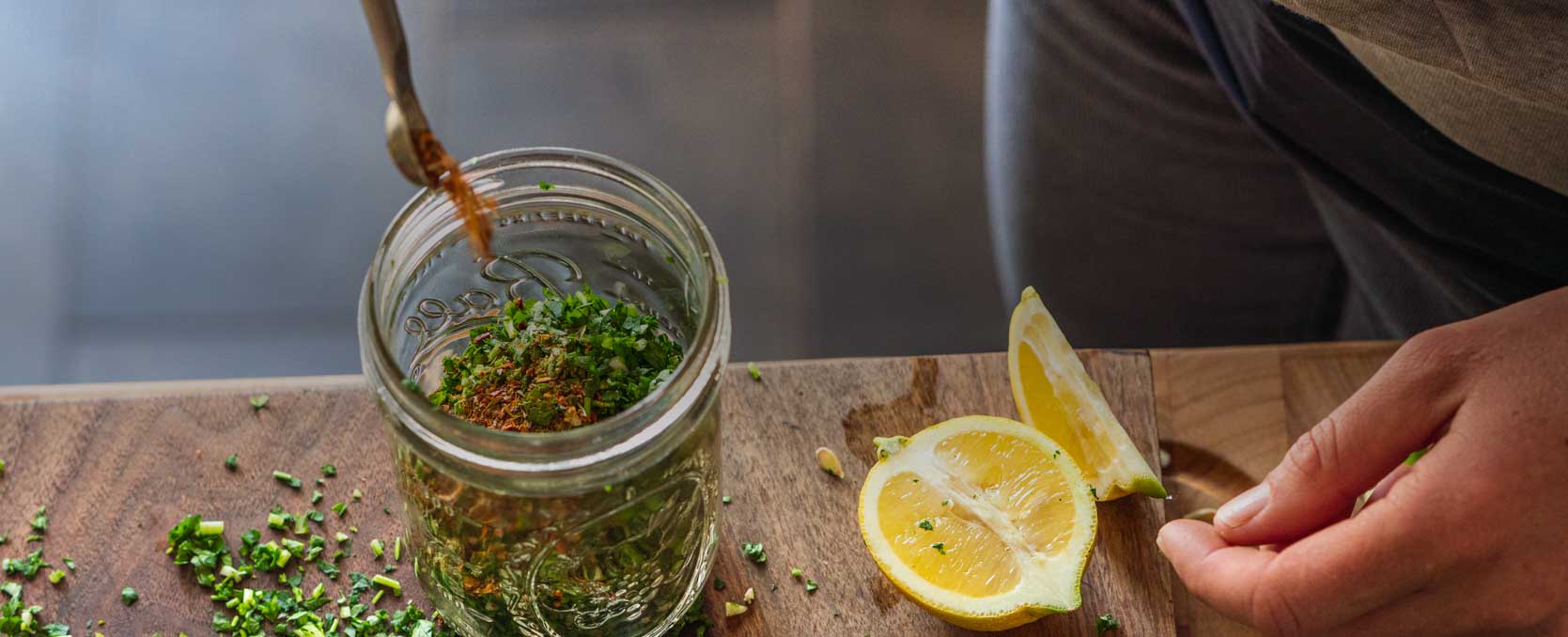 What Is Chimichurri Sauce?
Bright, flavorful chimichurri tastes good with just about anything. Photo by Eric Bissell
Say it with us: "Cheee-meee chooo-rrrri."
Now that we've gotten that out of the way, come along as we dive into the favored sauce of Argentina and Uruguay. Chimichurri was popularized by hardworking gauchos (cowboys) who needed a flavor boost for the grilled beef that was their stock and trade. Historically a loose mix of olive oil, vinegar, herbs and aromatics (always garlic, sometimes chile), chimichurri can vary in texture from a rough chop to a uniform green purée. Traditionalists might say it's reserved for churrasco, or grilled meat, but we say chimichurri tastes amazing on fish, pasta salads, eggs, potatoes—practically anything!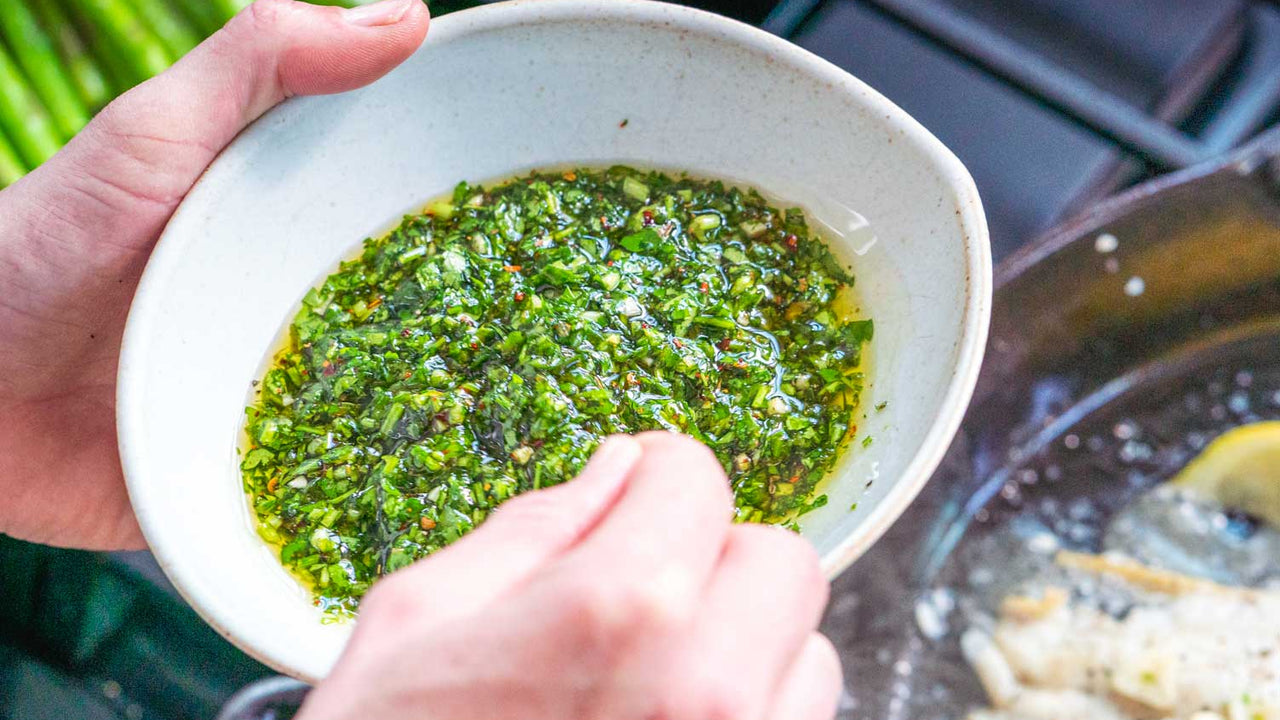 Freshly made chimichurri, ready for spooning. Photo by Eric Bissell
What Does Chimichurri Taste Like?
Simple as it is, chimichurri truly tastes like nothing else. The tang of the vinegar combined with herbs (usually parsley and/or cilantro, but often oregano too), punchy fresh garlic and mellow olive oil creates something like the perfect dinner party in your mouth: interesting and balanced—with no single element dominating the conversation.
Comparisons are tough to come by. Chimichurri looks sort of like pesto, but the flavor is nothing close. An Indian-style cilantro-mint chutney has a similar hand-chopped consistency, but occupies a different place on the flavor (and culture) spectrum. Parsley-packed Italian salsa verde probably comes closest, but includes capers and anchovies. The truth is, chimichurri tastes like chimichurri.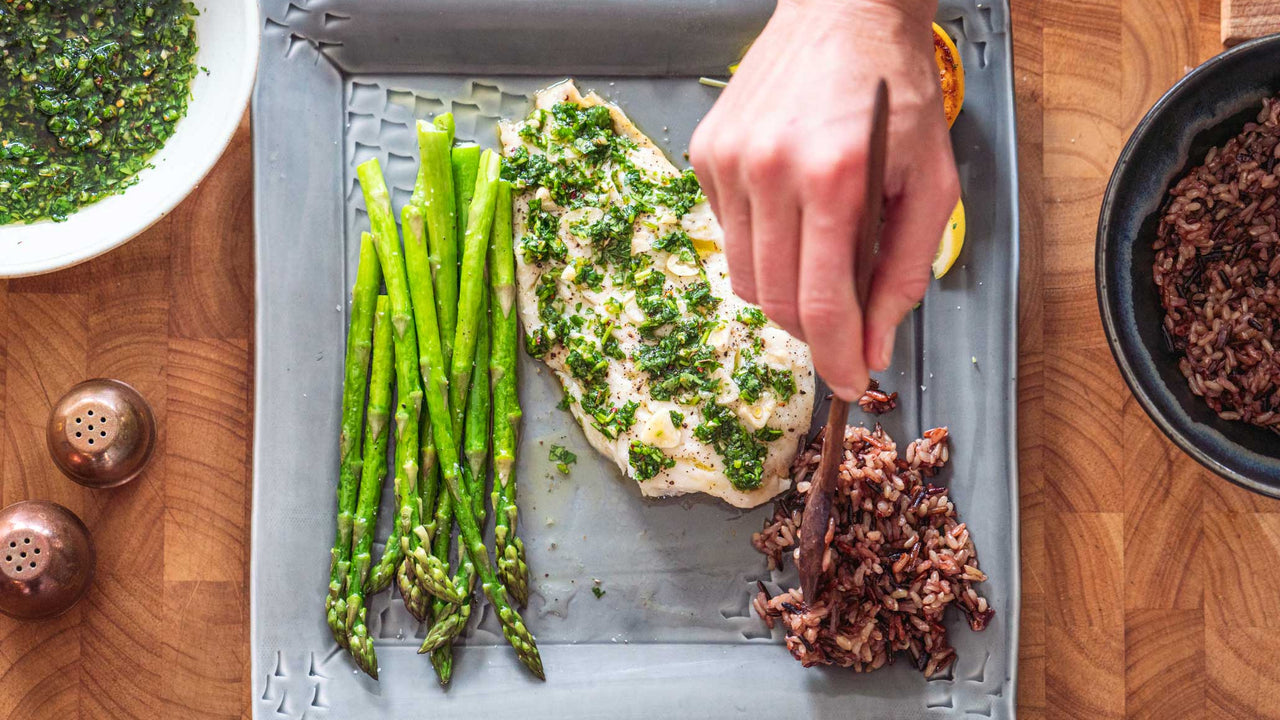 Cod with chimichurri, served with asparagus and tomatoey rice. Photo by Eric Bissell
How Do You Use Chimichurri?
Purists might say that chimichurri should be reserved for slabs of grilled beef, from cattle raised on the pampas (grasslands) of Argentina and Uruguay. But this is only the beginning of chimichurri's many uses. It's amazing on roasted or grilled vegetables: asparagus in spring, vegetable kebabs in summer, potatoes or butternut squash in fall and winter. We pour it onto fish, buffalo (aka bison) burgers and steaks, salads, eggs ... you get the idea. With tacos? Part of a charcuterie board? Spooned onto a rice cake? Yes, yes and yes.
We also mix chimichurri with mayo for hybrid chimi that we spread on sandwiches, toasts, or even use as a pizza sauce.
Finally, there's chimichurri's original use as a sauce that could travel well for days on horseback, especially when made with dried herbs. That makes it ideal for backpacking or camping. Dried-herb chimichurri can last up to a week unrefrigerated and 2-3 weeks in the refrigerator. For a shortcut, consider our dried Chimichurri Spice Blend, which needs just olive oil, salt and vinegar to make a long-lasting sauce.
What About Chimichurri Marinade?
More of a good thing is even better—right? Chimichurri can absolutely be used as a marinade as well as a sauce. Make a double batch, use half of it to marinate your meat or vegetables, and save the rest for drizzling on at the table. However: Only marinate meat for a couple of hours—otherwise the vinegar will toughen it up. And make sure to wipe off the marinade before you grill, so you get a good sear.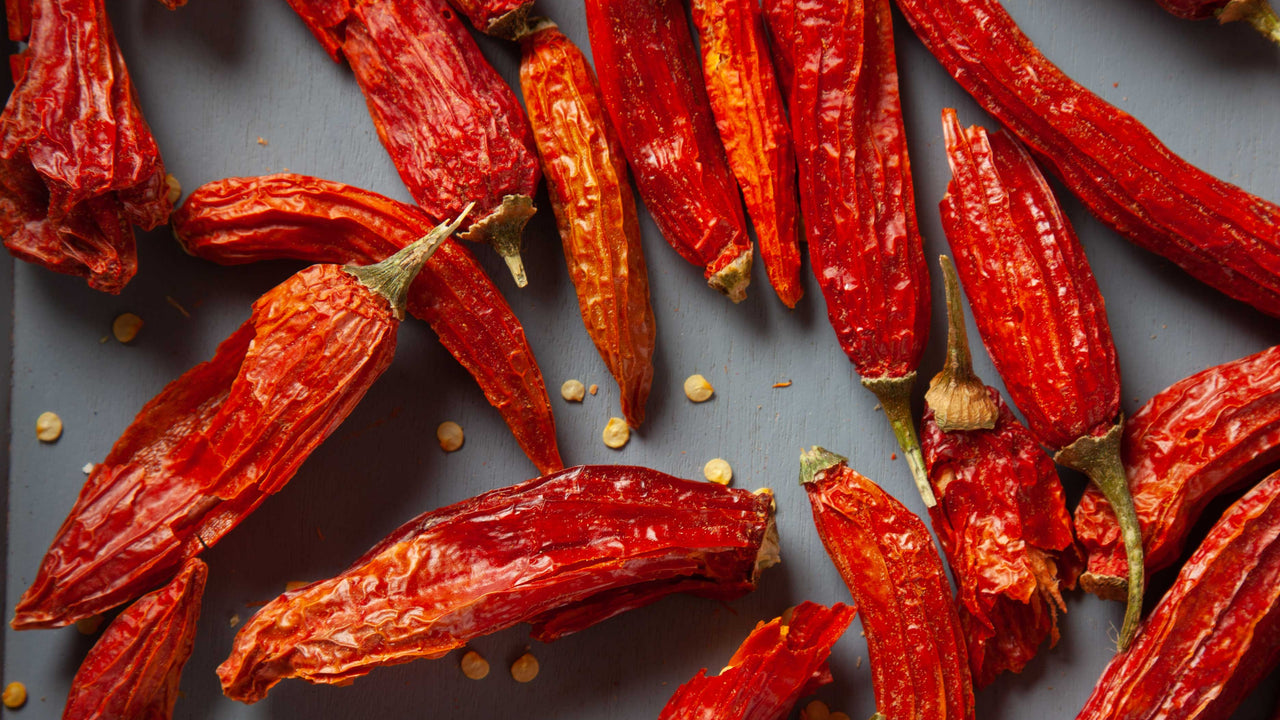 Whole dried ají criollo chiles, the pride of northwest Argentina, are coarsely ground into smoky, toasty ají molido — the key ingredient in great chimichurri. Photo by Amy Kumler
The Secret Ingredient? Ají Molido
Ají molido simply means "ground chile." It can be made from many different types of chiles—red, green and yellow—and is a key ingredient in Argentina, Peru, Bolivia, Ecuador and parts of Colombia. In Argentina, ají molido usually comes from dried red ají criollo chiles, grown at high altitude in the Andes. This mellow, flavorful spice adds dimension to chimichurri's well-rounded flavor without overheating it. You can swap in red chile flakes in a pinch, but it just won't be the same.
Check out our story about Patagonia founder Yvon Chouinard's introduction to ají molido.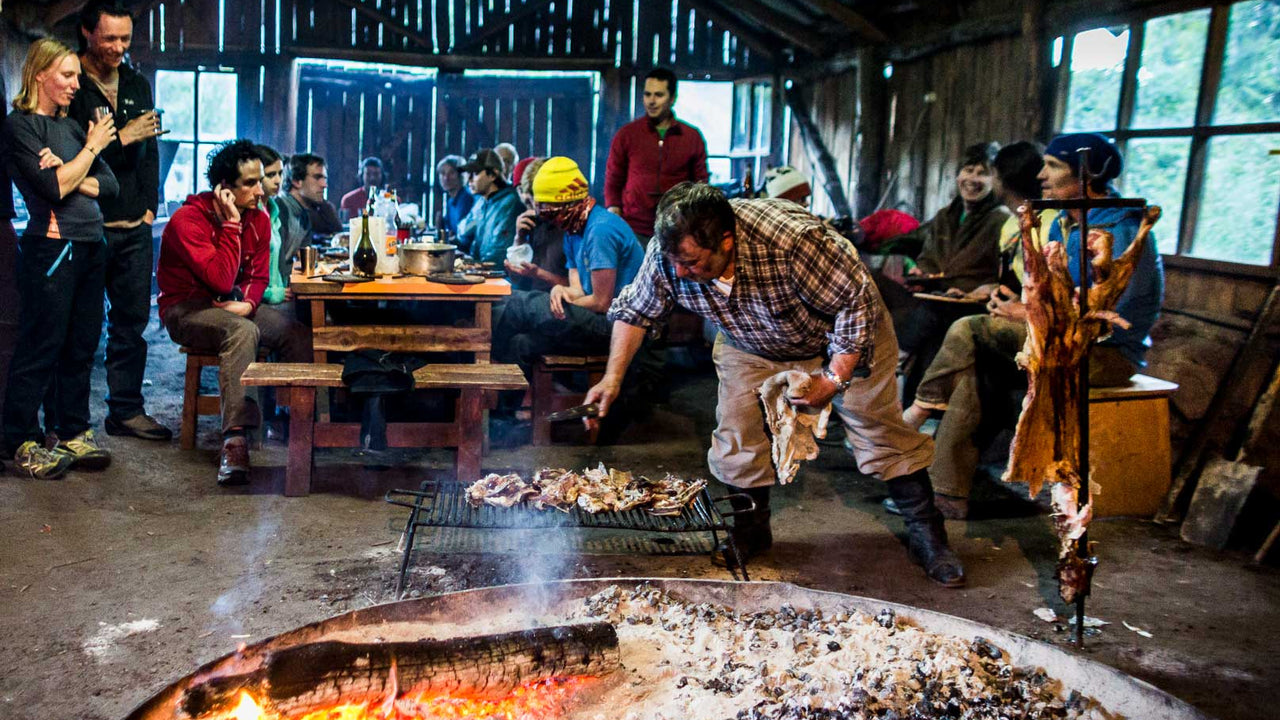 Gaucho Don Guerra pulls meat off the fire for a tribe of climbers in Patagonia. Within minutes, they were spooning on the chimichurri. Photo by Mikey Schaefer
What's the Story Behind this Magical Sauce, Anyway?
Some say chimichurri was invented by Argentine gauchos out of necessity. These rugged horsemen had plenty of meat to roast over an open fire, but not much else. Chimichurri added herbs and spice to their meat-heavy meals and could also last for days in hip flasks on a horse.
Some say the word itself comes from the Basque tximitxurri—a similar, but unique sauce whose name translates to "a mixture of several things in no particular order." Various other theories suggest language mixups involving Argentines and Englishmen, but there's not much to back up these assertions.
What we know for sure is that chimichurri took off in Argentina and Uruguay, and it's still the sauce of choice for grilled meats and more.
"Chimichurri started with the humble gauchos of Patagonia. It traveled on their saddles in a bottle with a notched cork, ready to sprinkle onto meats cooked outside, by fire. Ever since, this bottle has been a way to share flavor and also life, whether under a tree in sunshine or in howling winds, snow or rain. Knighted by the elements, chimichurri was a true baptism into the spirit of Patagonia. Since then, because of its glorious, sharp character, chimichurri has conquered the world as a finish for grilled meats."
—Francis Mallman, Argentine chef, restaurateur and cookbook author
Kate Rutherford serves up cod with chimichurri. Bishop, California. Photo by Eric Bissell
A trio of Patagonia Provisions spices: Chimichurri blend (with herb flecks), pure Aji Molido (deep red ground chile) and Taco Seasoning. Photo by Amy Kumler