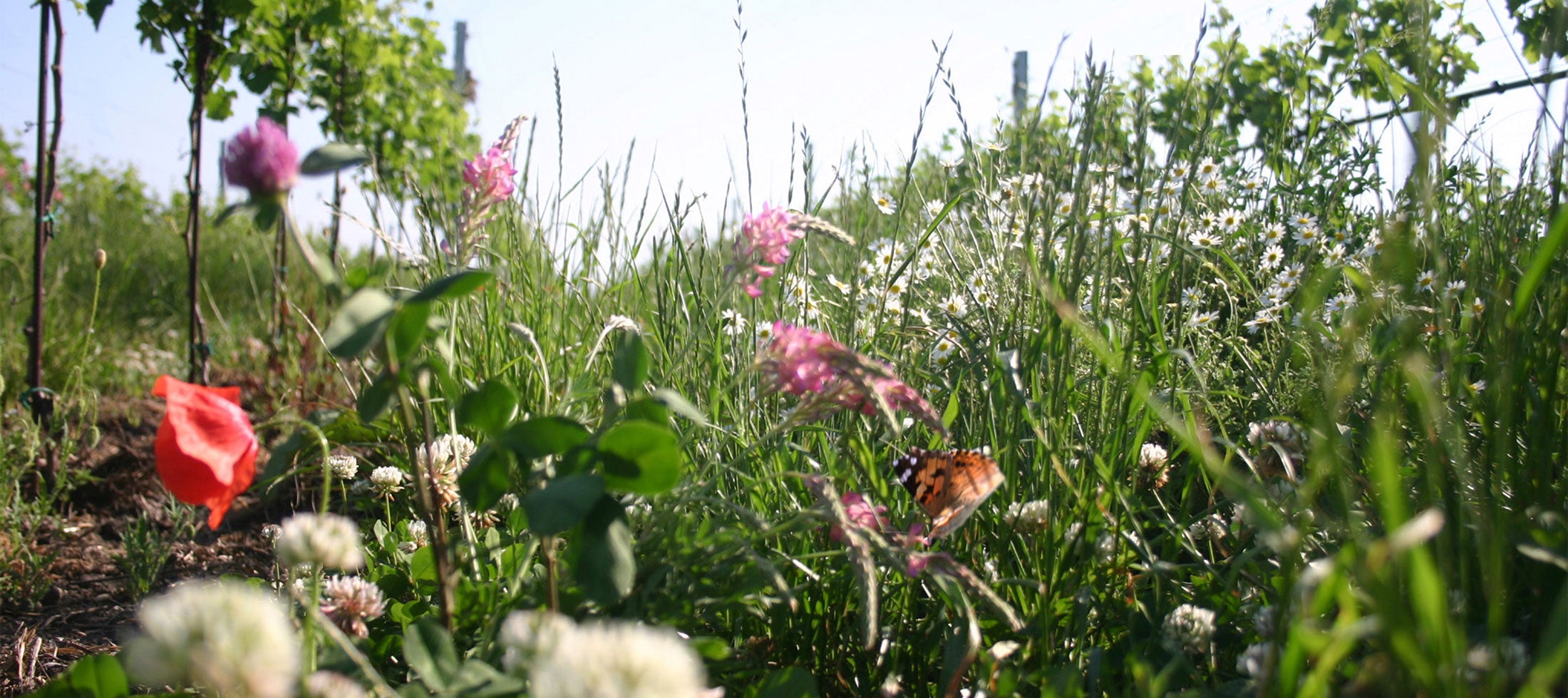 Between the grapevines, a mix of cover crops—native wildflowers, lucerne, clovers and rye—deliver nutrients deep into Austrian soil. Photo courtesy of Meinklang
Our natural wines, ciders, and sake are produced using restorative farming practices and ancient, low-intervention fermentation techniques. As a result, these beverages help rebuild damaged soils, restore vital habitat and draw down carbon—all while filling your glass with lively, region-specific flavors. Here's how.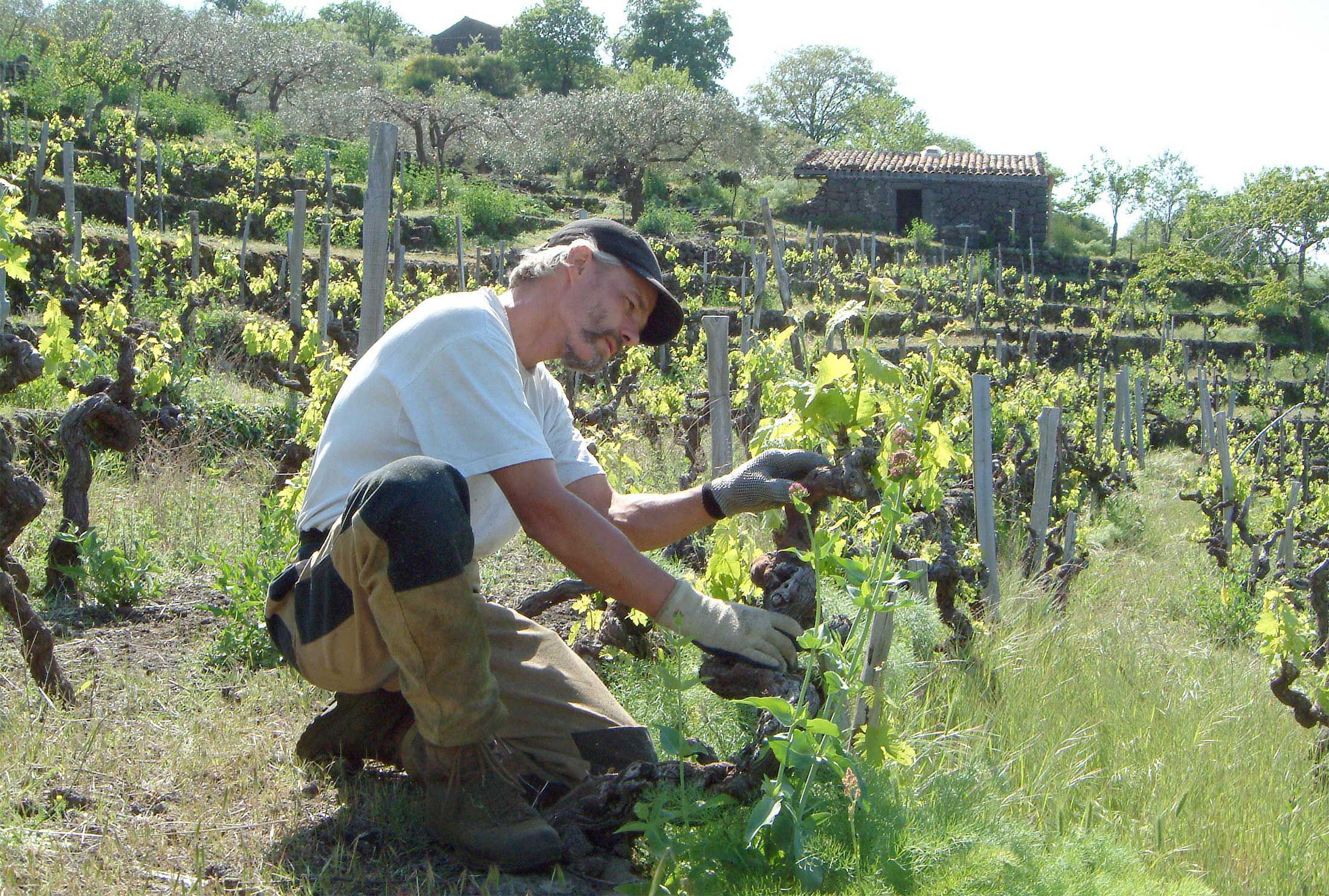 Growing: Healthy Soils, Healthy Earth
Who needs harsh chemical treatments? On the slope of Mount Etna, Sicily, Frank Cornelissen protects his vines the natural way—by removing old bark, a habitat for insect pests. Photo by Giuseppe Zingali
By protecting the ground under their feet, our partners are helping restore their ecosystems and providing a model for others.
Natural wine embodies a return to the principles of ecological stewardship that guided viticulture for thousands of years before industrialization. The vineyards and farms we've partnered with prioritize soil health over synthetically stimulated yields. Instead of spraying conventional herbicides, our partners embrace inter-row crops like wildflowers, cereals and native grasses to suppress weed growth. These plants also provide critical habitat for threatened pollinators and help store carbon within the soil—where it largely stays, thanks to a commitment to avoid unnecessary plowing.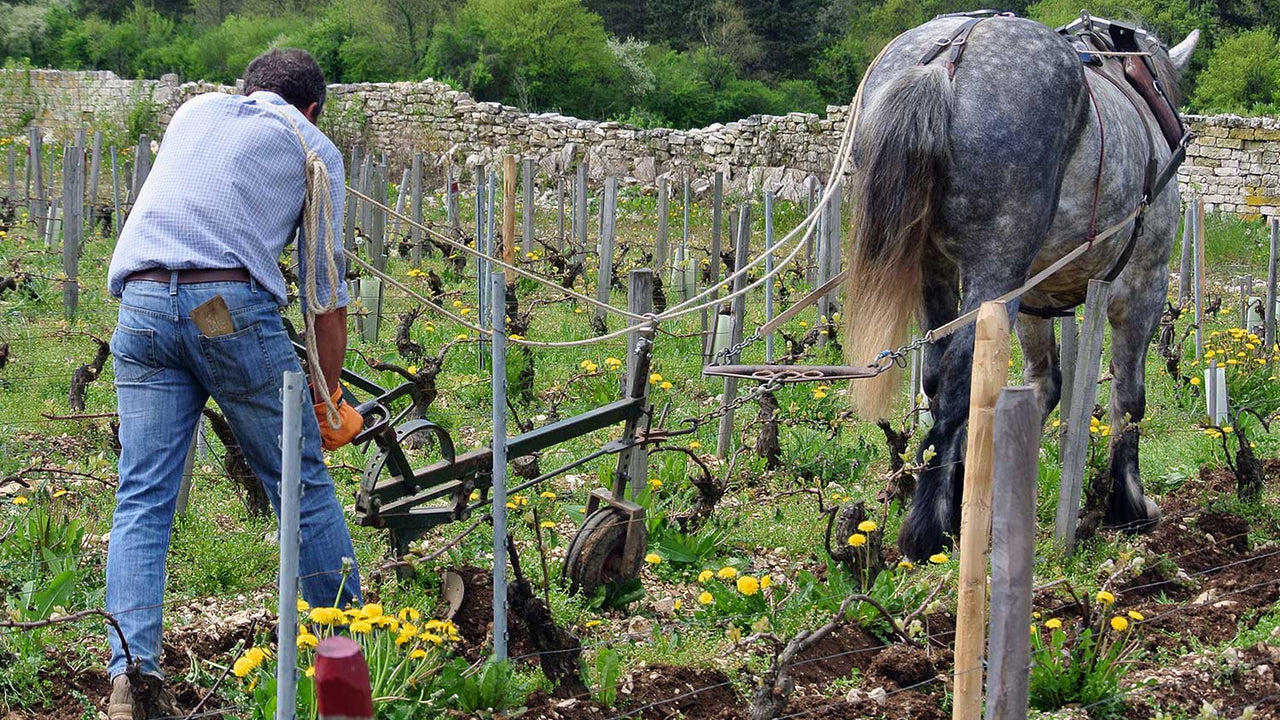 Turning the soil the old-fashioned way at Château de Béru, in the Chablis Grand Cru foothills, France. Photo by Sebastien Burel / Fermynt Solutions
Rather than spraying their vineyards, orchards and fields with the toxic pesticides commonly deployed by conventional producers, our growers discourage pests with organic treatments or bug-munching animals like chickens and waterfowl.
Our growing partners use compost, homemade "teas", and other natural nutrient sources to avoid the soil damage, increased greenhouse gas emissions and pollution that can result from synthetic fertilizers. These restorative practices help protect soil health and local waterways, and ensure farm productivity for years to come.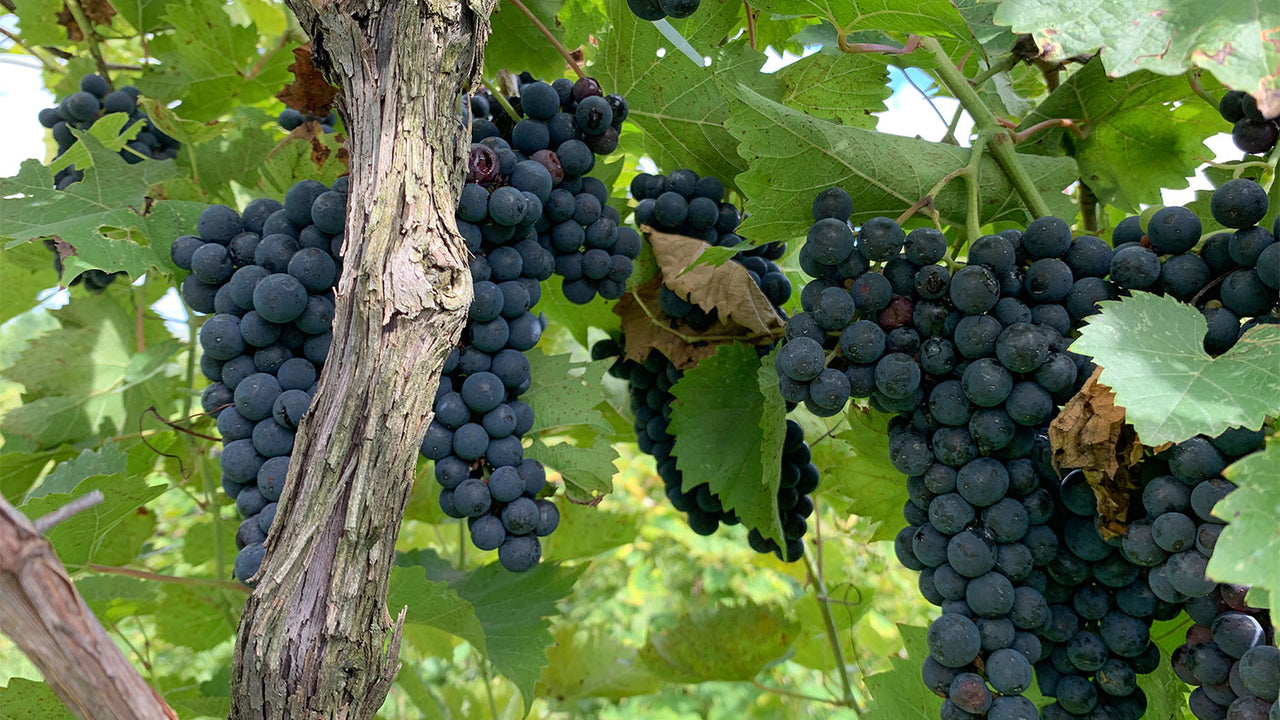 The good life in grape form. Clusters of Marquette on a late summer day in the Hudson Valley, New York. Photo courtesy of Wild Arc Farm

Fermentation: Less Is More
Athénaïs de Béru working on juice-to-skin contact during maceration, as her ancestors have each harvest since at least the 17th century. Château de Béru, Chablis, France. Photo by Benoit Guenot
Natural winemakers let Mother Nature handle the important work.
Because it converts the grape's sugars into alcohol, yeast is the second-most important ingredient in winemaking—but not all yeasts are alike. Every landscape is rich with unique varieties that have evolved in harmony with the local ecology. While many conventional wineries replace these native yeasts with more predictable lab-grown versions, our growers allow indigenous yeasts to drive fermentation—ensuring their bottles offer a truer reflection of their terroir.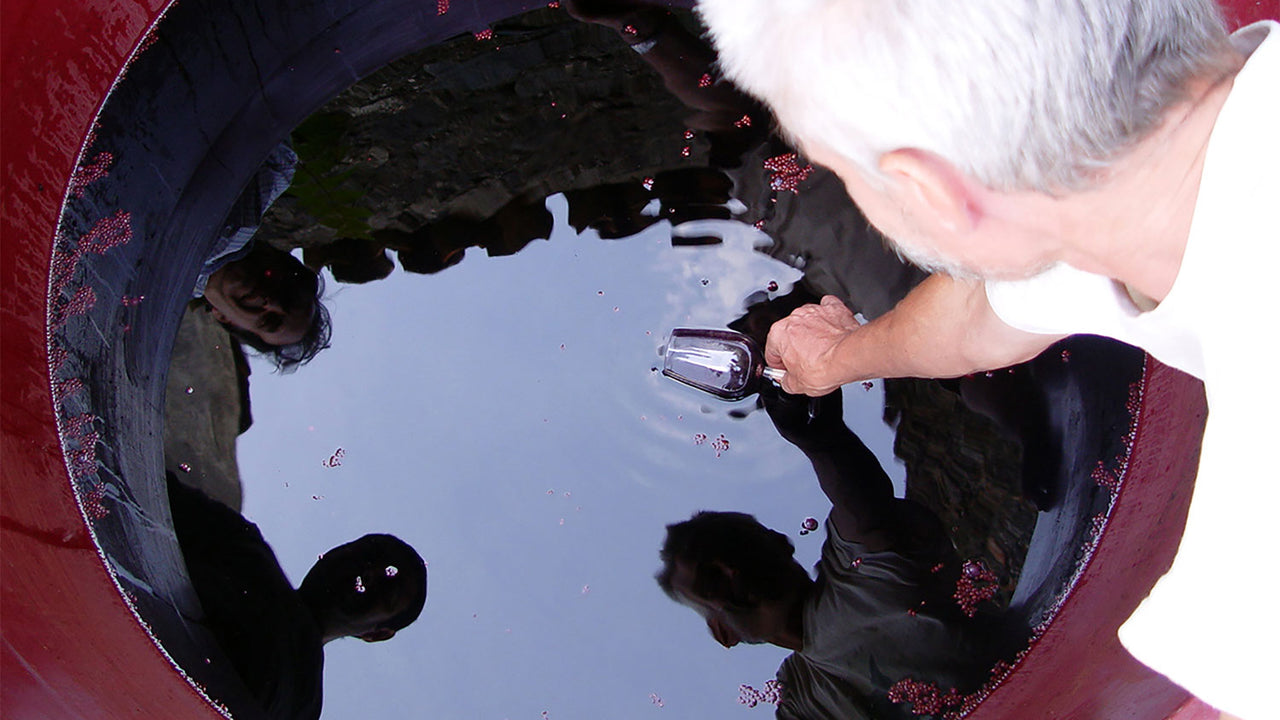 Frank Cornelissen steals the first sip of a new vintage. Mount Etna, Sicily. Photo by Shion Kakizaki
A wine's character develops naturally in an aging process the French call élevage. But conventional wineries often manipulate this process by adding dozens of legally allowable additives, none of which are required to appear on the label. These include coloring agents like Mega Purple, flavor enhancers such as oak chips, pH-adjusters including tartaric acid and chalk, even industrial chemicals like polyoxyethylene 40. To bring about the truest expression of their fruit, our partners avoid artificial interventions and instead let their wines evolve as nature intended.
During bottling, our winemakers use only minimal amounts, if any, of sulfites and stay away from sterilizing chemicals like dimethyl dicarbonate, which requires a hazmat suit to apply. They also ensure their wines remain vegan by forgoing commonly used animal-based clarifying agents like gelatin, albumen, and isinglass (a collagen made from fish bladders).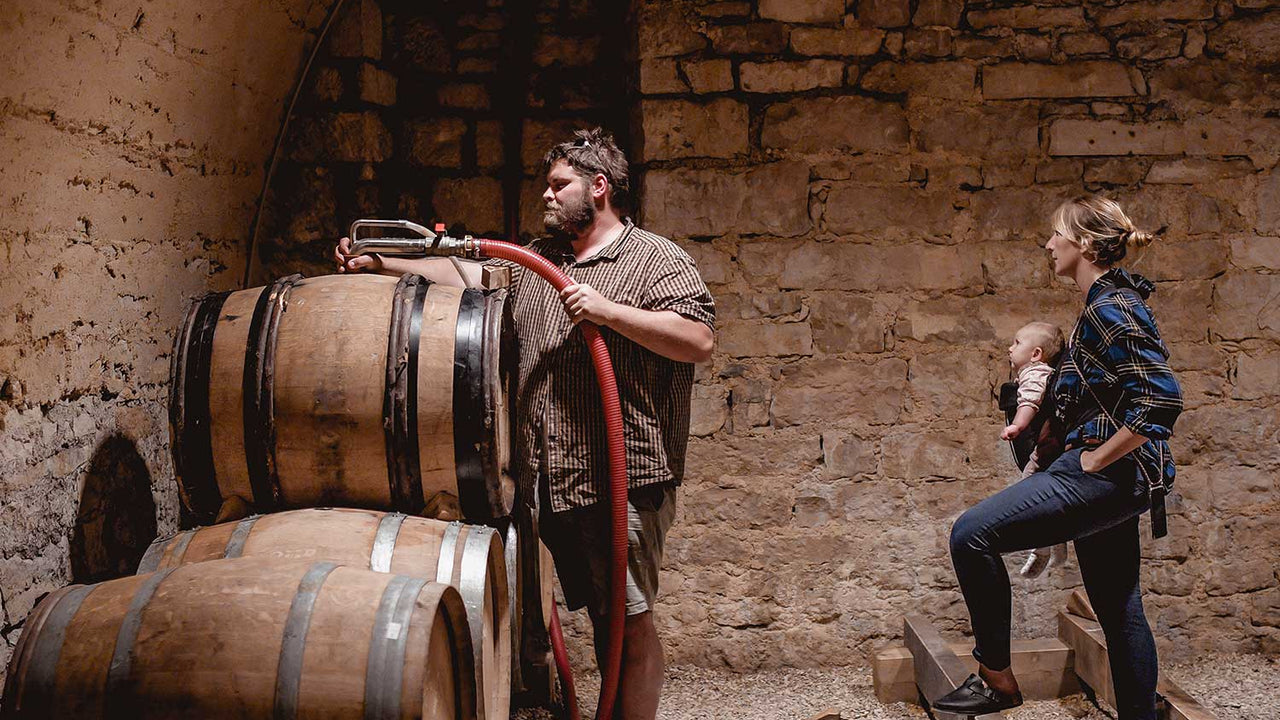 Deep under limestone soils, Lucas Borsato fills barrels with the year's harvest while Athénaïs de Béru introduces baby Celeste to the family trade. Château de Béru, Chablis, France. Photo by Benoit Guenot

Taste: Wine's Natural Flavor
Old-growth nerollo mascalese and other indigenous vines burst back to life in the Mediterranean spring. Barbabecchi vineyard, Mount Etna, Sicily. Photo by Frank Cornelissen
Our wines express the landscapes in which they're grown, so no two vintages will be alike.
In the 1980s, an influential wine critic introduced a simplistic 100-point rating system that quickly became a powerful marketing tool for vintners worldwide. By the 1990s, winemakers were contorting their growing, aging and bottling practices to earn high scores. Today, even top-shelf bottles may contain up to sixty non-grape ingredients, including white sugar and fake oak flavor. By conforming to consumer trends, conventional winemakers ended up truncating—and homogenizing—the flavor profiles of even their finest vintages.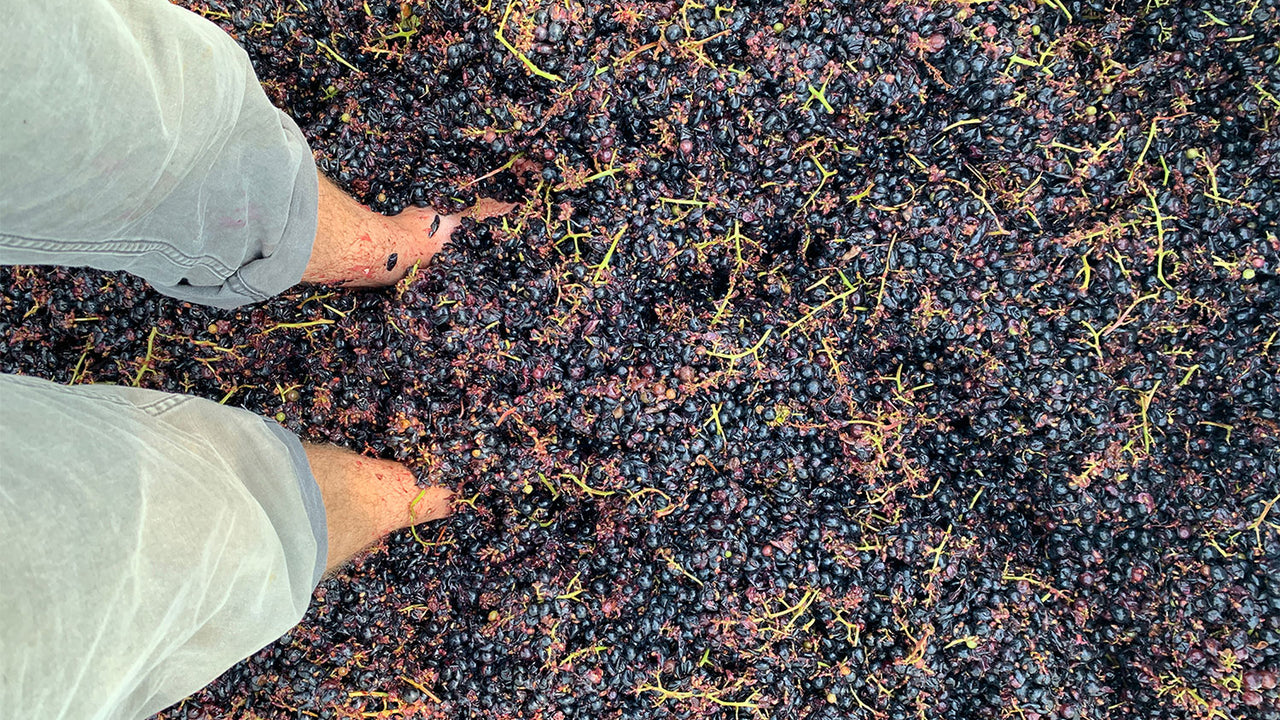 Todd Cavallo gets his crush on. Hudson Valley, New York. Photo courtesy of Wild Arc Farm
Natural wine producers aren't motivated by scoring systems. They're committed to delivering the fullest, most authentic expression of the ecosystem they steward. As a result, the flavor and mouthfeel of these wines shifts between vintages—to the same degree that each summer's crops experience different temperature, precipitation and humidity patterns. Also, by sowing flowers and other beneficial plants between rows, our growers create diverse root systems that support fungal networks—which actively contribute to the taste and color of ripening fruit. Their homemade composts and natural fertilizer "teas" work in harmony with the soil to maximize flavor potential.
You'll notice the difference as you swirl your first glass. Forget white and red; our wines span a spectrum of colors, from orange to rose to purple. Expect a cloudy presentation due to the increased presence of flavor-rich polyphenols; our winemaking partners don't filter out probiotic elements for aesthetic purposes. As you sip, you'll notice a lively mouthfeel followed by complex swings of region-specific flavor and a distinct vibrancy.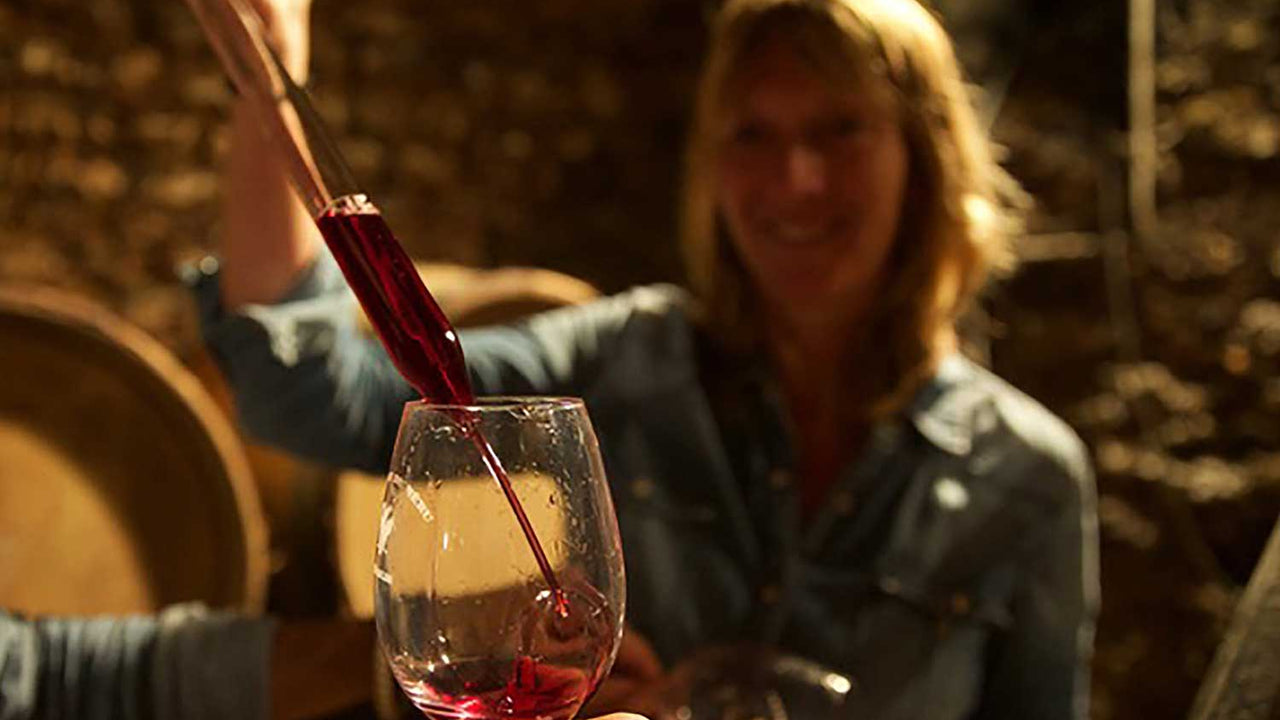 Deep in her family's 13th-century cellar, Athénaïs de Béru monitors the élevage. Château de Béru, Chablis, France. Photo courtesy Château de Béru

Mother Nature at work: Grape juice in full, fizzy ferment as its sugars convert to CO2 gas and alcohol. Photo by Gheorghe Mindu / Alamy
Natural wine, cider and sake deliver the vitality of the farm with every pour.
Because our partners don't fine or heavily filter their wines, naturally occurring polyphenols—the plant micronutrients that protect grapes against disease and pests during ripening—are preserved within each bottle. A growing body of science suggests that these micronutrients stimulate greater diversity in our gut microbiomes, a key factor in digestive health. Naturally occurring polyphenols that are a pleasure to drink? We'll toast to that.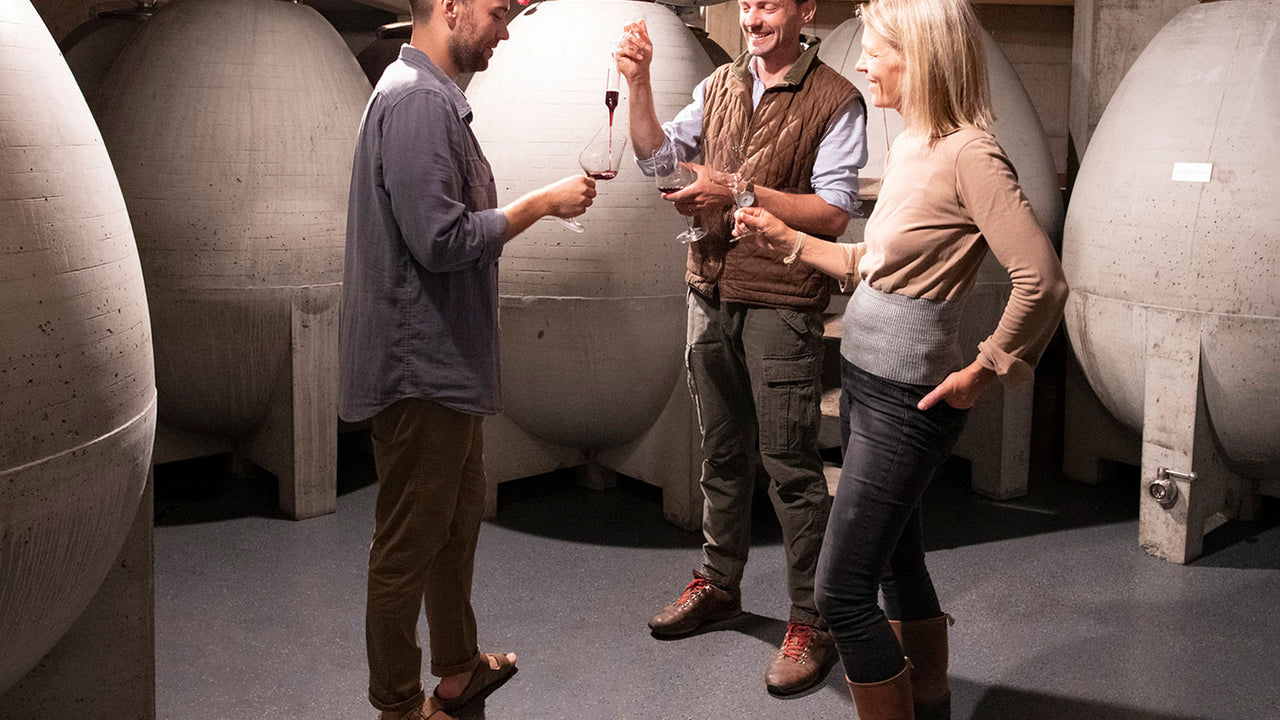 In Austria, concrete "egg" casks limit the need to cut, process, and transport oak wood, protecting vital habitat while also reducing emissions. Niklas Peltzer (left) and Werner and Angela Michlits sample the latest vintage at Meinklang winery. Photo by Sonja Priller
We offer six natural wines, a sparkling piquette, two ciders and a sake—all produced using restorative farming practices and bottled with minimal intervention.

Storage: Keep the Flavor Alive
Store natural wines the same way as you would conventional wines.
Like all naturally fermented beverages, our unopened wines, ciders, and sakes are best stored in a dark, cool and stable environment. Although they were bottled with little to no intervention or added sulfites, their life expectancy mirrors that of conventional wines. The style in which a wine is made, natural or not, is what determines its aging potential. Some bottles benefit from being opened sooner, while the fruit is fresh and still primary; others gain in complexity with time and can age for 10 years or more. Please refer to each wine's product page for its optimal "drinking window."