Smoked Mackerel Rice Balls (Onigiri)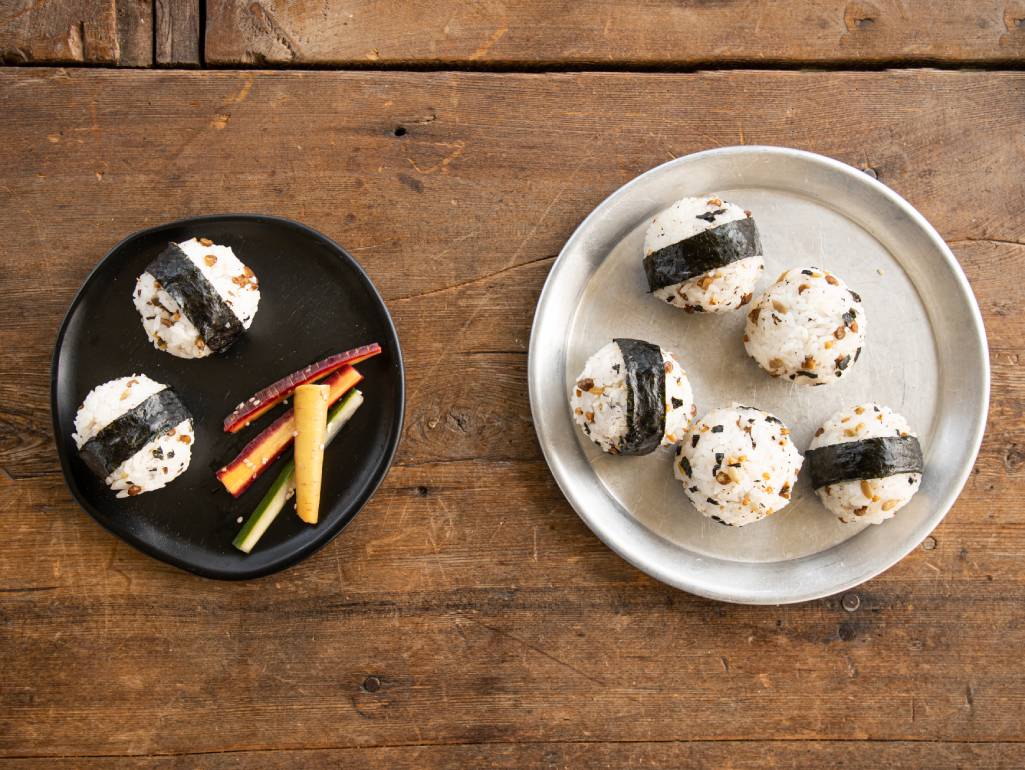 Onigiri means "hand food", and these Japanese rice balls, inspired by a recipe from Patagonia café lead cook Melissa Bishop, are just as much fun to make as they are to eat. They're good for snacking and can be lunch or dinner, too, with some crunchy vegetable sticks on the side.
If you really get into making these, try using a rice-ball shaper, available at Japanese grocery stores; they come in all shapes and colors.
Variations
Interactive: Serve the furikake as a dip instead of mixing it right into the rice.
Vegan: Replace the mackerel mixture with a chunk of smoked firm tofu or a pickled Japanese plum (umeboshi). Skip the bonito (dried tuna) in the furikake.
Wild Rice: Replace 2 tbsp. of the plain sushi rice with a wild-rice mix.
Ingredients
1 cup sushi rice, such as Nishiki brand
½ tsp. sugar
¾ tsp. fine sea salt
2 ½ tsp. seasoned rice vinegar
1 recipe Lightly Salted Savory Seeds Furikake (see recipe below)
1 can Patagonia Provisions Smoked Mackerel, drained
½ tsp. tamari or soy sauce
½ tsp. mirin, plus more to taste
3 green onions, thinly sliced on the diagonal
1 sheet Japanese nori, cut into 1-inch-wide strips (optional)
Putting It All Together
Rinse rice in 2-3 changes of cool water, vigorously swishing it around with your hand, until the water is mostly clear. Drain. Bring rice and 1 1/3 cups water to a small pot and bring to a boil, covered. Turn heat down to low and simmer until all the water is absorbed, about 20 minutes. Let sit 30 minutes, covered. Or use a rice cooker to cook the rice.
Meanwhile, put sugar and salt with rice vinegar in a small bowl and stir to dissolve.
While rice is still warm, turn out onto a rimmed baking sheet and, using a spatula, gently cut and fold vinegar seasoning into the rice. Sprinkle with furikake and fold in evenly. Let cool to room temperature.
Make mackerel filling: With a fork, mix mackerel with the soy, mirin, and green onions, breaking fish into flakes in the process. Taste and add more soy and/or mirin if you like.
Make rice balls: Dip your hands into a bowl of warm water as you work—this keeps the grains from sticking to your skin.
With wet hands, divide rice into 8 portions. Working with one portion at a time, scoop half of it into your non-dominant hand, shape into a disk in your palm, and push a divot in the center. Fill divot with about 2 tsp. mackerel. Cover with the remaining half-portion of rice and firmly (very firmly!) squeeze into a ball with your other hand.
Repeat with remaining rice balls and filling, packing them tight. Wind strips of nori around each ball if you like.
Eat right away or chill up to 1 day without nori (add the nori right before eating to keep it from getting soggy).
For Furikake
¾ sheet Japanese nori seaweed (about 8 by 8 in.)
2 pouches Patagonia Provisions Simply Salted Savory Seeds
¼ tsp. sugar
½ tbsp. toasted sesame seeds
1 tbsp. fine-cut bonito flakes (optional)
Toast the nori over a gas flame or in a hot frying pan for a few seconds. With scissors, cut the sheet into 1-in.-wide strips. Stack the strips, cut in half crosswise and stack again. Cut across the short end to make slivers. In a glass jar, shake nori with remaining ingredients to mix.
Store in the freezer for up to 2 months. Makes about ½ cup (it's good on noodles, too!).