Holiday Party Host Gift Ideas
If you're at a loss about what to give your host as a thank-you, give food. Everyone likes to eat! Photo by Amy Kumler
We're thankful for so much this time of year, especially getting together with family and friends, and the hosts that make it all possible. Whilewe're squeezing in a last-minute trail run to work up an appetite and picking out silly sweaters to wear, they're sweating away in the kitchen and putting the finishing touches on home decorations. Showing up with a little something nice for your host is a noble tradition that shows gratitude and thoughtfulness. These are some of our favorite gifts to give our hard-working Thanksgiving hosts— or heck, any holiday or dinner-party hosts.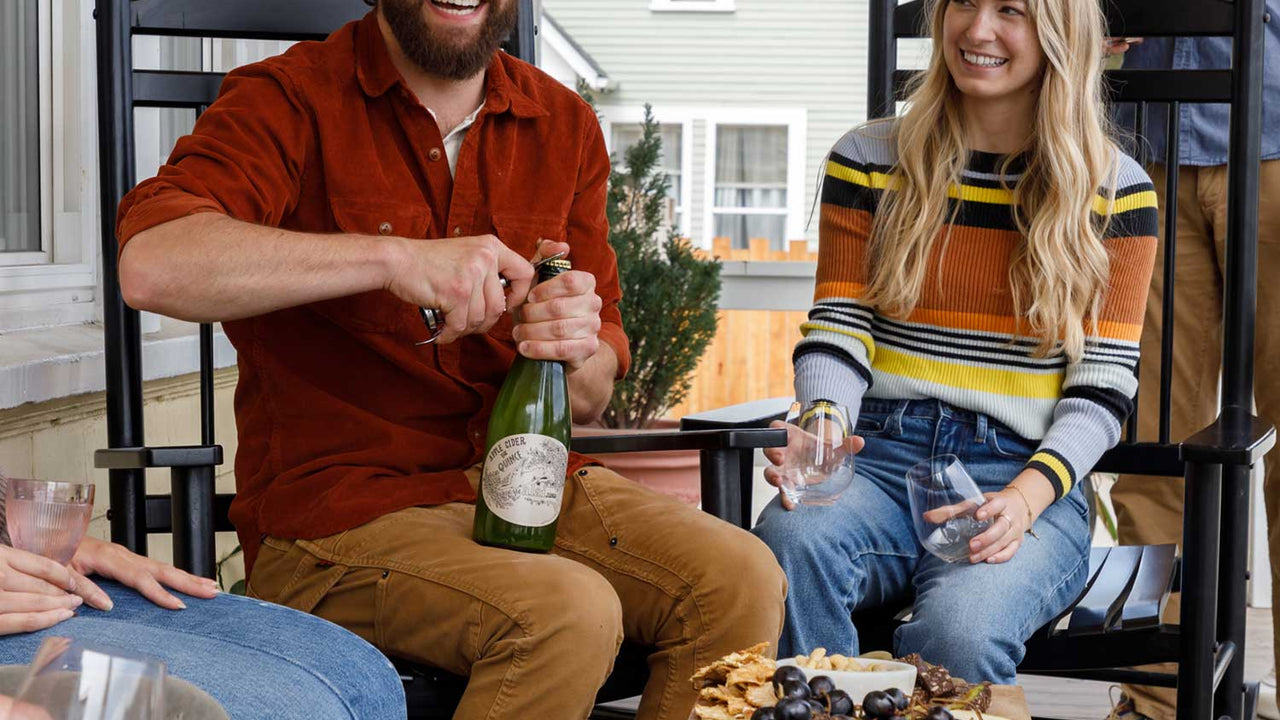 Often it's the gift you most want for yourself that will make your host happy. Like, for instance, this apple-quince cider from Alai Sidra in Chile. Photo by Amy Kumler
What Makes a Good Holiday Host Gift?
We love gifts you can eat or drink or things that are useful at the party itself. A bottle of wine (especially natural wine) is a traditional host gift, and thoughtful snacks or treats can be just as nice. We really like turning the host on to something new, like a light, fruity natural red wine that pairs well with turkey. And don't forget kitchen items that are always handy when preparing and hosting a meal.
Our Favorite Thoughtful Gift Ideas for Your Host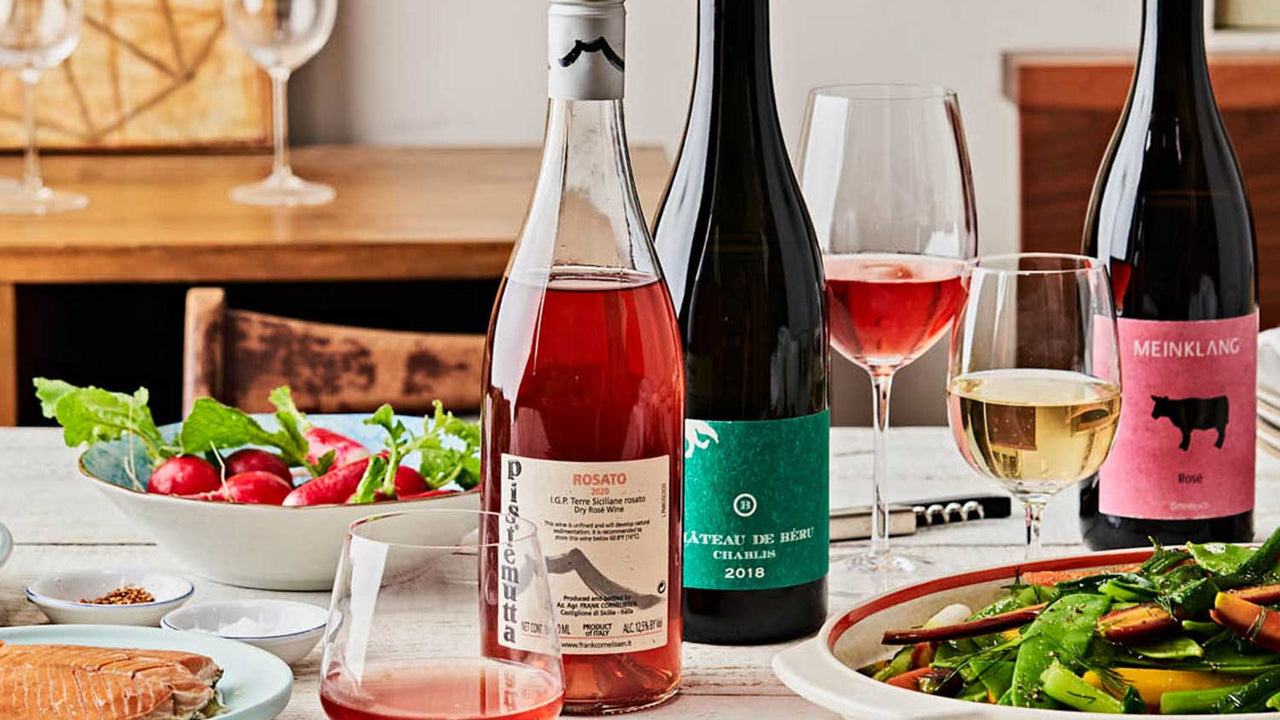 A good bottle of natural wine, grown and bottled with regenerative practices, makes a great gift for a wine-loving friend. Photo by Thomas J. Story
Natural Wine + Wine Tumbler
Wine is a classic host gift for Thanksgiving and if your host hasn't been introduced to the vibrant world of natural wines, you can start them off with a bottle of Pistemutta Etna Rosso from Frank Cornelissen—bright, earthy and great with turkey. Or go big with our Wine Starter pack of three carefully selected bottles of natural wine. Our Flora and Fauna Wine Tumbler from MiiR is a great way to take a glass outside, too.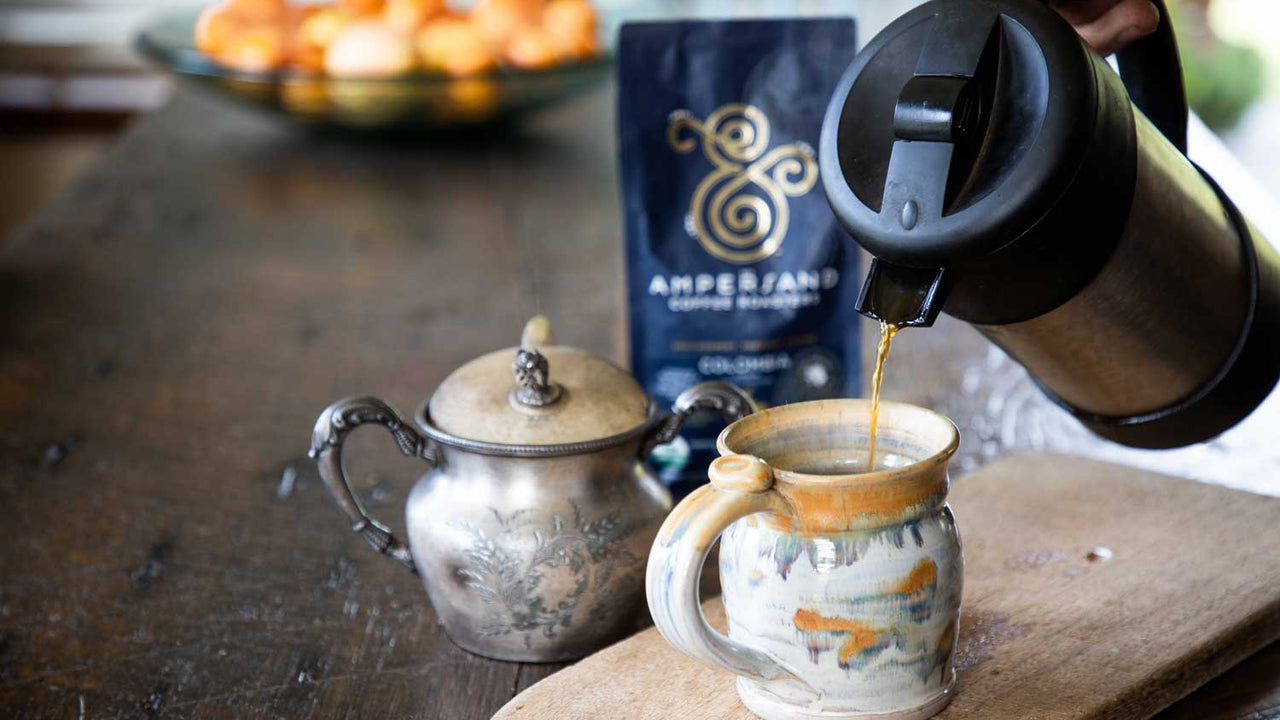 It's easy to pick up a bag of good coffee as a present, but why not choose a great one? Go for beans that make a delicious cup but are organic and fair trade, too. That's a gift to savor. Photo by Amy Kumler
Organic Fair Trade Coffee
A bag of organic, fair trade coffee makes for an excellent pick-me-up after a night of celebrating, so it's a welcome Thanksgiving present. Beautifully designed packaging makes it even more gift-y.
Made with recycled scrap polyester and organic hemp fabric from Patagonia clothing, our durable Blue Plaid Cloth Napkins look good enough for the Thanksgiving table, too.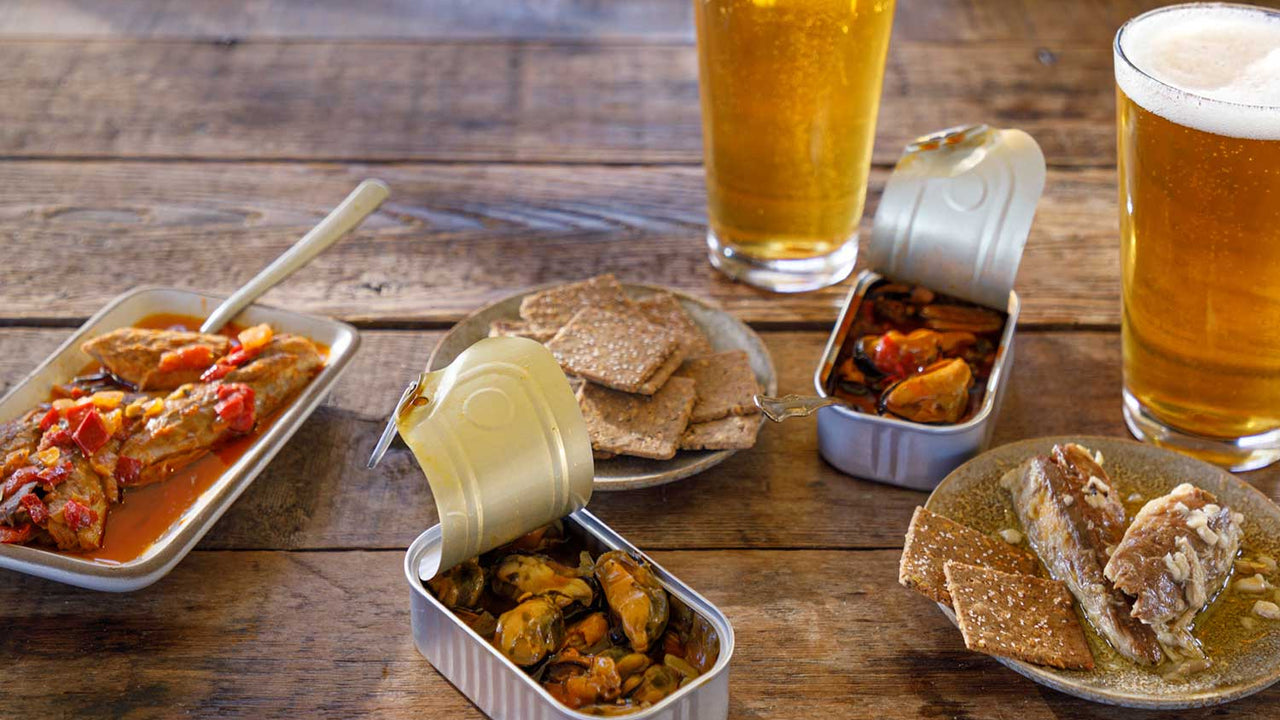 An array of Patagonia Provisions tinned seafood: Spanish Paprika Mackerel, Lemon Herb Mussels, Roasted Garlic Mackerel and Savory Sofrito Mussels. Photo by Amy Kumler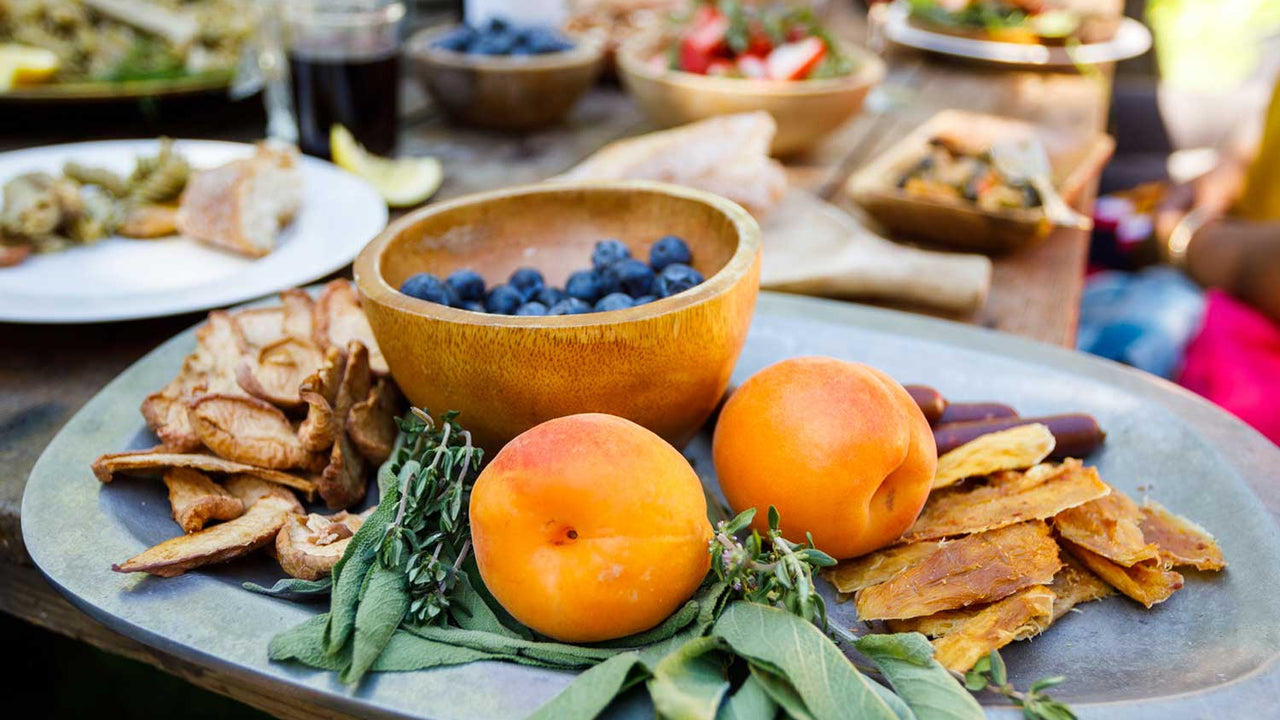 Sometimes your gift to the host will come in handy immediately. Here, Patagonia Provisions Chile Mango and Buffalo Links round out a snack plate. Photo by Amy Kumler
Organic Snack Pack Sampler
For a Thanksgiving gift idea that's all about the simple, just get 'em a snack pack. With solar-dried bananas, buffalo jerky, Chile Mango and more, it's the gift for the host that's on the move. Bonus— they can snack on it while preparing the holiday feast, too.
Nutritious, packed with flavor, and so easy to prepare, our soups range from spicy to mellow, light to rich. Our Soup Sampler comes loaded with Black Bean, Tsampa and Green Lentil soups, plus Red Bean Chili and Spicy Red Bean Chili. It's a Thanksgiving present that lets your host take a night, or five, off from time-consuming meal prep.
Nothing depletes the cupboard like a Thanksgiving feast. This host gift replenishes the pantry with responsibly sourced foods for mealtimes to come. Soups, savory grains, snacks, tinned seafood, Buffalo Jerky—the gang's all here. We've included spices like our Organic Taco Seasoning, to make leftovers into something new and fresh: Turkey tacos, anyone?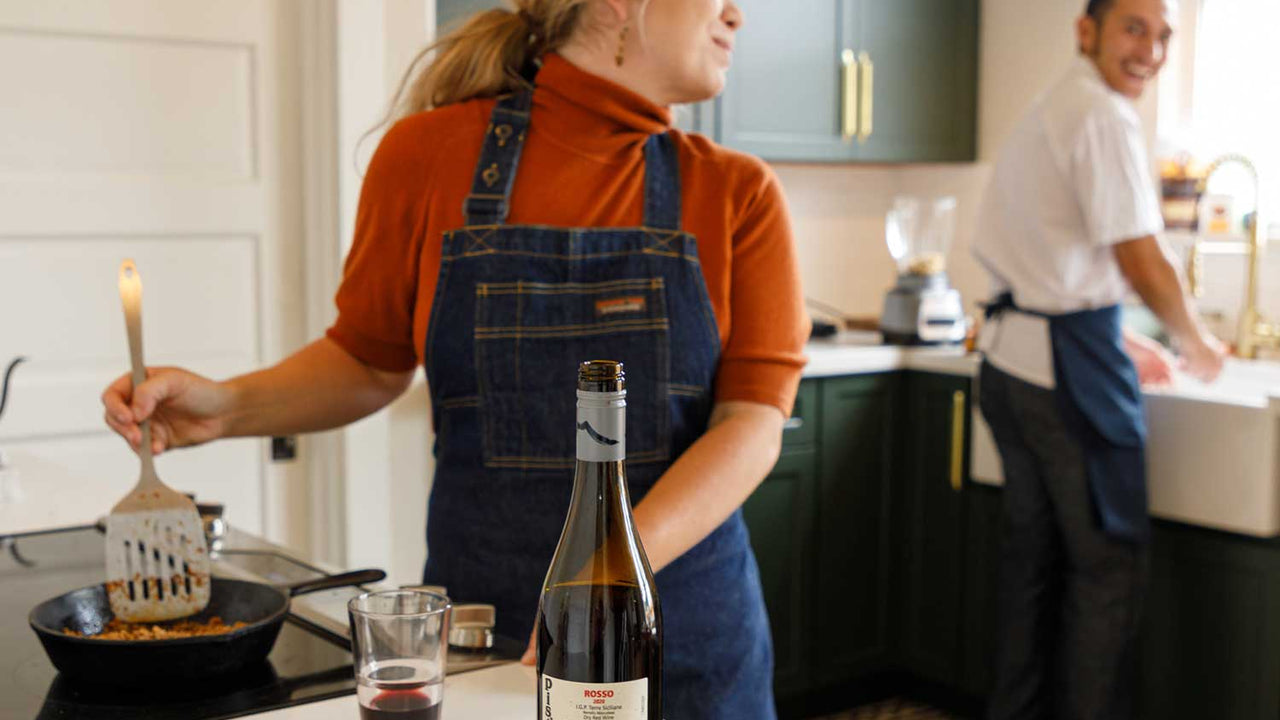 Our Hemp Denim Chef's Apron has adjustable straps, plenty of pockets and coverage down to the knee. Party clothes stay clean. Photo by Amy Kumler
Quick, tie this sucker on your host before they get going in the kitchen. Made with durable industrial hemp denim that's only gonna look better with age, it's the holiday host gift they can use right away, and for countless dinners in the future.
Cheers to you for choosing environmentally regenerative gifts! Photo by Amy Kumler