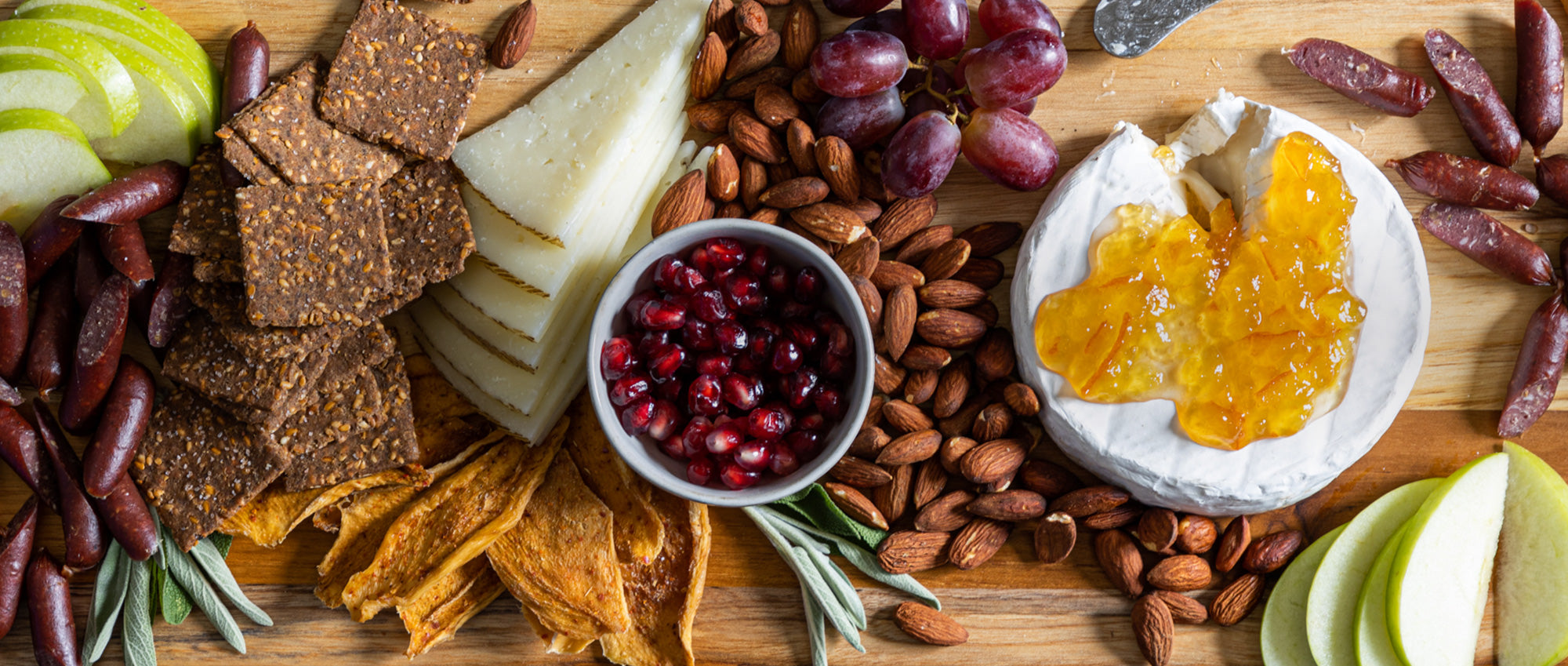 Build a Better Gift Basket
Foods That Benefit Our Home Planet

We love giving and receiving thoughtfully assembled baskets of delicious, healthy food. Because everything in them can be enjoyed and shared, they make ideal gifts, even for people who already have everything. Need some inspiration for assembling a gift basket yourself? Here are a handful of themed gift basket ideas, each one unique, to match the different interests of the people on your shopping list. Even better, they're filled with healthy foods you can feel good about, sourced in ways that restore the planet.
Here Are Five Food Gift Baskets We'd Be Stoked to Unwrap
1. The Get Up and Get Out There Basket
2. The Gift from the Sea Basket
3. The Trailside Snack Attack Basket
Hikers, mountain bikers, fly fishers, skiiers and, heck, toddlers all agree—you can never have enough healthy snacks. For a trail-themed gift basket, stock it with on-the-go goodies. For a spicy sweet treat, add a bag or two of dried Chile Mango slices. To round out this most snackable gift basket, include a bag of toasted, intensely flavorful Golden Herb Walnuts and a jar of Chargeboss Clusters—cashew and cacao-nib nuggets packed with superfood energy.
4. The Get Together Basket
Holidays, no matter which you celebrate, mean big gatherings of your favorite people. Feeding those gatherings is about a million times easier and more fun with a big selection of delicious, healthy, responsibly produced appetizers. A spread like this helps fix our broken food chain at the same time, so what's not to love? Start with a filet of lightly smoked Wild Pink Salmon. Pair that with some fresh goat cheese and crackers, plus tangy pickles – that'll surprise them! Add tins of Lemon Olive Spanish White Anchovies and bags of salted cashews, and top the whole thing off with seasonal fruits like dried cranberries and long-lasting fresh pomegranates. Slip in one of our limited-supply natural wines or sparkling hard ciders, and you'll have everything you need for a party, all in one basket.
5. The Plant-Based Protein Basket
We have everything you need to delight the vegan in your life with a plant-based buffet. Start with our Tsampa Soup, a hearty and savory soup mix based on roasted barley, a mainstay of Tibetan culture (and climbing). Add some Spicy Red Bean Chili, great at home or at camp, and a few Organic Savory Grains, a mix of fluffy, nutty grains that are high in protein and a delicious foundation for an easy dinner. A bag of organic popcorn is always a fun treat, and, for a fascinating read to go with the popcorn, include a copy of The Lentil Underground, a book that tells the story of renegade Montana farmers growing lentils in defiance of Big Ag.
No Time to Build a Themed Gift Basket?
No Problem
Putting together your own themed food basket means choosing everything you want to include. If you don't have that kind of time, let us handle the curating for you with a Provisions Gift Box. We have plenty of different themes to choose from, and they're ready to be shipped out to whoever you choose, whenever you like. Easy peasy.